April 16, 2019
Choir concert celebrates life's joys, large and small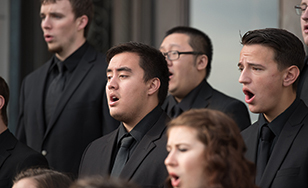 The College's choirs will wrap up their performance season with a concert reflecting on the importance of gratitude.
"For Most This Amazing Day" will be at 7:30 p.m. Friday, April 26, in the Mitchell Auditorium on campus and will feature the St. Scholastica Concert Choir, Bella Voce, Vox Anima and Cantus Corde.
The world moves fast and life is busy, leaving little time to be present in the moment. In a stirring performance, the choirs will take a moment to reflect on the everyday intricacies of life in the spirit of gratitude. According to Director of Choral Activities and Vocal Music Education Sarah Ludwig, the concert will feature pieces from the Baltic region, Scandinavia, and folk traditions throughout the world, with works by Esenvalds, Rheinberger, Szymko, Ramsey, and more.
"With the demands of our modern world, the choirs remind us that beauty is all around us; we simply need to look for it," Ludwig said.
Tickets are $5 and can be purchased at the door or in advance through the Spotlight Box Office at spotlight@css.edu or at 218-723-7000.
The 2018-19 season's final Music Department concerts are:
"Eastern Winds" featuring the Concert Band and Jazz Ensemble, 2 p.m. April 28
"Music for a Festival" featuring the String and Chamber Ensembles, 7:30 p.m. April 30