Celebrating veterans' service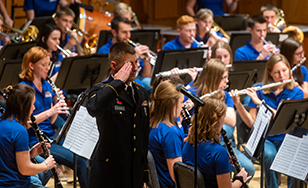 St. Scholastica's Concert Band and Orchestra will present a musical salute to honor America's veterans at 2 p.m. Saturday, Nov. 9, in the Mitchell Auditorium.
Tickets for "Let Freedom Ring" are $5 and can be purchased at the door or by contacting the Spotlight Box Office at 218-723-7000 or spotlight@css.edu.
The musical talents of St. Scholastica will come together in thankful recognition of our country's veterans and all their sacrifices. The program will feature patriotic musical selections from our American heritage, including folk songs and ditties.
St. Scholastica is nationally recognized for quality and value. It has been named the top Minnesota college for economic mobility, and rankings by U.S. News & World Report classify it as one of the Midwest's top regional universities. It is one of SmartAsset.com's top 10 "Best Value" colleges in the state and ranks on Money magazine's "Best Colleges for your Money" list. The Center for First-Generation StudentSuccess has named it one of the top 80 colleges in the country for commitment to first-generation students. Learn more at css.edu.