September 6, 2019
Catalyst Content Preview coming up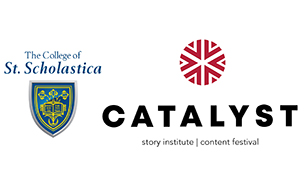 St. Scholastica will host a free public event for anyone interested in learning more about a film/television production festival that is coming to Duluth in October.
The Catalyst Content Preview will be held from 7 to 8 p.m. Friday, Sept. 13, in the Mitchell Auditorium on campus at 1200 Kenwood Ave. Refreshments will be provided.
This event is an opportunity to learn more about the Catalyst Content Festival, which is coming to Duluth Oct. 9-13. St. Scholastica is the Educational Partner of the festival.
The preview event will feature a presentation from Catalyst Executive Director Philip Gilpin, Jr., who will talk about the festival and its future impact on the Northland.
The event will also offer the first public preview of the Midwest Production Guide, a listing of regional businesses that provide services necessary for the television industry. Students and locals can list themselves in the guide for free through the Catalyst website, catalystcontent.org.
About Catalyst:
The 14th annual Festival will be held for the first time in Duluth from Oct. 9-13. It will bring more than 100 television executives and agents, along with over 1,000 creative professionals, to the community. Related educational events have already begun. Public television station WDSE-WRPT Channel 8 held the first such event in August. St. Scholastica will host Catalyst's lecture series in 2020.
Previously known as Independent TV Festival, the Catalyst Content Festival showcases independently produced TV shows and podcasts to industry executives, agents, and producers. The event brings together a worldwide community of creators, executives, agents and fans who will discover the best new programming created on independent (non-network) budgets. Catalyst is an open public festival, not just for entertainment industry professionals. Attendees include patrons of the arts, the general public, first-time creators, major executives and Emmy winners.
Along with the actual festival, Catalyst is expected to have a year-round impact and presence in Duluth. It will continue creating partnerships and building professional development and educational programs that will benefit the local economy. This work will create connections with the TV industry, bring creators to shoot shows in Duluth, create new jobs and put Duluth on the TV industry map.
Catalyst is primarily sponsored by Abrams Artists Agency, the TV Academy, HBO, St. Louis County, the City of Duluth, IRRRB, Monaco Air, WDSE, and Minnesota Power. St. Scholastica is the Educational Partner of the event.