October 23, 2019
Breathing new life into Shakespeare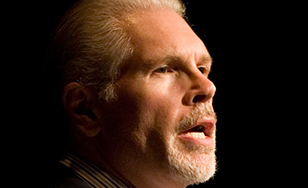 A St. Scholastica English professor with extensive stage experience in the United Kingdom will present a selection of Shakespearean readings during a free event on campus.
Assistant Professor of English Dr. Kevin Quarmby will present "Insufflating Shakespeare: Acting as the Kiss of Life" at 3:40 p.m. Friday, Nov. 1 in Tower Hall room 4119. The public is welcome and refreshments will be served. Quarmby's 40-minute talk will be followed by a question-and-answer session.
"Insufflating Shakespeare" celebrates the immediacy and lively spirit of Shakespeare's work, and brings insights into the acting process of the 21st century. The word "insufflating" can refer to blowing into a cavity of the body for medical purposes, or blowing or breathing on someone to symbolize spiritual influence.An accomplished professional actor, Quarmby has performed in London's Old Vic, Royal Court, and National Theatre with some of the late twentieth-century's great Shakespearean stars. As a member of the St. Scholastica faculty, Quarmby presents his excerpts of Shakespeare to bring the old literature to a modern audience, emphasizing the social justice applications of Shakespearean studies.
This event is part of St. Scholastica's School of Arts and Letters Colloquium, a monthly lecture series highlighting faculty research. The series is in its 13th year.