March 29, 2019
Bella Voce collaborates with See Change for benefit concert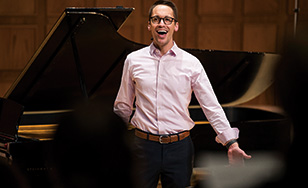 St. Scholastica's Bella Voce women's choir will host a Twin Cities-based women's choir for "Who We Are," a performance benefiting Safe Haven Women's Shelter and Resource Center.
Bella Voce will perform with See Change, a choir dedicated to promoting transparency and strength among women through song, at 3 p.m. Sunday, April 7, at First Lutheran Church, 1100 E. Superior St., Duluth.
Bella Voce is a 40-voice auditioned women's choir focused on providing women with opportunities to sing high-quality and challenging music from all genres. See Change is a 40-member adult treble choir dedicated to celebrating solidarity among women.
The performance is free and open to the public, and donations will be accepted. They'll go directly to caring for people in crisis working with the Safe Haven Women's Shelter.