December 22, 2020
Associate Professor to join national cohort of Social Work Health Futures Fellows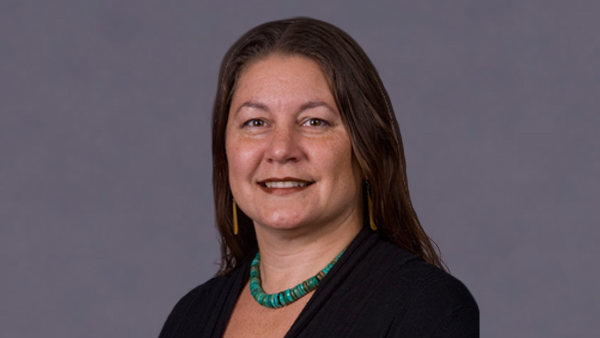 The College of St. Scholastica Associate Professor Leah Prussia DSW, LICSW was selected to join the Social Work Health Futures Fellows by the Portland State University of Social Work. The group includes 26 social work experts from around the U.S. and Canada who will spend the next 18 months learning how to apply a futures lens to some of the most challenging problems of society.
The project is a national program of the Robert Wood Johnson Foundation, which funds programs that focus on deepening the understanding of America's greatest health challenges and identifies innovative approaches to bring about meaningful change.
Prussia's focused area of research will be on somatic literacy and the intersection of personal and planetary wellness. She understands that an element of human trauma comes from a disconnect from the natural world.
"The work is relational. The inner trauma of disconnection is healed through restoring the relationship with the natural world. When humanity embodies personal healing, it leads to mutually beneficial actions with Earth and all that lives." Prussia, who founded and is a clinician at Natural Connections LLC, stated that this work is collective and based on Indigenous teachings and Western ways of knowing.
This initiative is comprised of a diverse group of social work educators, researchers, practitioners and students who competed in a national request for proposals.
"I am looking forward to collaborating with the other fellows," said Prussia. "We will be trained in and receive a Futures Specialization Certificate. For me, the futures method is underlined by the fact that the future depends on understanding and learning from history. What do we want the world to look like for the next generations and what are we going to do to accomplish this? What kind of ancestors do we want to be? "
The project as a whole will also highlight the ways the future of this work could impact social workers themselves who work with social determinants of health issues. The investigations could lead to new ideas about how to best teach and prepare the next generation for effective leadership and practice in a changing world.
For more information on this program visit www.socialworkhealthfutureslab.org.