January 21, 2020
An inside look at the entertainment industry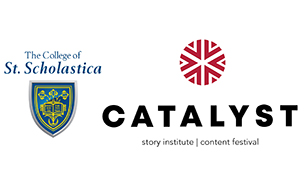 The first of three free talks about the television and film industry will be held at The College of St. Scholastica at 7 p.m. Tuesday, Jan. 28, in the Mitchell Auditorium on campus.
The lectures are part of the Catalyst Content Festival, which came to Duluth last  October. The event showcases independently produced TV shows and podcasts to industry executives, agents, and producers. St. Scholastica is the educational sponsor for the event, and is hosting a lecture series providing a professional overview of today's scripted and unscripted television content industry. The talks are tailored for anyone interested in a creative or business career in television.
During the Jan. 28 talk, Philip Gilpin, executive director of Catalyst Content, will give a presentation on "How the TV Industry Works." He will focus on demystifying its structure and how all the pieces connect, including TV networks, agencies, studios, producers, actors, writers, and directors.
The second and third talks of the series will be staged in February and March, also at St. Scholastica.