September 23, 2019
An Evening with C.S. Lewis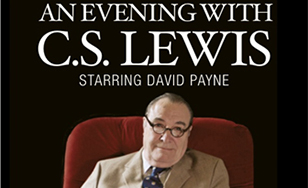 St. Scholastica will host a one-man show about the life and times of acclaimed writer and theologian C.S. Lewis.
"An Evening with C.S. Lewis" is set for 3 p.m. on Saturday, Oct. 12 in the College's Mitchell Auditorium.
Renowned actor and playwright David Payne will take to the St. Scholastica stage for a historical recreation of C.S. Lewis' greatest moments. Payne portrays the famed author, known for "The Chronicles of Narnia," "The Screwtape Letters" and many other works. The play depicts Lewis as he hosts a collection of American authors in his home near Oxford, England, and regales his audience with tales about his friendship with J.R.R. Tolkien, how close he was to abandoning "The Chronicles of Narnia," his romantic relationships, and his embrace of Christianity.
London-born Payne's first encounter with Lewis was when, as a teenager, he was given a copy of "The Screwtape Letters." Little did he realize that some 40 years later he would be gaining a reputation for his portrayals of its famous author.
Tickets are $50 and may be purchased through St. Scholastica's Spotlight office at 218-723-7000, spotlight@css.edu, or spotlight.css.edu. The performance is presented by Emery Entertainment, Inc.