September 19, 2019
Adding heart to healthcare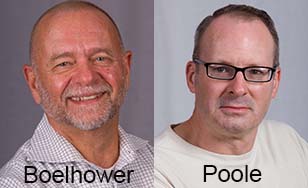 Behind the nervous smile of a patient in an exam room, there dwells a lifetime's worth of experiences, beliefs, and even fears. Patients are more than just numbers on a chart; they are human beings, complex, layered and vulnerable. A popular new major at St. Scholastica is reminding students of that simple fact.
"Health is not merely a physical condition, but it's an experience, a state of mind," said Randall Poole, PhD, director of St. Scholastica's Health Humanities program and professor of history. "Care for human persons involves not only the health sciences, but the health humanities."
The Health Humanities major, which launched in 2016, is structured either as a stand-alone major or to complement a science or health science program. It's been a popular choice.
"The program is thriving," Poole said. "We have great interest, and significant enrollments, especially among students studying the health sciences."
The program is a natural fit with the College's mission and Catholic Benedictine values.
"It's especially important for St. Scholastica, which has always valued the whole person," Poole said. "The reduction of persons to their physical processes is antithetical to the spiritual approach of St. Scholastica, and more broadly, the Catholic intellectual tradition."
The humanistic approach to healthcare places a focus on patients' spiritual and mental well-being, tapping into the vast potential healing powers of the psyche.
"We're seeing how deeply integrated these dimensions are," said Professor Emeritus Gary Boelhower, PhD, a lead faculty member in the program. "Mind, spirit and body are inseparable, and affect each other so significantly."
So what does a healthcare practitioner with a humanistic mindset do differently?
"They will listen to patients more deeply, they will engage with patient stories, they will have a facility at comprehensively making moral and ethical decisions with their patients," Boelhower said. "They will be attentive to the spiritual, religious and cultural differences with their patients and clients, and will intentionally integrate those aspects into the caregiving process for their patients."
In addition to the Health Humanities major, Boelhower has developed a series of free Massive Open Online Courses (MOOCs) designed to serve as an introduction to the concept. The modules of the MOOC, patterned after the curriculum of the Health Humanities major, are spirituality, narrative medicine, healthcare ethics, and mindfulness.
"Anyone who is engaged in helping patients in any way could really benefit a great deal from this kind of program," Boelhower said. Boelhower and Poole hope to use the MOOCs to gauge interest in potentially launching a graduate program.