December 6, 2019
A writer shares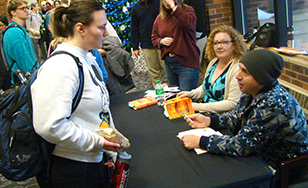 First-year students learned about the creative writing process from best-selling novelist Tommy Orange during his recent visit to campus.
Orange, who is an enrolled member of the Cheyenne and Arapaho Tribes of Oklahoma and grew up in Oakland, CA, is the author of "There There." The critically acclaimed book follows 12 characters from Native communities as they travel to the Big Oakland Powwow.
Current incoming first-year students read and studied "There There" as part of their Dignitas studies program, a common curriculum that emphasizes human dignity.
Orange's visit to campus on Dec. 5 included an evening talk open to the public and a noon discussion for first-year students, where Native Studies Director Jennifer Niemi led a Q&A and invited questions.
Orange talked about how literature can offer a deeper and more accurate understanding of history than textbooks. He reflected on his writing style, which was influenced by storytelling work that he's done through the years. None of his characters are based directly on real people, he said, but they share some of his own personal idiosyncrasies and are often influenced by community members.
His advice to aspiring novelists? "Just write. Put in the hours." Much like playing a sport or an instrument, he said, writing requires daily practice. He advised students to search online for writing prompts and other resources to help "exercise the muscle."
He'd never considered writing as a career until after college, when he fell in love with reading while working at a bookstore. He went on to earn his MFA from the Institute of American Indian Arts.
Thanks largely to the intersecting storylines of the many complex characters, "There There" took six years to complete, Orange said. His goal was to create a rich, deeply layered story.
"I wanted to write a book that I would love to read," he said. When things got difficult, he'd go for long runs to clear his head.
"I do my best thinking when I don't think I'm thinking," he said.
He shared that he's well into his next novel, a sequel to "There There."
After the discussion, elementary education major Jenna Meyer was at the front of the line to have her copy of "There There" signed, and Orange graciously answered her question about the future of one of her favorite characters.
She was impressed by the meaningful real-life issues Orange was able to bring into his novel. "I loved it. He created this beautiful piece of literature."
"There There" was named one of The New York Times' 10 Best Books of the Year and one of the Best Books of the Year by: The Washington Post, NPR, Time, O, The Oprah Magazine; The Dallas Morning News, GQ, Entertainment Weekly, BuzzFeed, San Francisco Chronicle, and The Boston Globe.
It is a winner of the PEN/Hemingway Award, the National Book Critics Circle John Leonard Prize, and the Center for Fiction First Novel Prize. It was shortlisted for the Andrew Carnegie Medal for Excellence in Fiction. A review from the New York Times calls it "powerful" and "a revelation."