A musical expression of "Something Borrowed"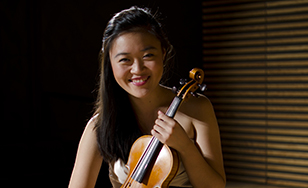 St. Scholastica will host a violin recital at 7:30 p.m. Monday, Nov. 25, in the Mitchell Auditorium on campus.
Violinist Sophia Han will present "Something Borrowed," a nod to the wedding tradition of having "Something old, something new, something borrowed, something blue." These are the themes of four recitals performed by Han – a violin professor at Southeast Missouri State University – offered in preparation for her own wedding. Described by the Classical Voices of North Carolina as "a polished [and] fully professional performer," Han has performed as a guest soloist with orchestras across the country and has appeared on tour with artists such as Michael Bublé.
She'll be joined by St. Scholastica piano faculty member Nicholas Susi in a performance featuring Sergei Prokofiev's "Flute Sonata," vocal literature by Gabriel Fauré and other musical transcriptions.
Tickets are $10 and can be purchased at the door or by contacting the Spotlight Box Office at 218-723-7000 or spotlight@css.edu.
St. Scholastica is nationally recognized for quality and value. It has been named the top Minnesota college for economic mobility, and rankings by U.S. News & World Report classify it as one of the Midwest's top regional universities. It is one of SmartAsset.com's top 10 "Best Value" colleges in the state and ranks on Money  Magazine's "Best Colleges for your Money" list. The Center for First-Generation StudentSuccess has named it one of the top 80 colleges in the country for commitment to first-generation students. Learn more at css.edu.