November 11, 2019
A musical expression of "Something Borrowed"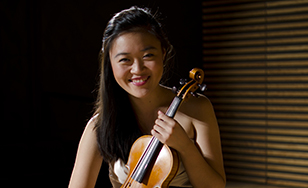 St. Scholastica will host a violin recital at 7:30 p.m. Monday, Nov. 25, in the Mitchell Auditorium on campus.
Violinist Sophia Han will present "Something Borrowed," a nod to the wedding tradition of having "Something old, something new, something borrowed, something blue." These are the themes of four recitals performed by Han – a violin professor at Southeast Missouri State University – offered in preparation for her own wedding. Described by the Classical Voices of North Carolina as "a polished [and] fully professional performer," Han has performed as a guest soloist with orchestras across the country and has appeared on tour with artists such as Michael Bublé.
She'll be joined by St. Scholastica piano faculty member Nicholas Susi in a performance featuring Sergei Prokofiev's "Flute Sonata," vocal literature by Gabriel Fauré and other musical transcriptions.
Tickets are $10 and can be purchased at the door or by contacting the Spotlight Box Office at 218-723-7000 or spotlight@css.edu.