September 17, 2020
A measure of success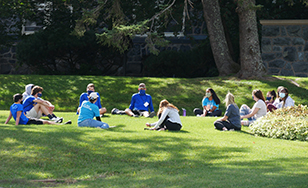 St. Scholastica is being honored in a new U.S. News and World Report national ranking that measures student success.
St. Scholastica is ranked no. 135 out of 389 schools in the new U.S. News and World Report's list of Top Performers on Social Mobility among National Universities.
"Throughout our history, St. Scholastica has always worked to ensure that the life-changing power of higher education is within reach, regardless of a student's economic background," said Ellen Johnson, vice president for enrollment management. "This remains a core part of our mission today."
This social mobility ranking is important because students from lower incomes are often less likely to finish college, Johnson said. The ranking measures graduation rates for low-income students, classified as those who received federal Pell Grants. To qualify for a Pell Grant, a student typically must come from a household with an annual family income of less than $50,000.
"We are very excited about this ranking, which validates the important work we are doing to make education more accessible and to help our students to achieve their goal of a college degree," Johnson said. "We continually seek to level the playing field by taking steps like guaranteeing a student can graduate in four years, and instituting test-optional admissions."
In October 2018, St. Scholastica became the first baccalaureate college in Northern Minnesota to adopt a test-optional admission policy, meaning that applicants are no longer required to complete the ACT or SAT. National research has found implicit bias in high-stakes standardized testing, especially for student groups currently underrepresented in higher education.
In 2019, The Center for First-Generation Student Success recognized St. Scholastica for its commitment to first-generation student success. St. Scholastica was one of 80 schools nationwide to be part of the Center's First Forward Cohort.
Also in 2019, St. Scholastica was moved to the National Universities category for all U.S. News and World Report rankings. National universities offer a full range of undergraduate majors, plus master's and doctoral programs, and emphasize faculty research or award professional practice doctorates.
In other rankings news, St. Scholastica appears on U.S. News and World Report's 2021 Best National Universities List, Money magazine's 2020-21 list of Best Colleges For Your Money, and the Princeton Review's 2021 list of Best Midwestern Colleges.