October 3, 2019
A creative partnership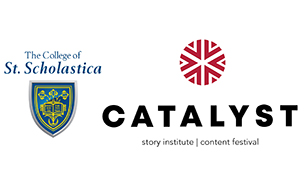 A group of students will participate in the Catalyst Content Festival, and a pair of St. Scholastica alumni who are working in Hollywood will give a presentation about their experience in documentary production.
St. Scholastica's partnership with the festival also includes a "Best Young Creator" award, and a lecture series starting early next year.
Eighteen St. Scholastica students with an interest in the entertainment industry were selected to receive a special experience at Catalyst. They'll attend group meetings with three TV/film industry executives, and group meetings with Catalyst Content Executive Director Philip Gilpin. In addition, they will receive an all-access VIP pass to Catalyst events.
Meanwhile, St. Scholastica alumni Chris Parr '16 and Harris Dirnberger '17, also known as Flutter Brothers Productions, will headline The College of St. Scholastica Special Screening Presentation and Discussion at 4 p.m. Thursday, Oct. 10 in the Teatro, 222 East Superior St. They'll give a presentation about "Off the Cuf," their original documentary series that explores America's most fascinating communities. "Off the Cuf" is available for streaming on Amazon Prime Video.
Flutter Brothers Productions creates narrative content and docu-style videos for businesses. They are in the developmental stages of other documentaries, including re-working a script that was originally written by St. Scholastica alumni Pat Fischer and Collin Goodspeed.
Bret Amundson, dean of St. Scholastica's School of Arts and Letters, will present the St. Scholastica Best Young Creator Project Award during the Red Carpet Awards Gala event on Sunday, Oct. 13, starting at 3 p.m.
St. Scholastica is the Educational Partner of the festival and will host Catalyst's lecture series in 2020.