February 14, 2019
A conversation on stewardship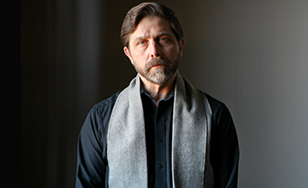 A celebrated author and physician will present "The Stewardship of Creation as if Matter Mattered" at 7:30 p.m. Tuesday, Feb. 26 in Room 249 of St. Scholastica's Burns Wellness Commons.
Putting the traditional economic framework for sustainability aside, accomplished Navajo Nation pediatrician and author Dr. Brian Volck argues that stewardship is about living as limited, dependent bodies sharing a particular place with all of nature's creatures. Informed by sources ranging from Wendell Berry to the Bible, Volck emphasizes how even the overlooked parts of nature are due respect and dignity.
With an undergraduate degree in English Literature from St. Louis' Washington University, an MFA in creative writing from Seattle Pacific University, and an MD from Washington University, Volck has been recognized by The Christian Century, DoubleTake, The Journal of Moral Theology, Health Affairs, and Image. He is the author of a poetry collection, "Flesh Becomes Word," and a memoir, "Attending Others: A Doctor's Education in Bodies and Words." He attends the Monastery of Christ in the Desert near Abiquiu, NM, as a Benedictine Oblate, and teaches theology and medicine at St. Mary's Seminary and University in Baltimore.
This event is free and open to the public. It is sponsored by the Health Humanities Program, the Catholic Studies Program, and the Alworth Center for the Study of Peace and Justice.
Future events sponsored by the Alworth Center for the Study of Peace and Justice include:
Tuesday, March 26: Stand Up for Peace, with comedians Scott Blakeman and Dean Obeidallah on resolving conflict between people of all backgrounds and religions. Part of the Alworth Center for the Study of Peace and Justice speaker series.