September 11, 2018
A Benedictine musical tribute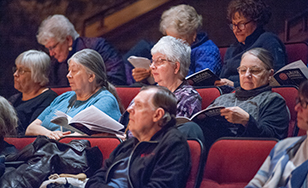 Today, Jordan Sramek is internationally known in the world of early music. When he showed up at the College in the fall of 1991 he was, by his own description, a little lost.
"I was a nontraditional student in my early 20s," he said. "I had lived in Europe, I was a high school dropout. I was one of those longhaired, backpack-toting travelers. I came not knowing what to expect, really."
He did know he loved to play piano. He gravitated toward the music department and soon was learning hungrily from the faculty members of the time, among them Shelley Gruskin, LeAnn House and Bill Bastian.
"They had the foresight to assess me as a human being with certain skills and interests and sort of focus me," he said.
None of his professors made more of an impression than Sister Monica Laughlin '44, a longtime music faculty member who passed away in 2014.
"She was strict, and I didn't do well with authority at that time, but at the same time she was very nurturing. And let's face it, she was a nun. She said prophetic things. 'Jordan Sramek, you were born to sing Gregorian chant.' I mean, she said those words to me! When a nun says that, you listen."
Sramek went on to found the internationally renowned choral group the Rose Ensemble in St. Paul, which specializes in early music. A tour brought the ensemble to campus in March to perform a program he created called "Welcome the Stranger: The Promise of Saint Benedict and Saint Scholastica." In memory of Sister Monica he commissioned a work by composer Abbie Betinis called "O Iam Migra."
Sramek described it as "a choral art song, a different take on choral writing. It's extremely difficult to do."
Sister Beverly Raway, prioress of St. Scholastica Monastery, was "ecstatic" after the concert.
"We're so proud of Jordan. I could only think of (Sister Monica) throughout the whole program, especially the piece in her memory, because of his connection to her and the formation she gave him. It was just so superb. I don't know how to put it better. It felt like a little gateway to heaven."
Sramek learned a great deal about the art and mechanics of music from Sister Monica.
"As I entered second-year theory, which is intense – hard stuff! – I benefited so much from her attention. I have seen a lot of music theory classes around the country now, and I'm telling you, these kids are getting off easy compared to what we were put through. And I'm grateful for that. There was one-on-one time. She didn't have to do that, but she did."
Penny Schwarze, professor of music, knew Sister Monica well. She smiled at Sramek's mention of her work ethic and standards.
"Once there was a student who wasn't really performing up to snuff," Schwarze recalled. "He said to Monica, 'I've been praying to Jesus to tell me what to do.' She said to him, 'Jesus wants you to get into that practice room and play that trumpet.' So she was very practical."
Jeremy Craycraft, chair of music at St. Scholastica, said the program and the work in honor of Sister Monica are of lasting importance.
"In early music, Jordan is world famous," Craycraft said. "For the music department, this is a wonderful way to show the memory of an influential faculty member. Any piece that connects back to our heritage and goes to future audiences is crucial."
Sister Monica was also the subject of a musical work performed by the Concert Band in its spring concert. "Evening Prayer" is by Andrew Boysen, a professor of music at the University of New Hampshire and a busy composer, receiving commissions from festival, university, and high school concert bands across the United States. "Evening Prayer" reflects "both the legacy and the musical gifts that Sister Monica gave to the music department and the College," said band director Dr. Michael Buck. In addition, "Evening Prayer" commemorates the 125th anniversary of St. Scholastica Monastery.