November 25, 2019
30th annual Thanksgiving Buffet coming up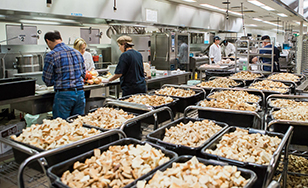 Organizers are hard at work preparing for the 30th annual Twin Ports Thanksgiving Buffet, set for 11 a.m. to 3 p.m. Thanksgiving Day, Thursday, Nov. 28, at the Duluth Entertainment and Convention Center.
Community members will gather to share a meal at the DECC's Lake Superior Ballroom. More than 4,000 free traditional Thanksgiving meals will be served. The menu will include roasted turkey, potatoes, gravy, stuffing, corn and dinner rolls. The event is supported by the work of hundreds of volunteers who assist with food preparation, room setup, and serving.
Additionally, more than 1,200 meals will be delivered to homebound residents. Homebound residents in the Duluth, Superior, Two Harbors and Cloquet areas may request a home-delivered meal by calling 218-723-6484 by Friday, Nov. 22.
Organizers expect to serve:
2,200 pounds of turkey
1,850 pounds of mashed potatoes
6,000 rolls and bars
150 gallons of gravy.
In addition to the meal, the Thanksgiving Buffet will feature children's activities including a craft corner and a visit from Santa.  The Duluth Transit Authority offers free transportation to the DECC for the event. Visit DuluthTransit.com or call the DTA at 218-722-7283 for route information.
The College of St. Scholastica collaborates with many local organizations for this event. Surplus food from the Buffet is donated to the Second Harvest Northern Lakes Food Bank. Monetary donations are welcome to support the Buffet and may be sent to: The College of St. Scholastica, attention: Thanksgiving Buffet, 1200 Kenwood Ave., Duluth, MN 55811.