May 15, 2019
2019 faculty, staff excellence awards announced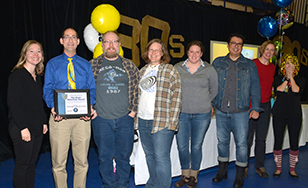 St. Scholastica closed out its academic year by honoring the efforts of outstanding faculty and staff members.
This year's Faculty Staff Excellence Awards luncheon, which is traditionally held the week before commencement to celebrate the end of the school year, took place on May 8.
John Bauman, assistant professor of Education, and John Schottenbauer, media services technology specialist, received the Excellence Award for Living Our Values. This award recognizes faculty and staff who support and further the College's mission of preparing students for responsible living and meaningful work by exemplifying the Benedictine values in their work.
Sharon Obst, lecturer in the Communication, Theater and Art Department, received the Benedictine Professor of General Education Award. This award recognizes excellence in teaching in the General Education Program. Obst will attend a conference focusing on general education and serve as an advocate or consultant for general education throughout the 2019-20 academic year.
English Professor Pat Hagen was given the Max H. Lavine Award, which is the highest award for teaching excellence at the College. It is given annually to a faculty member who demonstrates a commitment to furthering the mission of the College through value-oriented teaching in the Benedictine tradition.
Elyse Carter-Vosen, associate professor of Global, Cultural and Language Studies, won the Tassie McNamara Award. The highest honor presented by the student body to a faculty or staff member, this award recognizes those who exemplify the spirit of St. Benedict through teaching or working at the College.
Hong-Ming Liang, associate professor of History, received the Equal Access Award. This award recognizes faculty who exhibit exemplary effort to engage students with disabilities in academic and interpersonal growth and development.
The Vivat Volunteer Award went to the Department of Chemistry and Physical Sciences. This recognition goes to the department with the most volunteer hours served.