January 26, 2018
2011 Alum to Appear on "Jeopardy!"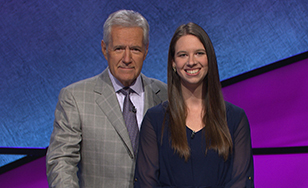 A 2011 alum of St. Scholastica will appear on TV's popular "Jeopardy!" on Tuesday, Jan. 30.
Emily Lewis graduated from St. Scholastica with three majors, in Mathematics, Economics and Finance. She currently lives in San Diego, where she works as a Merchandise Planner for Petco. Ever since she was a little girl watching the show with her dad, she's always wanted to be on the show. But being chosen as a "Jeopardy!" contestant is an extensive process.
Lewis, along with about 75,000 other hopefuls, first completed a 50-question online test, and her results earned her an in-person audition with about 30 other people out of a total pool of 4,000. The audition included a 50-question written test along with a practice round that serves as a screen test. A group of 400 contestants were selected for the season out of that group of 4,000.
Though Lewis isn't allowed to share any details about her appearance before the air date of her show, she does reveal that host Alex Trebek is "much sassier in person than you would expect on TV."
She feels having pursued three majors in college was an asset.
"Having a more diverse group of interests in general helped, but definitely the ability to remember and work through multiple different problems and subjects at the same time helped hone my trivia skills."
"Jeopardy!" airs at 5 p.m. weeknights on KDLH-TV Channel 3, the Duluth CBS affiliate. The popular quiz show is in its 34th season.