October 19, 2015
Your go-to guide for decoding nursing credentials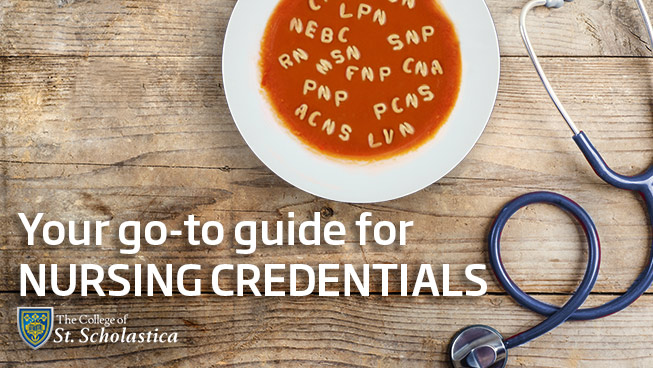 Nursing is the nation's largest healthcare profession, with more than 3.8 million registered nurses from coast to coast. Experts are projecting more than 260,000 vacant nursing jobs by 2025, making the need for healthcare professionals in this direct care profession abundantly clear.
Maybe you've always had a desire for helping others, or maybe the sheer volume of job openings suggests to you long-term job security. But what if you've decided to pursue a career in nursing but you're completely mystified by the alphabet soup of acronyms and credentials that go with each stethoscope and pair of scrubs?
Decoding this smattering of letters is the first step toward unlocking the perfect path to the nursing career that's right for you. That is because deciding which succinctly-lettered title you'd like will determine the academic track required to get you there. Let's take a look at seven of the most common credentials you'll encounter along the way.
8 common nursing credentials decoded
Education requirement: Professional diploma/certificate
Median annual salary:  $24,400*
Overview: CNAs, sometimes known as orderlies, assist in providing basic care for patients in hospitals and long-term care facilities. General duties include bathing and dressing patients, recording patient concerns, measuring vital signs and serving meals. Depending on training levels and state requirements, some CNAs can also dispense medication.
Education requirement: Professional diploma/certificate
Median annual salary: $41,540
Overview: LPNs, similarly referred to as licensed vocational nurses (LVN), provide basic medical care under the direction of supervising registered nurses and medical doctors.
They support patient health by changing bandages, inserting catheters, checking blood pressure and monitoring other vital signs. They also discuss care plans with patients, report patient status and concerns to supervising providers and keep records on patient health. In some states, experienced LPNs and LVNs oversee and direct teams of inexperienced or unlicensed medical staff.
Education requirement: Associate degree
Median annual salary: $65,470
Overview: RNs provide and coordinate direct patient care. They educate patients about health conditions and provide emotional support for patients and their family members. General duties include recording medical histories and symptoms, administering medication, setting up patient care plans, helping perform diagnostic tests and consulting with doctors and other healthcare professionals concerning patient care and after care instructions.
4. BS or BSN: Bachelor of Science in Nursing
Education requirement: Bachelor's degree
Median annual salary: $70,030
Job duties: There is more than one track to becoming a baccalaureate-qualified nurse. BS/BSN nurses are RNs with bachelor's degrees in nursing. Many nurses at this level will assume the same job duties as associate-level RNs, but this enhanced degree path also yields opportunities to work in public health or to work as a nurse educator. These sectors of healthcare allow BSNs to educate communities on important health issues or to train the next crop of LPNs and RNs.
5. RN to BS: Registered Nurse to Bachelor of Science in Nursing
Education requirement: Bachelor's degree
Median annual salary: $70,030
Job duties: RN to BS is an accelerated bachelor's track designed for those who have already attained their RN credential and are now looking to expand their nursing education to the baccalaureate level. Research shows that for every 10 percent increase in the number of nurses with BS degrees, hospitals see a 4 percent decrease in the risk of death among patients. The enhanced skills in cultural competence, information technology and leadership training are a few of the factors that attribute to this improved patient care. The duties assumed at this level or nursing mirror those listed above for BSNs.
Education requirement: Master's degree
Median annual salary: $70,030 – $95,070
Overview: Nurses who have earned an MSN are empowered to work within a number of different specialties — three of the most common are nurse midwife, a nurse anesthetist and a nurse practitioner. All three specialties are moving towards requiring a Doctor of Nursing Practice degree in order to practice. This master's-level education prepares nurses for flexible leadership and critical action within complex, changing systems of healthcare.
Particular shifts from baccalaureate education to master's education include organizational and systems leadership, quality and safety improvement, informatics and healthcare technologies, clinical prevention and interprofessional collaboration. It is important to note that the shift in primary care providers resulting from the Affordable Care Act may lead to many practitioner and midwife positions favoring qualified DNPs over MSNs.
Education requirement: Master's degree
Median annual salary: $96,460
Overview: NPs, sometimes referred to as advanced practice registered nurses (APRN), coordinate patient care, often providing primary and specialty healthcare. In fact, the Affordable Care Act has enabled many NPs to act as primary care providers in a number of states. Working independently or in collaboration with physicians, NPs can prescribe medications, order medical tests and diagnose health problems.
Education requirement: Doctorate degree
Median annual salary: $98,826
Overview: The DNP is designed for nurses seeking a terminal degree in nursing practice and offers an alternative to research-focused doctoral programs. These nurses are well-equipped to apply the science developed by nurse researchers within direct patient care. DNP curricula build on the direct care skills of traditional master's programs by providing education in evidence-based practice, quality improvement and systems leadership.
Which nursing credential is right for your career goals?
Determining which credential track is right for your dream nursing career is the first step to setting you on the path to making those goals a reality. And if you're still unsure of which degree track to pursue, industry experts suggest beginning at the certificate level and working your way up with additional credential opportunities until you discover the right fit for you.
The statistics surrounding the nation's nursing shortage are encouraging to hopefuls looking to enter the field, but you may be wondering which sectors of nursing have been hit hardest by these rapid changes — in other words, you've heard of the jobs, now where are they?
Well we've got you covered. Take a look at nine of the most in-demand nursing jobs and take yet another step closer to healthcare career success.
*Salary data represents national, averaged earnings for the occupations listed and includes workers at all levels of education and experience. This data does not represent starting salaries and employment conditions in your area may vary.
Receive Program Info and Financial Aid Options
Detailed program overview
Personalized financial aid
Individual admissions support