February 27, 2015
Xavier Rhodes: Education, art & St. Scholastica football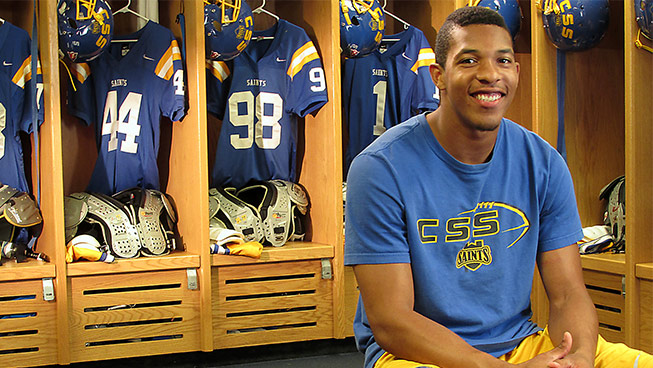 St. Scholastica head football coach, Kurt Ramler, has been known to echo the motto, "Championship football, championship people." That's why Ramler welcomed the opportunity to feature his title-winning Saints in several installments of Fox Sports North's "Inside the Huddle."
The college football series aired over the course of five episodes this past fall. It cast a focused lens on Ramler's coaching philosophy; the athletic department's emphasis on upholding high academic standards and Benedictine values; and a handful of the team's star players.
Xavier Rhodes was one of those players.
Inside the Huddle
The junior defensive back hails from South St. Paul, Minnesota, where he played for a high school football program that has enjoyed long-standing success in both conference and state tournament play. When the time came to choose a college, Rhodes sought out a school that emphasized academic success and showcased a winning team.
St. Scholastica was the only Division III school featured on Fox Sports North. This opportunity cast a spotlight on a program that has already made remarkable strides in its short seven-season history. The Saints are four-time UMAC conference champions and have made it to the NCAA playoffs each of the past four years. The team has also made waves in the media recently with the induction of Sister Lisa Maurer to the coaching staff.
But it was more than just the football team's track record that drew Rhodes to Duluth. "I chose to attend the College of St. Scholastica because of the great community, people and learning experience I knew I would receive," he recalls. "I knew [the school] has a rich heritage with life-changing values that they pride themselves on. I wanted to be a part of that right away."
That tight-knit, community feel translates easily to the football field. Rhodes describes the players and coaches as more of a family than a team, relaying the anticipation he feels each year as he heads back to St. Scholastica after a long summer of hard work and sees his "brothers" step into the locker room.
Coach Ramler isn't the only one who welcomed the opportunity to be featured on Fox Sports North. Rhodes also expresses his appreciation for the chance to show people outside the campus community what it's like to be a part of the St. Scholastica football team.
"In order to win on the field, we've got to win off the field," he emphasizes.
Beyond the Huddle
Each player on the St. Scholastica football team is given an "academic game plan," a binder in which they log their test and homework scores, attendance and notes from class. The coaches schedule regular meetings with each student-athlete to be sure their academic standards are being met.
In addition to impressing his coaches on and off the field, Rhodes credits his academic and athletic motivation to his mother. He describes her as being the strongest person he knows—someone who has always rooted for him both on and off the field.
He quickly lists his mom as being the most influential person in his life. Her constant support and positive nature have built him up to the person he is today.
Rhodes' dreams for his future upon joining the St. Scholastica community didn't only include playing college ball. He also has a deep-seeded passion for art that stems from a penchant for drawing and design he discovered as a young child. That's what led him to study graphic design.
The College of St. Scholastica has been the perfect place for Rhodes to balance his passion for football with his artistic pursuits. "I have met so many inspirational and unique people from all over," he says. "We're just one big family watching out for each other while pushing one another to strive to be the best they can be in all phases of life."
Preparing for future success
As the 2014 St. Scholastica football season wrapped up, Rhodes looked forward to another beautiful Duluth winter while continuing to progress in his art classes. Then, after a summer back in South St. Paul with his family, he'll experience that thrill of reuniting with his teammates—his "brothers"—one last time for his senior season.
"My goal is to graduate from this great college with the lessons and experiences I have been able to gain along the way," he says. He is also looking forward to a long, healthy career in the arts.
For more on Xavier Rhodes and his experiences with St. Scholastica football, watch the full episode of "Inside the Huddle" here. To learn more about Saints football and the other athletic teams on campus, visit the official site of St. Scholastica Athletics.
Receive Program Info and Financial Aid Options
Detailed program overview
Personalized financial aid
Individual admissions support