September 9, 2019
Why study abroad? It might just change your life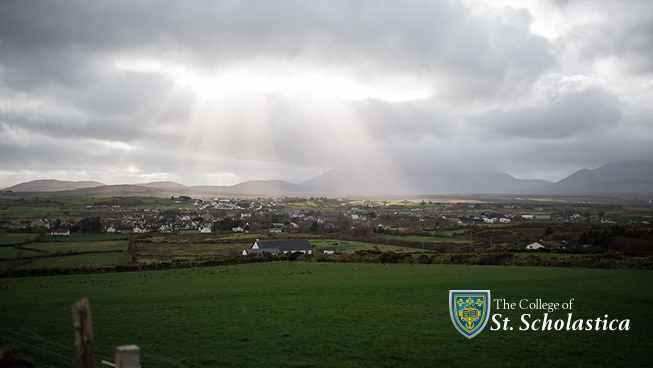 College is all about immersing yourself in brand-new experiences, encountering challenging viewpoints, and learning about different ways of life. What better way to do all of that and much more than through a study abroad experience?
At The College of St. Scholastica, we offer a wide variety of well-established study abroad programs. For instance, our Ireland in the Spring program just celebrated its 40th anniversary. This experience is hosted at St. Scholastica's Study Center in Louisburgh, an unspoiled village on the west coast of the Republic of Ireland. A few alumni of the trip actually met their future spouses in Ireland — in fact, some of them never left. You might notice a common theme in each of their stories, as well. It seems that sometimes, when you stop by a local pub in Ireland, you find more than just a drink!
Sue O'Toole
Physical therapy major and volleyball player Sue O'Toole was a part of the College's fifth trip to Ireland in 1984.
"I had always wanted to study in a foreign country," said O'Toole. She first met her future husband Dave in a pub called the Derrylahan. The couple's relationship began in earnest after O'Toole's graduation.
"We traveled back and forth between the two countries for a couple years and got married in 1990," she said. "We lived in Kettle River, MN, on a dairy farm for three years. We moved to Ireland in 1993." The O'Tooles have three adult children and live on a farm with sheep, cows, horses, donkeys, ducks and chickens in the small village of Doughmakeon near Louisburgh. O'Toole owns and operates a physical therapy clinic.
"I would strongly encourage any student to do a study abroad semester," O'Toole said. "We learn so much by being part of other cultures and immersing ourselves in different ways to live and learn."
Sally Marie Kenny
Business and marketing major Sally Marie Kenny '02 went to Ireland in the spring of 2001, and like O'Toole, she ran into now-husband David in a pub during her second week there. His goal was to become an airline pilot, a career path that would lead the adventurous couple to live all over the world. They lived in Florida, Ireland, and Australia before moving back to Kenny's home state of Minnesota with their two children. She works from home running a marketing agency, and her husband is a pilot for Frontier Airlines.
"If you have the opportunity to get college credit, see a country, experience another culture, experience things you'll never have the chance to experience in your life … just go, stop making excuses," Kenny said.
Megan Sammin
Megan Sammin '02 (MA 2003) also met her husband — wait for it — in a pub. She and her classmates visited Gaffney's after attending a Friday night performance of "My Fair Lady" at a local school.
"My now-husband, Paul, is from Louisburgh and was home for the weekend, as he was attending university in Dublin," she said. "The rest, as they say, is history."
The couple navigated a long-distance relationship for years, flying back and forth for visits and keeping in touch via email, snail mail and phone cards in the days before Skype. Sammin went on to earn her PT degree and work in Minnesota for three years before starting the lengthy, complex process of moving to Ireland to live and work. She moved to the Emerald Isle in January 2008 and married Paul in October 2008. The two currently live in Louisburgh with their two children.
"When I was first staying in the Louisburgh Holiday Cottages, I never dreamed that many years later I'd be walking past them to take my daughters to the local playground!" Sammin said.
Carrie Fritz-O'Malley
Carrie Fritz-O'Malley '98 (MA '99) went to Ireland in 1997.
"It ended up being one of the best decisions I ever made," she said.
On the group's first Friday in Louisburgh, Fritz-O'Malley and her friend walked past the local pubs in search of people their own age. Once again, love was in the air at Gaffney's Pub as she spotted future husband Brendan O'Malley right away.
"I walked in and he was the first guy I saw, sitting up at the bar." The two became friends. "Once I left Ireland, our paths kept crossing back and over the Atlantic. I ended up back in Ireland, something I had never envisioned happening." Fritz-O'Malley planned on staying for a year, but she's still in Ireland nearly 12 years and three children later. She plans to move back to America to give her husband and children the experience of living in another country.
She encourages any student to take advantage of the opportunity to study abroad.
"It is one of the best experiences you can have. You learn so much about yourself, your resilience, your ability to adapt to a different way of life. You get to live in another country and it changes your outlook, opens your mind."
What study abroad programs does St. Scholastica offer?
Along with Ireland in the Spring, St. Scholastica offers a wide variety of options for anyone seeking to explore their world. Whether you would like to participate in a service learning trip or focus on the business and economic systems of a faraway country, we have the trip for you. Study abroad options include a Chinese Business and Culture class, with travel to Shanghai, Hong Kong, Guangzhou, Macau, and Zhuhai; London Theatre and Literature; Marketing and Management in Morocco, and much more. Service learning trips include transcultural nursing journeys in Belize and the Philippines; service learning in Tanzania, Africa; and Social Justice Immersion in Arizona and Mexico. And we'll even help you with your packing list.
St. Scholastica offers study abroad scholarships, as well. So, what are you waiting for? Your college years provide the perfect time in your life to seize this opportunity. Plus, you'll get class credit as well! Learn more by contacting our our study abroad office at 218-625-4490 or oip@css.edu.
Receive Program Info and Financial Aid Options
Detailed program overview
Personalized financial aid
Individual admissions support