March 9, 2015
Why I became a social worker: The healing powers of hip hop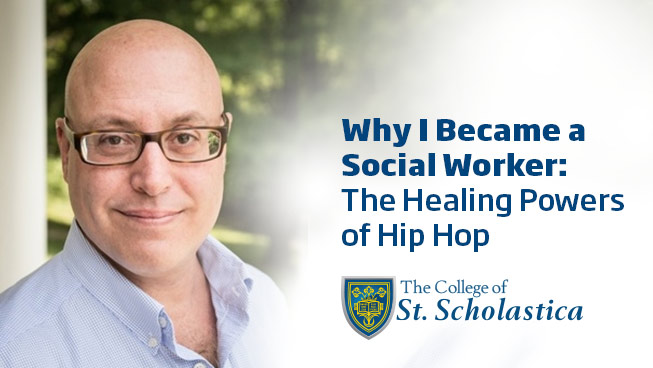 It can be difficult to discover a career that fits your skills and interests perfectly—just ask late-in-life career changers like Marc Aronoff.
Aronoff received a bachelor's degree in speech with an emphasis in literature from Northwestern University in Chicago. But that wasn't until he tried his hand at majoring in psychology. He later went on to sustain a healthy and successful career as a professional dancer.
So how did this dance and language aficionado become a social worker? "There was always an innate interest in human nature—in what motivates us most," he explains, adding that he's long been drawn to altruism and helping others. Even as a freshman in college, he spent time volunteering at a youth resource center.
Little did he know at the time that his early-college volunteering days would serve as a precursor to a calling he'd discover much later in life. Here is his story.
Why become a social worker: follow your instincts
Aronoff spent years expressing himself as a professional dancer, and while it was personally fulfilling, his interest in altruism never faded. As his days as a dancer were nearing their end with an approaching retirement, he made the decision to follow his long-standing, innate interest and dedicate his career to helping people.
He began working at Mount Sinai Medical Center in New York as the program director of the Mindfulness-Based Stress Reduction (MBSR) program for patients coping with chronic pain, stress or illness. He was even given the opportunity to train with the founder of MBSR himself, Dr. Jon Kabat-Zinn from the University of Massachusetts Medical Center.
"During those years, I was constantly coming up against the PhD/master's question," Aronoff recalls. Having found a deep love for the mission of social work, this served as the motivation he needed to receive the proper accreditation by earning a master's degree.
While doing so, Aronoff interned with Berkshire Mental Health Center (now known as the Brien Center) where he worked with patients suffering from long-term mental illness. His supervisor during that internship noticed Aronoff's creative capabilities and encouraged him to apply them to his work with patients.
The use of art as a means of therapy stems from a long-standing belief that engaging patients on a creative level can, for many, lead to healing and resolution of internal unrest. So he began including creative drama in his practice—and his patients loved it!
His internship came to an end, and Aronoff devoted himself to community outreach through working at a large clinic while also doing some wellness consulting. Then someone suggested that he use his background in dance as a form of artistic therapy in his practice.
That's when The Berkshire Project was born.
Why become a social worker: a fresh approach
Aronoff began his new initiative, The Berkshire Project, in 1999 with a series of dance performances in Berkshire County, Massachusetts. Not long after, he and his team developed a dance-based curriculum for schools in the area that tied workshops on African dance and drumming in with social studies classes. Aronoff later transformed his arts-based initiative into a model program that would interface directly with the Massachusetts juvenile justice system.
The Berkshire Project is now centered around its Hip Hop Remix Program, a dance-based behavioral intervention program designed specifically for teen girls in the Massachusetts juvenile justice system.
Working in tandem with the court system itself, Aronoff runs his Hip Hop Remix Program in 8-week installments. The two-hour weekly sessions typically include around 20 at-risk young women, ages 14 to 17, who are looking to fulfill their mandatory community service hours—an opportunity made possible through an established contract with the probation departments in local cities.
"The weekly sessions are typically structured in the manner of group therapy, behavioral skills, meditation, dance, choreography and leadership training, teamwork and time devoted to writing and journaling," Aronoff explains. Each installment concludes with a final dance performance to which the girls can invite family members, friends, teachers and even members of the judicial system who are involved with their cases.
"These kids are tough," he says. "They'll come to the program with a whirlwind of drama—some are living in shelters, some are victims of violence and many have parents who are in jail. We create a world of safety, recognition and validation. And they're very responsive to the work—they're looking for an outlet for their own energy." By the end of the eight weeks, many of the graduates ask to extend their time in the program.
But spearheading an initiative like this doesn't come without its challenges. "You don't always see the change initially. Some kids are incredibly restrained, test the limits and even want to fight," he says. "The biggest challenge is that they're going to act out in the way they do with the rest of the world—it can be challenging not to respond back to their acting out in the same dictatorial fashion they get from the other authoritative figures in their lives."
Through use of a little tough love as well as providing these young women with enough room to work through their emotions, Aronoff says that they are able to create a sense of trust and camaraderie. "It's very rewarding to see these kids feel like they've accomplished something, that they were able to relate to one another and discover a sense of community," he adds.
Why become a social worker: be a catalyst for change
It's no secret that a career in social work can be emotionally taxing. As Aronoff points out, it is essentially shining a light on some of the darker aspects of life and the human condition, and the tangible rewards are not always visible.
"It gets messy, but you can't take it personally," he says. "We are here not to change the world, but to be catalysts for change."
Being a catalyst for change, Aronoff explains, means you have your own set of values and tenets of moral constructs, and you do your best to live your life in a way that upholds them. Each day may be different, but you need a solid ground from which you can work. "The ultimate textbook is getting out there and doing it," he adds.
Aronoff's work with The Berkshire Project is still thriving, and on top of that, he recently published his first book which can be found on Amazon. So what is the best way to stay motivated after years in the profession? "Self-care needs to be a part of the process. Support systems are important. You need to know that you're not on your own," he says, noting that keeping the creative side of his life well-watered has been crucial to maintaining his positive motivation.
The field of social work yields many different possibilities. Marc Aronoff found his niche by combining his penchant for the arts with his passion for helping people. To learn more about becoming a social worker, take a look at this article that outlines the different types of social work superheroes, and see if you can find your perfect fit.
Receive Program Info and Financial Aid Options
Detailed program overview
Personalized financial aid
Individual admissions support