November 13, 2019
What's the difference between Health Informatics and Health Information Management?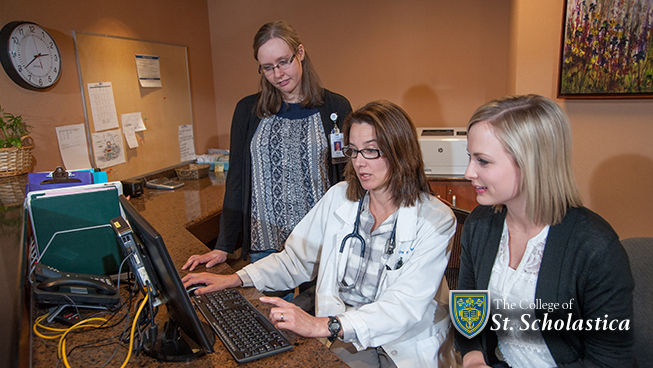 Job growth in the healthcare industry is poised to explode over the next several years. If you've ever thought about pursuing a career in this fast-growing field, but you aren't interested in working directly with patients, maybe Health Information Management (HIM) or Health Informatics (HI) is the right path for you! Professionals in the HIM and HI fields utilize technology and healthcare data to increase efficiency in the medical field, and job growth is projected to grow 20% over the next decade.
So, what's the difference between careers in Health Information Management and Health Informatics? David Marc, PhD, chair of the HI and HIM Department at The College of St. Scholastica, says that although they have a lot in common, they are two distinct career fields. Both fields share the commonality that they focus on healthcare technology and data. However, HIM tends to focus more on the people and processes that manage the technology and data, while HI focuses more on the development, maintenance, and use of the technology and data. "Although both fields revolve around the use of technology in healthcare and require professionals that share some common skill sets and job responsibilities, there are many differences between the two," Marc said. "The key difference between HI and HIM is the level of interaction with data and technology.
"Health information management jobs typically focus on the information technology needed to store and retrieve patient data accurately and securely and the management of the people and processes."
"Health informatics jobs focus more on utilizing data, data analytics, and technology to improve patient care delivery."
If you hope to work in a high-demand, high-paying career, keep reading for more details about careers and HI and HIM, and check out the suite of Health Informatics or HIM degrees and certificates offered at St. Scholastica.
What Does a Health Informatics Career Look Like?
The Health Informatics field uses theories and methods from many areas, including computer science, information sciences, and healthcare. HI professionals design and use information systems and data to improve the quality, effectiveness and efficiency of patient care. HI professionals must have knowledge about the processes and tools used to record, store, and analyze healthcare data.
They need to have a deep understanding of electronic health records, databases, data analytics, data standards, clinical vocabularies, system design/software development, and the healthcare system. A credential health informatics professional may seek out is the Certified Health Data Analyst (CHDA). HI professionals can earn the CHDA once they have three years of healthcare data experience and have completed the requirements to be a Registered Health Information Technician.
Common HI job titles include:
health informatics specialist/analyst
data analyst
systems analyst
database analyst
health information systems manager
nursing or pharmacy informatics specialist
What Does a Health Information Management Career Look Like?
Health information management focuses on the organization and management of the patient data in their medical records. HIM professionals are often responsible for maintaining information systems, coding health information for insurance reimbursement, and ensuring that patient data is in compliance with governmental regulations and guidelines.
They must have a deep understanding of healthcare processes, methods for analyzing data quality, data privacy, data security, data standards, clinical terminologies, and computer- and paper-based data management. The Registered Health Information Administrator credential, which is earned by completing an accredited bachelor's or master's degree program and sitting for the exam, is required for mid- to upper-level jobs in HIM.
Common HIM job titles include:
medical records manager
compliance officer
data quality manager
health information management director
HI and HIM Career and Salary Outlook
Job demand for HI and HIM professionals is projected to continue growing over the next several years. U.S. News and World Report reports that 70% of health insurers, 48% of hospitals and 39% of pharmaceutical and life sciences companies plan to increase hiring of technical informatics professionals over the next two years. The U.S. Bureau of Labor Statistics predicts a 22% growth rate over the next decade for HIM and related careers.
Salaries vary, but according to the latest AHIMA Salary Survey, for those with the RHIA credential the average salary is $91,450. Those with a CHDA credential average $92,100. Salaries increase with years of experience and added credentials.
Receive Program Info and Financial Aid Options
Detailed program overview
Personalized financial aid
Individual admissions support