Home » About Us » Sentinel Blog »

What's new in health information management? The shift toward informatics, big data analytics & more
November 13, 2017
What's new in health information management? The shift toward informatics, big data analytics & more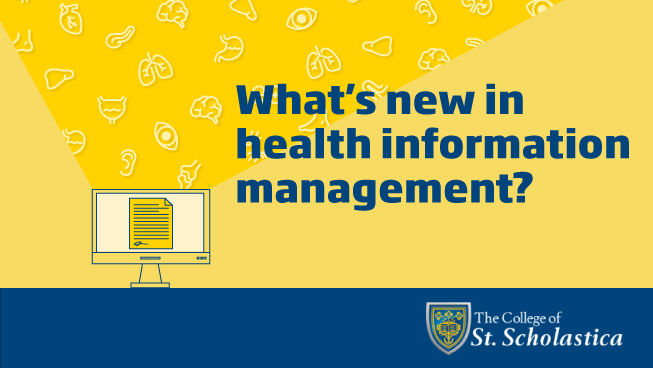 As the needs of healthcare organizations evolve, so too do the specifics of the health information management (HIM) field. A huge shift in the healthcare ecosystem has occurred with the growth of healthcare technology, leading many organizations to begin preparations for conducting data collection solely through electronic health records (EHRs). The impacts of a shift of this magnitude will likely continue to be evident throughout the next decade.
Ensuring the quality of EHR data has become a top priority. With everything from patients' home addresses and phone numbers to social security numbers and coveted financial data now being stored electronically, it's crucial this information is safeguarded with the expected levels of privacy and security.
In addition to ensuring the protection of patient data, elements like standardization, interoperability and general EHR optimization all play significant roles in maintaining quality assurance of patient care. It's also true that traditional coding competencies that have long been sought after in HIM positions are now taking a back seat as big data analytics and informatics increase in importance, according to HIM Reimagined by Ryan Sandefer, assistant professor of health information management at CSS.
The American Health Information Management Association (AHIMA) suggests that all HIM professionals and hopefuls opt to be proactive in anticipation of these changes rather than scrambling to play catch-up after the fact. With that in mind, we've outlined some of the key points of this transformation for you below.
New skills are rising to the top in HIM
AHIMA recently released a workforce study lead by David Marc, assistant professor of HIM at CSS, analyzing the ways HIM is shifting to meet the evolving needs of our healthcare organizations. The study analyzed active HIM job postings and found that some of the most frequently occurring phrases and skills listed centered on documentation, standards, data and analytics.
It was concluded that HIM professionals will likely spend less time on diagnosis and procedural coding, leading AHIMA to align its strategic objectives around elements like informatics, analytics, information governance and consumer engagement.
Big data analytics & informatics
Informatics and data analytics are now considered crucial operations for healthcare organizations, according to AHIMA. HIM professionals work to acquire, manage, analyze and interpret patient data both consistently and quickly. Because of the sheer volume of data in today's healthcare environment, HIM professionals are starting to become more involved in the decision-making processes relating to the types of information needed to resolve important business issues. They also play an integral role in helping to identify the most efficient ways to deliver quality patient care.
Data analysis is being used to improve work processes within our healthcare organizations, including communicating with and reporting to leadership. It's also important for HIM professionals to continue learning and developing new skills within this arena, as healthcare data processes are consistently changing and improving. In fact, a notable finding from the AHIMA workforce study concluded that there's been a particular rise in job postings requesting informatics competencies and IT data security certifications.
EHR privacy & security
Another interesting finding from the AHIMA workforce study revealed that the percentage of HIM job postings referencing skills related to healthcare privacy and security has increased significantly. Job postings that mentioned Certification in Healthcare Privacy and Security (CHPS), for example, increased more than 1,400 percent from 2012 to 2014 — a margin that then doubled from 2014 to 2016. Corresponding numbers for job postings that mentioned the Healthcare Information Security and Privacy Practitioner (HCISPP) credential saw very similar spikes.
Health Insurance Portability and Accountability Act (HIPAA) regulations require that all healthcare organizations employ a privacy or security officer — a role HIM professionals often fill. In fact, HIM pros have become crucial to healthcare cybersecurity at large.
Staying up to date on all things related to EHR privacy and security means professionals must be well-versed in the policies and procedures required for HIPAA compliance. This not only means making sure all privacy laws and requirements are met, but it can also mean writing up new procedures for the organization and facilitating the training of staff as needed.
Information security is now an essential part of any healthcare organization's culture. This can often translate to an HIM professional working on the privacy side of things in tandem with an IT professional who can focus more on security. The proper balance between professionals well-versed in cybersecurity and those with an IT background can make all the difference in keeping electronic information safe.
Data standardization & interoperability
While keeping things running smoothly and ensuring all electronic data is properly protected are often considered the top priorities in HIM, data standardization and interoperability are also rising in importance for good reason. Achieving interoperability with EHRs means patient information can travel seamlessly across different operating systems, different clinicians and different HIM or health information technology (HIT) professionals.
It may be easiest to look at it this way: A lack of standardization and interoperability means healthcare providers may not have immediate access to patient records and other health information that has been electronically stored by sources outside their organization. What are the ramifications? Without full access to the data needed to properly inform the decision-making process, providers are unable to offer effective — or even life-saving — treatment, according to AHIMA.
It is for this very purpose that AHIMA crafted its Health IT Standards for Health Information Management Practices publication. This is a one-of-a-kind white paper that acts as a guide to inform HIT developers and vendors about information management in healthcare, ensuring that HIM practices are integrated into interoperability efforts.
Overall, standardization and interoperability of EHRs enables better workflows and reduced ambiguity in the all-too-common event of data transfer within healthcare organizations. This results in the right data being made available to the right people at the right time.
Become what the healthcare industry needs
The overarching finding of the AHIMA workforce study was that HIM-related careers are moving toward more advanced positions. In many cases this requires mid-level, advanced and master skills with a baccalaureate or master's degree. If you're interested in propelling your HIM career forward and you already possess a bachelor's degree, a master's track can be the perfect way to prepare you for the evolving needs of today's healthcare landscape.
But even if you're certain a master's degree is the right next step for you, you still have a few options to choose from. Depending on your particular career goals, you may find yourself drawn to either HIM or health informatics specifically. Learn more about the differences between the two by visiting our article, "Health informatics vs. HIM: Which master's track is right for you?"
Receive Program Info and Financial Aid Options
Detailed program overview
Personalized financial aid
Individual admissions support