May 9, 2016
What should I major in if I want to be a [insert impressive job title here]?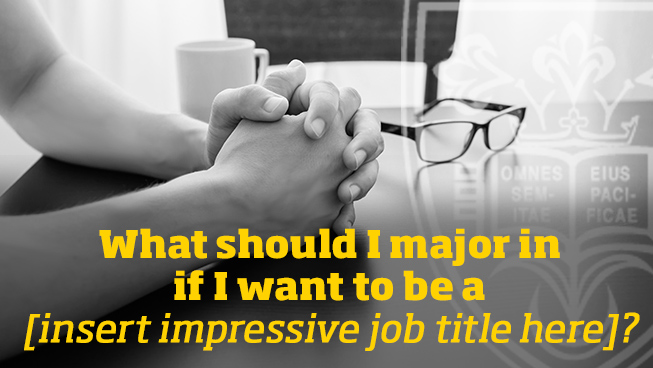 If you already know the career path you're hoping to pursue, that's a huge step to cross off your to-do list as you approach the transition to college! But what do you do if there's no clear-cut major that coincides with the career you've set your sights on?
A number of jobs that require post-graduate study don't come with undergraduate majors that align specifically with that path. For example, most colleges and universities don't offer a pre-med or pre-law major for students hoping to transition to medical or law school upon graduation. Likewise, undergraduate majors in fields like physical therapy, occupational therapy or college professorship are nonexistent in the United States.
That's why we dug into some of the most common career paths that require postgraduate education. We dissected the academic requirements and prerequisite skill sets of each to help you identify the best majors to set you up for success.
What should I major in before pursuing my postgraduate degree?
I want to be a doctor
Overview: Whether you're hoping to become a family physician, a neurosurgeon or anything in between, medical school is in your future if you've set your sights on becoming a doctor. But it's unlikely that you'll find a college that offers "pre-med" as its own major.
The truth is, you could major in philosophy or art and still get into medical school. What's most important is that you build a strong foundation in the necessary science courses while attending college. When looking for the best pre-med track for you, it can be helpful to consider the courses that will be most relevant to your preparation for the Medical College Admission Test (MCAT). These can include courses in anatomy, physiology, biology, physics, chemistry, psychiatry, mathematics and even English.
Academic requirements: Practicing doctors must possess a medical doctor (MD) degree from an accredited medical school and pass a board certification exam. Most applicants to medical school have at least a bachelor's degree, while many possess advanced degrees. Medical schools have also begun seeking out candidates with prior work experience in healthcare.
Almost all physicians complete at least four years of undergraduate study, four years of medical school and three to seven years of internship and residency programs, depending on the specialty they choose.
Undergraduate majors to consider: You can major in virtually any subject and still have the potential to be admitted to medical school. But many aspiring doctors will prepare themselves for medical school by earning undergraduate degrees in biology, chemistry, exercise physiology, psychology or — when applicable — pre-medicine.
I want to be a lawyer
Overview: While future doctors are tasked with enrolling in challenging courses that will best prepare them to pass the MCAT, future lawyers should participate in an undergraduate path that can adequately prepare them for the Law School Admission Test (LSAT). According to the American Bar Association (ABA), this includes taking courses that can develop a student's research and writing skills, as well as his or her critical reading and problem solving abilities.
Some academic paths that can prepare pre-law students for the academic rigor of law school include behavioral sciences, English, humanities and communications.
Academic requirements: Practicing lawyers are required to complete a juris doctor (JD) degree from a law school accredited by the ABA. This process can typically take about seven years of full-time study, including four years of undergraduate study followed by three years of law school.
Undergraduate majors to consider: While the ABA does not recommend any specific undergraduate major for law school hopefuls, it does highlight a few subjects considered "traditional preparation" for law school. These include history, English, philosophy, political science, biology, accounting and management.
I want to be a physical or occupational therapist
Overview: Occupational therapy and physical therapy are two distinct fields of medical practice. While they have a number of differences that you should explore before deciding which path is right for you, they also have a couple similarities — chief among them is the fact that you will rarely find an undergraduate major specific to either field.
Similar to the track to becoming a doctor, you will sometimes encounter pre-physical therapy or pre-occupational therapy programs, but if you have your sights set on a college that doesn't have those offerings, there are still plenty of options!
Because both occupational and physical therapists consider anatomy and the physical aspects of rehabilitation, hopefuls in these fields can best prepare for postgraduate study by learning as much as they can about biology, physiology, psychology, medical ethics and physics.
Academic requirements: While some entry-level occupational and physical therapists hold master's degrees, a vast majority of these positions require a doctorate in the respective field. In fact, entry-level physical therapy positions are expected to require a doctorate by the year 2020, while occupational therapy positions will likely follow suit by 2025.
Undergraduate majors to consider: It can be helpful to review the requirements of postgraduate programs in occupational therapy and physical therapy as you prepare to select your undergraduate major. Many occupational and physical therapy hopefuls will prepare themselves by majoring in exercise physiology, health sciences, athletic training or biology.
I want to be a college professor
Overview: The process of becoming a college professor differs from that of becoming a K-12 teacher. For that reason, the undergraduate path to this rewarding career isn't always as clear-cut as majoring in education.
College professors — also referred to as postsecondary teachers — must have a thorough background in the subject they teach. The most common undergraduate track for aspiring professors isn't to major in education, but rather to major in the field in which they wish to someday teach. For example, an aspiring English professor would study English or a related subject.
Academic requirements: It is important to note that requirements for postsecondary teachers will vary depending on the institution. For example, while some four-year colleges and universities will hire professors with master's degrees, many require their educators to be PhD candidates in their field.
Conversely, community colleges and technical schools may hire candidates with master's degrees, while also at times valuing career experience and relevant certifications in specific subjects over academic esteem.
Undergraduate majors to consider: When it comes time to select the right undergraduate major, aspiring college professors are faced with one prominent task — determining the subject they would like to someday teach. Whether your sights are set on history, chemistry, economics or music, your undergraduate path will become exceedingly clear once you make that determination.
Your career dreams start here
Having big career dreams is an undeniable sign that you're driven and ready for the educational journey ahead. Now that you have a better idea of which undergraduate paths can best prepare you for your dream job, it's time to explore those further!
The next step is to learn as much as you can about the fields of study you're considering. Head over to The College of St. Scholastica's undergraduate information page to learn more about the program offerings and connect directly with someone who can answer any lingering questions you may have.
Receive Program Info and Financial Aid Options
Detailed program overview
Personalized financial aid
Individual admissions support