February 5, 2018
What role can nurses play in combating opioid use disorder?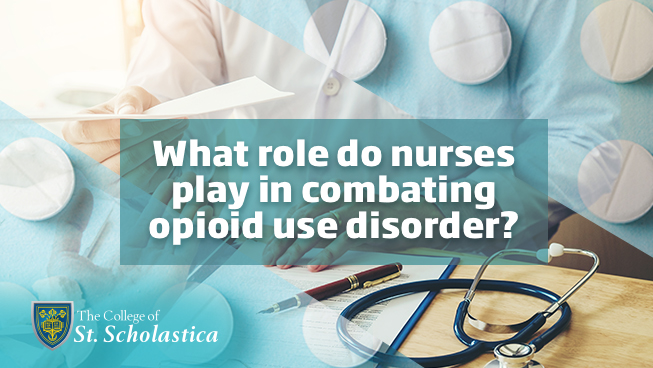 With over 90 lives claimed each day, opioid drug overdose has become the leading cause of accidental death in America. Addiction to opioids — a class of drugs that includes illicit substances like heroin in addition to prescription pain relievers such as oxycodone, fentanyl and morphine — is driving this epidemic. And an alarming 40 percent of these opioid overdoses involved a prescribed medicine. Equally disturbing is the growth in sales of prescription opioids — they've nearly quadrupled in the US between 1999 and 2014, despite reports of pain among Americans remaining stagnant.
While nationwide initiatives have been established to curb the number of opioid-related deaths, it is resoundingly important to address some of the root causes of this crisis as we explore potential areas for improvement. These areas include expanded access to treatment of addiction, reduced access to illegal opioids and improved prescribing practices at the hand of healthcare providers.
Nurses represent the largest segment of the healthcare workforce. As such, they are uniquely positioned to play a critical role in both the prescribing of opioids as well as in assisting those who may be suffering from addiction.
Join us as we dig into the harrowing facts surrounding opioid use disorder while also exploring how nurses can contribute to the prevention of opioid-related deaths. We'll even offer some insight from the director of nursing at a premier provider of psychiatric and substance abuse treatment programs.
The facts surrounding the opioid epidemic
Despite the fact that there has not been an overall change in the amount of pain Americans report, sales of prescription opioids have nearly quadrupled in the U.S. from 1999 to 2014, according to the Centers for Disease Control and Prevention (CDC). While prescription opioids can help manage some types of pain, there is "not enough evidence that opioids improve chronic pain, function and quality of life."
Many who abuse prescription opioids get them for free from a friend or a relative, but it's also true that one-in-five patients with non-cancer pain or pain-related diagnoses are prescribed opioids in office-based settings.
Also consider the following facts from the U.S. Department of Health and Human Services:
12.5 million people misused prescription opioids in 2015.
Approximately 828,000 people used heroin — 135,000 for the first time.
33,091 people died from overdosing on opioids; 15,000 of these deaths were attributed to commonly prescribed opioids.
Based on data collected in 2013, the opioid epidemic surpassed $78.5 billion in economic costs in the U.S.
The CDC also reported that the rate of opioid prescribing has increased significantly among specialists who are likely to manage acute and chronic pain — most commonly among pain medicine, surgery and physical/medicine rehabilitation. That said, primary care providers account for about half of opioid pain relievers distributed.
How can nurses help prevent opioid-related deaths?
Nurses work on the frontlines of American healthcare. Whether we're discussing a nurse's role in treating and counseling patients who are suffering from addiction; a nurse's ability to recognize signs of potential opioid abuse; or, in the case of advanced practice registered nurses (APRNs) who can serve as primary caregivers in many states, the prescription of pain relieving opioids, nurses of all kinds can play a direct role in curbing some of the harrowing results we've seen from the American opioid epidemic.
Prescribing opioids
It's been found that more than half of patients who receive opioid prescriptions had filled another opioid prescription within the previous 30 days. As a nation in the midst of crisis, it's critical that we are all better educated about effective pain management and the real risks of abusing prescription painkillers.
This begins with healthcare providers, all of whom must adhere to the evolving guidelines for prescribing opioids for chronic pain. Consider the three primary principles offered by the CDC:
Non opioid therapy is preferred for chronic pain outside of active cancer, palliative and end-of-life care.
When opioids are used, the lowest possible effective dosage should be prescribed to reduce risks of opioid use disorder and overdose.
Providers should always exercise caution when prescribing opioids and monitor all patients closely.
APRNs represent the third largest opioid prescribing group. The American Association of Colleges of Nursing (AACN) has spoken publicly about its commitment to protect the public's health by "taking decisive action to address the nation's opioid epidemic." This centers largely on prioritizing proper preparation of the next generation of APRNs regarding best practices for prescribing opioids.
Up-and-coming APRNs can expect to encounter increased education regarding safe prescribing practices. It's also true that resources on opioid-related topics have been and will continue to be created as a form of continuing education for practicing nurses.
Recognizing abuse & advocating for patients
"Nurses play a critical role in identifying patients with opioid addiction by using a caring, empathetic and nonjudgmental approach," explains Karen McLeod, BSN, RN, MS and director of nursing for High Focus Centers — a premier provider of psychiatric and substance abuse treatment programs in New Jersey. "Patients notoriously seek out nurses for support and understanding. Therefore, the nurse becomes the first line of defense to the patient in an opiate crisis."
Nurses are well-positioned to detect patients caught in the thick of opioid misuse, and they are often trained to appropriately assess each patient's individual situation with the goal of getting them the help they need. With assessments like this in mind, the National Institute on Drug Abuse (NIDA) has developed a Quick Screen tool for healthcare providers to use when substance abuse is suspected. It is immensely important for nurses and other providers to utilize their training and remain nonjudgmental when screening patients and referring them for further evaluation or treatment.
Through use of critical thinking skills, McLeod offers, nurses can identify signs and symptoms of opiate abuse. "This begins with the assessment; the nurse establishes a therapeutic relationship to build trust with the patient. This allows the patient to express feelings, problems and concerns related to their substance," she says. "By evaluating the patient's physical and mental health needs, the [nurse] can determine the appropriate choice of treatment for the patient."
Nurses are both well-versed in navigating healthcare systems and are compassionate advocates for their patients. For these reasons, they can be great resources for patients suffering from addiction and in need of assistance to navigate the road to recovery. From asking the right questions to being on the look-out for physical signs of substance abuse, nurses can often act as the first step to getting patients access to the help they need.
"Through collaboration with pain management practitioners and other healthcare providers in the community, nurses can offer patients alternative means of coping with chronic pain," McLeod says. She goes on to explain that nurses can provide critical education on more holistic and healthy lifestyle changes as different ways to manage pain without opiates.
Nurses can also advocate for their patients by providing patients' families and caretakers with education about opioid dependence. McLeod maintains that providing these support systems with proper resources can be a critical aspect of the recovery process.   For more information regarding opioid use disorder diagnostic criteria for healthcare providers, peruse the information provided by the American Psychiatric Association.
The American opioid epidemic: Can you make a difference?
As we face the deadliest drug crisis in American history, many are wondering how they can use their training and skills to make a positive impact. While the worst of the problem is currently clustered in Appalachia, the Rust Belt and New England, qualified and compassionate nurses are needed nationwide to do what they can with the patient bases they serve.
Whether you're hoping to impact opioid overprescription, to help detect opioid use disorder or to advocate in whatever way you can for patients in need of recovery opportunities, you may consider a career in nursing.
You can learn more about why people pursue this fast-paced, in-demand and purposeful career path by visiting our article, "Why do you want to be a nurse? Students share their sentiments."
Receive Program Info and Financial Aid Options
Detailed program overview
Personalized financial aid
Individual admissions support