May 11, 2015
What it takes to be a nurse: One alumnus' inspiring story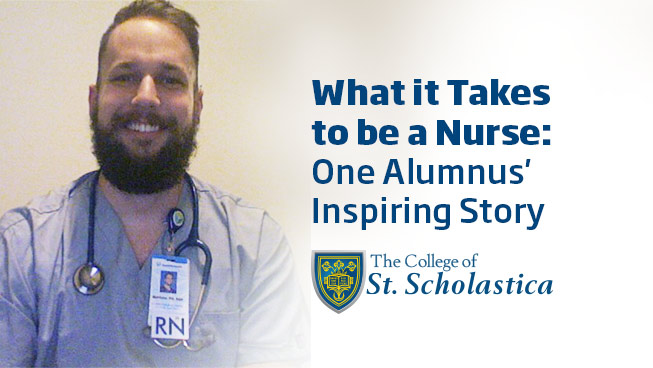 Becoming a nurse is more than just taking a few classes, earning credits and receiving a degree. Memorizing medical facts and procedures are a huge part of the profession, but they can only get you so far.
Changing a wound dressing, inserting an IV and administering medication may not seem as straightforward when looking into the eyes of an actual patient you're about to poke with a needle. Many nurses can recall the exact moment in their careers when everything changed—that defining moment when they moved from being a student to a working professional on the front lines of medical care.
Put simply, everyone remembers when they learned what it takes to be a nurse.
At least that's how it was for CSS graduate Matt Nierengarten, when he began his nursing career in a neurology and trauma unit.
The path to a career in healthcare
Nierengarten had no idea what he wanted to do with his life after graduating from a Duluth-area high school in 2008 . Many of his friends had plans to transition right into college to pursue a degree, but his was a more roundabout path into the nursing field.
Nierengarten spent a year in Brazil working at a local homeless facility. During his time there he also worked at soccer camps and helped the local kids with homework or played Frisbee or checkers with them.
Shortly after returning to Duluth, one of Nierengarten's close friends was involved in a tragic skiing accident that left him paralyzed. "I spent weeks in the hospital with him and his family," he says. "During that time, I took notice of a lot of really compassionate and competent nurses."
That's when he began to envision himself in a similar role.
Attending The College of St. Scholastica felt like an easy decision for Nierengarten. It was close to home and he had heard amazing things about its nursing program, including renowned faculty and the high rates of job placement.
"[St.] Scholastica does an incredible job of teaching [its] nursing students what it looks like to take care of the whole patient," he says. "They train students to think critically and quickly, which is crucial in the nursing field."
He earned his degree and, within six months of graduation, he transitioned to a position in the neurology and trauma unit of a local hospital.
The defining moment
Nierengarten walked into the hospital one Friday to begin a month-long string of overnight shifts. He glanced at his first assignment of the night: a 23-year-old male who had been involved in a traumatic skiing accident.
The tragic familiarity of the moment stopped Nierengarten in his tracks.
The physical damage, once again, was severe: bruised lungs, fractures to the face and skull, indications of possible brain damage. He was medically paralyzed.
Nierengarten and other medical personnel provided consistent round-the-clock care to the young man, but things looked bleak. "When he was stable enough to transfer to the general floor, I found myself caring for one of the most broken and sick patients I have ever taken care of," he recalls.
He spent the remainder of his shift in the young man's room monitoring his status, administering medication as needed and conversing with his mom and fiancée. He learned about the patient's life goals and his wedding plans.
"I felt like I had been a part of his life before the accident," Nierengarten says.
The days stretched on, and the patient showed small signs of improvement. As his string of night shifts drew to a close, Nierengarten was sad to leave. "I felt like my patient who had started as a name and number on a chart had become my friend, someone who I cared about deeply."
As he said goodbye to the young man and began walking out of the hospital room, the patient's mother said, "Buddy, can you wave goodbye to Matt?" The near-paralyzed survivor lifted his left hand and waved.
Nierengarten waved back, said goodbye and made it two steps out of the room before bursting into tears.
"This is what nursing is truly about," Nierengarten says, looking back on that moment. "It's not the charting, the medications or the hourly paperwork. It's not the paycheck. It is about the hug from a loving mother and the firm handshake of a grateful father. It is about the wave goodbye from a boy who should have died on a ski slope, but instead fought to cling to life."
Take the first step toward a life-changing career
The path to becoming a nurse may seem daunting as you're standing just in front of the starting line. But working nurses will tell you time and time again that the winding race to landing that first job placement is worth it.
Once you put on your scrubs and lace up your tennis shoes for your first day on the job, you can be confident that nursing school has prepared you for that moment, while remaining open to the kind of on-the-job learning that you can't get anywhere else.
"Nothing could have prepared me for that wave," Nierengarten says. "And nothing will ever prepare you for your wave, your hug, your handshake or high-five. But when that moment arrives, you have found the reason you have chosen this career. In that moment, you learn exactly what it is to be a nurse."       
Matt Nierengarten was looking for a fulfilling career. He chose The College of St. Scholastica's nursing program to lead him to it, and it was a decision that changed the rest of his life. To learn more about the program that helped Matt discover success in his career, visit the nursing program information page. 
Receive Program Info and Financial Aid Options
Detailed program overview
Personalized financial aid
Individual admissions support