June 19, 2018
What is the difference between a nurse & a nurse practitioner?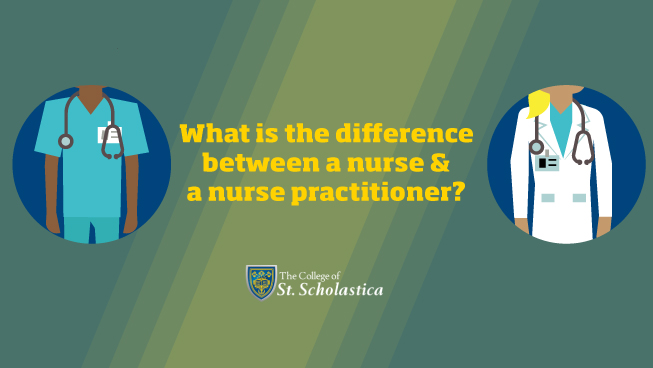 From the various types of nursing degrees and titles to the litany of specialties each nurse can focus their career on, it's no wonder many have a hard time keeping track of the differences between one type of nurse and another. There are, after all, more than 100 specializations in the world of nursing.
The nurses you're likely most accustomed to seeing are registered nurses (RNs) — or nurses who provide and coordinate patient care, educate patients about various health conditions and provide both advice and support to patients and family members, according to the Bureau of Labor Statistics (BLS).
You may have also interacted with nurse practitioners at various medical appointments throughout your life. While RNs and nurse practitioners may look a lot alike on the surface, there are some pretty distinct differences between the two.
If you're considering going into nursing, it's definitely worth your time to learn as much as you can about all possible nursing career paths. This can help you feel confident in your decision to become an RN, a nurse practitioner or a different type of nurse entirely.
To help you get started, we outlined the key differences between RNs and nurse practitioners below. Read on to see if you can find the right career fit for you!
RN vs. nurse practitioner: The basics
The great news about both the RN and the nurse practitioner career paths is that both positions are in high demand. While RN jobs are projected to grow 15 percent by 2026, it's been predicted that nurse practitioner jobs will see a 31 percent jump within that same time frame. These are both well above the average projected growth of all occupations nationwide, which sits at seven percent.
Registered nursing positions are unique in that candidates can take one of many possible educational paths, such as a bachelor's degree (BSN), an associate degree (ADN) or a diploma from an approved nursing program, according to the BLS. Upon completing the proper education, RN hopefuls will also have to obtain a nursing license by passing the National Council Licensure Examination (NCLEX).
A nurse practitioner is a type of advanced practice registered nurse (APRN). After having obtained an RN licensure, qualified candidates must also earn a master's degree in the field.
While RNs and nurse practitioners typically work within the same healthcare environments — hospitals, physicians' offices, outpatient care centers and other similar settings — there are significant differences in the scope of job duties and the overall compensation for each. Both types of nurses provide and coordinate patient care, but those extra years of schooling nurse practitioners undergo allow them to take the scope of their work even farther, mostly related to actually diagnosing and treating illnesses.
Their master's-level education qualifies nurse practitioners to enjoy more autonomy than other nurses, with some states allowing them to practice outside of collaboration with a physician. It's also true that the additional qualifications and job duties reward nurse practitioners handsomely, with the most recently reported median annual salary resting comfortably at $103,880. Conversely, RNs can expect a median annual income of about $70,000.
RN vs. nurse practitioner: The specialties
Both RNs and nurse practitioners have a plethora of specialties they can choose to dedicate their careers to. But the increased qualifications of nurse practitioners pave the path toward a number of advanced practice positions that aren't available to RNs. These include neonatal nurse practitioners, pediatric nurse practitioners, psychiatric and mental health nurse practitioners, adult-gerontology nurse practitioners, family nurse practitioners and many more.
If you're looking to get a taste of what these advanced practice specialties might entail, familiarize yourself with a few of them below:
Family nurse practitioners use a family-centered approach to health promotion, disease prevention and illness intervention. They address the primary healthcare needs of families from infancy through adulthood.
Adult-gerontology nurse practitioners (AGNPs) are advanced practice nurses who work across a very broad patient population, from patients in adolescence all the way to elderly patients. They are able to invest in long-term care for their patients, helping craft care plans and educating both patients and their families along the way.
Psychiatric and mental health nurse practitioners are qualified to address the psychiatric and medical health needs of adults who live with mental illnesses, substance abuse problems or other common medical conditions related to those psychiatric or substance abuse issues. They may also focus on community-wide mental health promotion.
Could nursing be the career path for you?
Whether you're beginning to feel that an RN path is right for you, the nurse practitioner route is the way to go, or that an entirely different nursing track might be the best fit, the reasons to become a nurse are numerous.
In fact, we spoke with a handful of nursing students to learn why they chose to pursue such a passion-filled and demanding career. If you're hoping to feel inspired by others who are pursuing the same career dreams, head over to our article, "Why do you want to be a nurse? Students share their sentiments."
Receive Program Info and Financial Aid Options
Detailed program overview
Personalized financial aid
Individual admissions support