September 5, 2016
What is organizational behavior? Learn more about the human side of business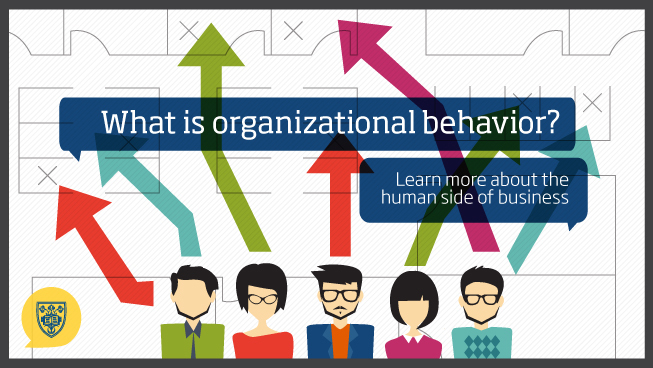 Think about a favorite job you've held in your life. What did you like about it – the duties, the cause, the coworkers? Now think about a job you couldn't stand. What was the difference between the two?
Many factors influence employees' well-being, but one main influence is the way in which the people in an organization work together. When people don't work well together, their satisfaction plummets along with their productivity, loyalty to the company and many other signifiers of happiness. These are the basics of organizational behavior — the study of how individuals interact within groups. And it's a critical component in the world of business.
Join us as we examine organizational behavior and seek to understand how humans can be supported to maintain optimum working conditions.
What is organizational behavior?
"Organizational behavior is the study of human behavior within an organization," says industrial/organizational psychologist and College of St. Scholastica assistant professor of management Lynn Kalnbach, PhD. "I sometimes tell people that it is the application of psychology in the workplace or any organization."
It's all about understanding how people and groups in organizations behave, according to Charina L. Flores, PHR, vice president of human resources for the Barbelo Group and Adjunct Professor at Bellevue College. "It also examines the role of organizational systems, structures and processes in shaping behavior in order to understand how organizations really work," Flores adds.
What is the goal of organizational behavior?
The bottom line of organizational behavior is to explain and predict behavior within an organization. By examining behavior in three different levels of influence — at the individual, group and organizational level — organizations can better understand performance in the workplace and improve interactions among employees.
This can also create a competitive advantage through improved motivation, leadership, communication and organizational culture, all of which greatly affect a business' bottom line.
How can implementing organizational behavior transform a company?
Companies need to invest in organizational behavior because it provides the insights needed for them to run smoothly and effectively.
"Organizational behavior is essential to being effective at all organizational levels," Flores says. "Businesses excel when employees understand how their behaviors influence an organization's performance and enable strategy execution." When employees are led effectively and are motivated to do their best, the entire organization thrives.
The documented benefits of organizational behavior are as varied as the companies that implement it. Much of the research emphasizes improved health and productivity within work environments, which translates to higher job satisfaction, increased productivity, a better commitment to the company and a decrease in employee turnover. All of these improvements affect a business' profitability, says Kalnbach.
Why choose to study organizational behavior?
If you're looking to make a splash in the corporate world, having an organizational behavior degree under your belt can help you stand out from the crowd — and in a big way.
"Organizational behavior students learn how organizations work from individual motivation to team dynamics to organizational structure," Flores says. She adds that students gain a foundation for the effective management of people in organizations by drawing from other fields, such as management, anthropology, sociology, information technology, ethics, economics and psychology.
"Effective leadership today is both art and science – it takes excellence in both the doing and the being to be an effective leader," says Addam Marcotte, vice president of organization development and operations at FMG Leading. "In my view, mastery of organizational behavior is the new currency of leading today's business."
How can organizational behavior give students an edge?
An organizational behavior degree signifies your understanding of not only business and operations, but also what makes organizations excel. And it does so in an inter-disciplinary manner that can be applied to any field.
"Students who bring a background, skill set or experience in organizational behavior are likely to have a broader view of organizational dynamics, more capacity to lead in a variety of roles and have deeper understanding about leading and managing change," Marcotte says. These are all critical competencies in today's corporate environment.
Where can students of organizational behavior work after graduating?
Not only does studying organizational behavior give you a leg up in the corporate world, it also opens doors to a wide variety of career possibilities upon graduation.
"Organizational behavior provides a great deal of flexibility for jobs and career choices, but students have to determine what direction they want to go," Kalnbach says.
She explains that recent graduates of CSS' traditional daytime program have found employment in various fields: human resources, general management, corporate customer relations and working for nonprofit organizations. Graduates of CSS' online and extended studies programs often are able to advance in the organizations in which they have already been working, she adds.
Now you know…
If you're curious about the secrets to companies' success and are fascinated by the potential of people when they come together, then an organizational behavior degree might be just what you need to succeed in the business world.
What are you waiting for? Learn more about everything you can expect by visiting the CSS organizational behavior degree page

Receive Program Info and Financial Aid Options
Detailed program overview
Personalized financial aid
Individual admissions support