March 14, 2016
What is nursing informatics? The dynamic specialty that could catapult your career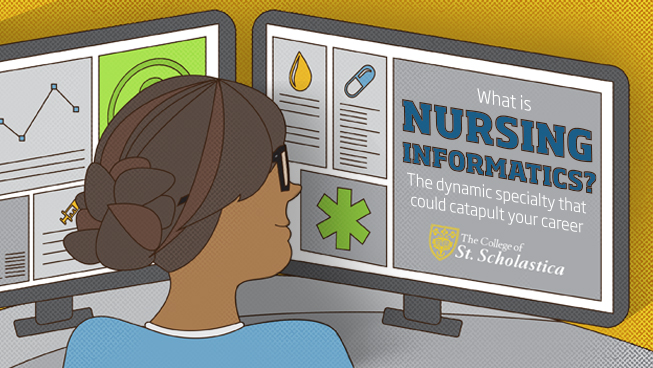 We all know that nursing jobs have long been on the rise due to the nation's nursing shortage. The country's population is aging rapidly and healthcare reform has resulted in hundreds of thousands of newly insured Americans seeking quality healthcare services. With these simultaneous surges comes a continued need for qualified nurses.
But there's another surge within our healthcare system that has received far less discussion: The rapidly-growing use of technology within medical facilities.
Healthcare information technology has streamlined the way our hospitals process, store and access data that is crucial to patient care. And nurses can play a huge role in this process — that's where nursing informatics comes in.
But what is nursing informatics and what do you need to know about it? Join us as we take a closer look at what this crucial and growing segment of nursing means for healthcare.
What is nursing informatics?
There is much to discover about this evolving sector of nursing, but you may be surprised to learn that nursing informatics has been around for decades. Patient data and records have been used to assess and improve the quality of healthcare since the beginning of modern nursing. As a result, nursing informatics began to be seen as a distinct field in the second half of the 20th Century.
Nursing informatics is defined as the specialty that integrates the science of nursing with multiple information management and analytical sciences. Its goal is to identify, define, manage and communicate data, information, knowledge and wisdom within nursing practice, according to the American Nursing Association.
The ultimate goal of nurse informaticists is to support the quality and safety of patient centered care through implementing and evaluating electronic healthcare data, says Patti Senk, PhD, RN, and assistant professor in the department of graduate nursing at The College of St. Scholastica.
A collaboration across the disciplines of nursing and technology has opened doors to new realms of patient care, streamlining everything in the healthcare process from computerized clinical documentation to expedited receipt of patient test results. These processes assist medical personnel, but also improve patient care and sometimes even saves lives. The impact of this cannot be understated.
"Understanding how to use and analyze data leads to the discovery of patterns that can be used to support decision making, whether this is evaluating the physiologic status of a patient or the staffing needs of a unit," Senk says.
How is nursing informatics different from other nursing specialties?
Working as a nurse informaticist can be a bit of a departure from the typical bedside care usually associated with nurses. Nursing informatics requires nurses to also work as developers of communication and information technologies, in addition to working as educators, researchers, software engineers, policy developers and more.
Careers in nursing informatics include a number of varying responsibilities. The Health Information and Management Systems Society (HIMSS) conducted a nursing informatics workforce survey, which revealed that the three most prominent of these responsibilities are system implementation, optimization and development. This means nurses within this specialty must fully master the electronic systems with which they work.
In addition to the responsibilities we've come to expect from traditional nurses, professionals in this realm of nursing are also expected to have a clear understanding of the following areas:
Computerized health information systems

Data and knowledge management

Process improvement and workflow redesign

Human-computer interactions

Privacy and security issues  
Nursing informatics includes more of a behind-the-scenes path than direct patient care alone, but it is every bit as important when it comes to patients receiving the best care possible. The cornerstone of the specialty is that it enables providers to do their highest quality, most efficient work.  
The forecast for nursing informatics
Not only are the duties of nurse informaticists crucial to quality patient care, but the outlook for this career path is just as strong. The Bureau of Labor Statistics projects a 15 percent increase in the number of available information technician jobs through 2024 — more than double the national average growth rate for all occupations. This is in addition to the already-strong outlook for registered nurses, projected to grow by an impressive 16 percent within that same time frame.
Nurse informaticist positions usually require a bachelor's degree, though some positions require a master's degree. There are also graduate certificate programs that make earning the proper qualifications easier and more flexible. For example, if you've already completed nursing school, earning your nursing informatics certificate can improve your resume significantly.
But the good news doesn't stop once you land that job — the median annual salary for those working in nurse informatics is around $82,710.*
Can you bridge the gap between nursing & technology?
As a current or prospective nurse, you understand the need to easily and quickly access patient information at the point of care. That's why hospitals, clinics and other employers seek informatics experience in new graduates and experienced nurses alike.
The technological capacities of our medical facilities cannot advance unless our nurses advance along with them. "Nurses are needed to be involved in the healthcare technology revolution," Senk urges.
Is it time for you to participate in that revolution? Earning a certificate in nursing informatics is a sure-fired way renew your focus on making informatics accessible through everything from best practices to systems and daily processes. To learn more about St. Scholastica's flexible online program, visit the certificate's comprehensive information page.
*Salary data represents national, averaged earnings for the occupations listed and includes workers at all levels of experience. This data does not represent starting salaries, and employment conditions in your area may vary.
Receive Program Info and Financial Aid Options
Detailed program overview
Personalized financial aid
Individual admissions support