May 22, 2017
What is a travel nurse? Explore this exciting sector of nursing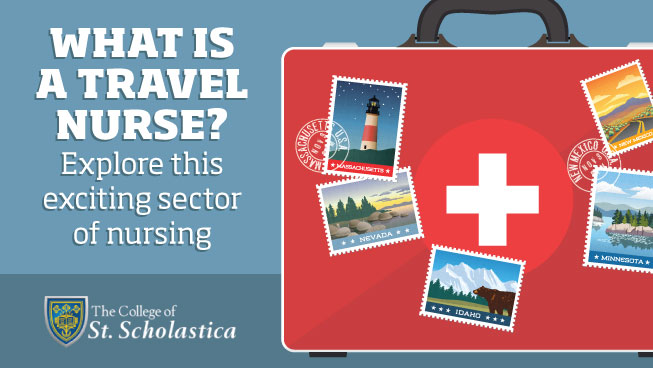 Nursing is a thrilling profession. Every day in this fast-paced career brings new patients and new challenges. For someone who dreads the thought of working five days a week in a cubicle or on one particular unit, travel nursing could provide you with the adventure you crave.
But how? Some nursing specialties are more predictable than others, however there is one particular nursing niche that is notorious for being adventurous — travel nursing.
Travel nursing allows you to combine your passion for travel with your desire to help others. It differs from any other nursing position in that it allows nurses to move around and take jobs at different hospitals and clinics across the country.
Does this sound like just the challenge you've been seeking? Read on to learn more about what travel nursing has to offer.
How does travel nursing work?
A travel nurse is defined as a nurse who is contracted for a set time frame to work in a specific location. There are numerous agencies that place travel nurses into assignments all over the nation and even in different countries. A typical assignment can last anywhere from eight to 26 weeks, with the average being about 13 weeks. This is the perfect amount of time to soak up a new city and impact the lives of its citizens seeking care.
Travel nurses have several options as to how to find their next assignment. "You should always start out with an agency, but sometimes you can negotiate with hospitals on your own," explains Nick Angelis, CRNA, MSN and author. "There are specific rules about all this, so pay attention to what you sign and how it will be enforced." Angelis also suggests using LinkedIn and other networking sites to find open positions.
Once your assignment expires, you can opt to take some time off or request another position to begin immediately. This job flexibility is one of the most prominent perks of a travel nursing career. You get to be in the driver's seat when it comes to when and where you'd like to work, allowing you to plan around any planned or unplanned life events.
Who can become a travel nurse?
Any nurse is technically eligible to apply for travel nursing positions, but it's important to note that more hospitals are starting to prefer candidates with a Bachelor's of Science in Nursing (BSN). Most employers also typically look for at least one year of prior clinical experience, but if you are a high achiever, you don't need to wait that long before pursuing a travel nurse assignment. Since some assignments are as short as eight weeks, it's helpful to be aware of the fact that you generally won't have much time for training or acclimation to your new site when starting a new travel position.
Practice as a travel nurse is particularly suited for nurses who embrace change and those who easily pick up on new technologies. Some of the most in-demand travel nurse specialties are critical care nursing, labor and delivery nursing, neonatal nursing and psychiatric nursing.
Why become a travel nurse?
In addition to the job stability that comes with being a registered nurse, travel nursing has its own unique set of additional perks. As mentioned above, one of the biggest benefits is the flexibility it offers. You can create a work schedule that fits your wants and needs — if you want a week of vacation, you can build in an off-week before scheduling your next assignment.
Another unexpected perk of travel nursing is the benefits. Depending on which company you choose to work with, you may be eligible to receive stipends for housing and food. Many travel nurses also receive benefits such as medical insurance, 401k plans, or even completion bonuses when they finish assignments. The benefits can compensate for larger gaps between assignments or help offset relocation costs.
One intangible benefit is "the freedom to reinvent yourself," Angelis says. He explains that travel nurses are not at hospitals long enough to get involved in drama that can occur at any workplace. Working in a specific healthcare facility for a short period of time allows you to focus on mastering your specialization and applying your abilities in various environments.
What is the outlook and earning potential for travel nurses?
It's expected that there will be more than one million job openings for nurses in the U.S. by 2022. With the expected greater demand than supply, nurses with varying interests will be needed. Travel nursing will continue to be an especially appealing option for hospitals in need of filling temporary vacancies.
Now that you're intrigued by the security of being a travel nurse, you may be wondering what kind of salary you could expect to receive. The median annual salary for registered nurses in 2015 was $68,450, according to the Bureau of Labor Statistics. Typical earnings ranged from $56,190 to $83,770.
There are no official salary statistics for travel nurses in particular, but depending on your experience and how many contracts you take, you can likely expect to earn a median annual salary that rests somewhere within that range.
Your nursing adventure awaits
Not many professions offer you the opportunity to carry out fulfilling work while traveling the country. Travel nursing is not for everyone, but if you have always possessed an adventurous spirit and are willing to step outside your comfort zone, it could be your true calling.
With nursing growing in demand and hospitals/clinics looking to fill positions quickly, travel nursing is increasingly a means by which facilities meet their demand for nursing professionals. However, as fun and rewarding as the travel can be, you need to be sure you're in it for the right reasons.
Before you commit to this nomadic nursing lifestyle, learn more about the passion behind the profession in our article, "Why do you want to be a nurse? Students share their sentiments."
Receive Program Info and Financial Aid Options
Detailed program overview
Personalized financial aid
Individual admissions support