January 1, 2018
What is a MOOC? Learn more about the next chapter of higher education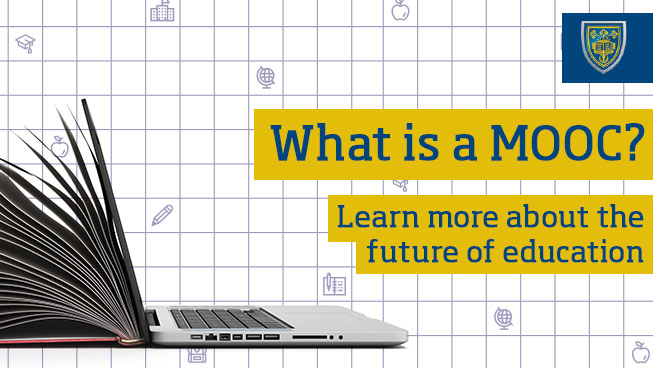 The story of higher education is one we all know. For centuries, generations filtered through classrooms and gathered in libraries. Colleges were seen as esteemed centers of learning, research and progress, and for a long time not much about that changed.
For much of its history, the world of higher education remained largely stagnant. But that's changed in recent years. Advancements in technology are starting to evolve our long-held ideas of education. And as of late, a new model of learning is shaking up higher education as we know it: MOOCs.
But with any big change comes a litany of questions: What is a MOOC, exactly? Who participates in them? What do they mean for the future of higher education? We sought to answer some of these frequently asked questions about MOOCs, so read on to learn more about this next chapter in higher education.
What is a MOOC?
MOOCs — or massive open online courses — are open to anyone who wishes to take a college-level course in a particular subject. A few popular providers of MOOCs include edX, Coursera and Khan Academy. Within their catalogs, prospective learners can browse thousands of available MOOCs on an array of subjects spanning technology, science, business, social studies, history and just about everything in between.
MOOCs are taken online, but they're not all the same. Some take a matter of weeks to complete while others can take months. Some courses are free and some require payment. Some are singular courses, some are part of a series. It's also true that some MOOCs can lead to a certification or even degree.
MOOCs are offered on a large scale. Due to the size of the course, students typically learn from recorded or curated content, discussion boards and automatically graded quizzes, explains Brandon Olson, associate professor of computer information systems (CIS) and project management at The College of St. Scholastica. He also taught a MOOC this past year at The College.
What is the history of MOOCs?
In the world of higher education, which is steeped in tradition and historically slow to change, MOOCs are a recent revelation. The New York Times declared 2012 as "The Year of the MOOC," with popular course platforms Coursera and edX having really taken off around that time. Upon their launches, thousands of eager students flocked to sign up for courses on everything from machine learning to global architecture and even the science of happiness.
Much of the excitement surrounding MOOCs was born out of a celebration of accessibility. After years of scrutiny on the growing financial burden of college, free or low-costing MOOCs became all the more attractive to the public. And with prestigious schools such as Harvard and MIT providing MOOCs, elite and ivy league learning was no longer limited to a select few. Anyone in the world could participate if they wished.
How do MOOCs differ from online courses?
With so many students taking online classes today, MOOCs may appear pretty similar to them upon first glance. While it's easy to consider the two interchangeable, MOOCs differ from the typical online course in a number of ways.
One of the most prominent aspects unique to MOOCs is that they are open to anyone. Anyone, anywhere with access to an internet-connected computer or device can enroll in a MOOC. This differs from a traditional college setting where a limited number of students are officially admitted to an institution.
The other main difference between MOOCs and online courses is the sheer scale. The "M" in MOOC stands for massive — and for good reason. These open courses can enroll thousands of students at a time.
"The scale of the class restricts the amount of student-to-faculty interaction but provides a very robust environment for students to interact with many other students having a wide array of experience and insight," says Olson.
What are the benefits and downfalls of MOOCs?
The benefits of MOOCs are plentiful. MOOCs are free or come at a low cost. They are accessible, offering top-notch programs from elite universities to the public. They are flexible, can be accessed from anywhere online and are often self-paced. And for certain types, the online modality may be an appeal over traditional learning.
"MOOCs are great for students who are self-directed and self-motivated, are distracted by social interaction during learning and who prefer an online learning model," says JP Figdor of Synocate. "They can also make learning free and accessible for students who might otherwise be priced out of education."
Of course, MOOCs come with a number of downfalls as well. Not everyone prefers to learn through an independent, online format. And they lack the personal touch of a traditional class.
"MOOCs fall short with the community aspect of typical in-person courses," says Ishan Puri, CEO of Synocate. "But I believe that over time this may be made up by new technology with augmented reality/virtual reality."
MOOC completion rates have also been an area of contention.
A recent study revealed MOOCs tout only a five percent completion rate. However, large amounts of drop-offs after the first class skew this figure; once students make it to a second class, they are more likely to complete a course.
While five percent may seem alarmingly low, one must consider the factors affecting that figure. With free enrollment taking just minutes, students enrolling for the sheer fun of learning have nothing to lose by signing up. The initial whim of enthusiasm can waiver with no accountability holding them to the course.
Who takes MOOCs?
Because there are no requirements or prerequisites for taking a MOOC, people anywhere in the world from all types of backgrounds, education levels, ages and occupations enroll.
"People of all ages and education levels participate in MOOCs. Many professionals seek out MOOCs to satisfy professional development hours for certifications they may hold," Olson explains. "All it takes is a desire to learn and the commitment to dedicate time to learning."
Olson also points out that some MOOCs may have required textbooks, hardware or software to complete assignments, so it is important to understand the materials that will be used in the MOOC before enrolling.​
Are you ready for MOOCs?
MOOCs provide opportunities for learning at a large scale. The existence of such a resource offers endless opportunities for self-improvement, professional development and more. Most importantly, it's a game-changer for higher education and for learners like yourself.
So, what are you waiting for? Open your world and broaden your horizons with the thousands learning opportunities at your fingertips. To start, check out the MOOCs offered through ​The College of St. Scholastica.
Offering several different MOOCs each year, these courses vary in length and are taught by the same faculty who teach in the traditional academic programs. You can expect the same quality of all of the online and on-campus classes: A caring community and faculty striving to help students learn and to be successful both in and outside of the classroom.
Receive Program Info and Financial Aid Options
Detailed program overview
Personalized financial aid
Individual admissions support