October 26, 2015
What is a 'first generation' college student? The new face of higher education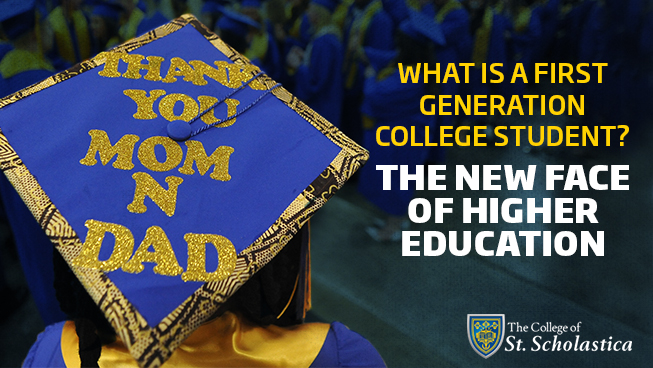 Higher education has seen a surge in "first generation" college students, or, those students whose parents' highest formal education is a high school diploma or less. In fact, a recent study estimates that half of the current college student population is comprised of students in this category. This rapid growth represents an encouraging statistic in the eyes of higher education professionals, but with change comes challenges.
Colleges and universities across the nation are grappling with the following question: How can we best set up these first generation students for success?
The first step on the path to a solution is knowledge. So when it comes to the first generation college student, here's what the facts show.
The facts: What is a first generation college student?
A 2011 report in the Online Journal of Workforce Education & Development revealed the breakdown of first generation students in the United States. The following numbers represent the percentage of total students from each demographic who are first generation:
48.5 percent of Hispanic or Latin American students

45 percent of black or African American students

35.6 percent of American Indian students

32.2 percent of Asian students

28 percent of white students  
These students often come from low-income, minority or immigrant families. Because the parents lack higher education experience, they are frequently unfamiliar with how to guide their children through the transition from high school to college, and onto a career thereafter.
Being a first generation student is one of the most commonly cited predictors for failing to graduate from college, according to the First Generation Foundation (FGF). In fact, 89 percent of low-income first generation students leave college within 6 years without having graduated.
Those numbers may seem disheartening, but many institutions and organizations like FGF see them as an opportunity to encourage dialogue and ultimately reverse the trend. As former president Lyndon B. Johnson once said, "It is not enough to just open the gates of opportunity. All our citizens must have the ability to walk through those open gates."
The impact: What this means for college campuses
First generation students typically face challenges unfamiliar to the traditional student population. They often cite increased financial struggles, as it is common for first generation students to be financially independent from their parents. This leads many of these students to work long hours while in school.
Low-income students often attend high schools that lack rigorous college prep programs. Combine that with inexperience in navigating admissions, financial aid and orientation processes, and it becomes clear that many first generation students begin their collegiate careers at a disadvantage.
But that's where college administrations and external organizations can help!
Some campuses are beginning to offer college preparedness programs for high school students to give them a jump start before their transition to college life. There are also a number of college-sponsored and external scholarship opportunities for students who are the first in their families to pursue a degree. All of these opportunities can be combined with federal grants and loans to relieve the financial burden and allow first generation students to focus on academic success while in college.
In addition to on-campus initiatives, there is a growing number of organizations designed to help prepare underrepresented students for college, as well as to offer continual support throughout each student's higher education experience. Some of these include I'm First, College Track and College Possible.
Financial worries aside, colleges can help to improve the experience of first generation students through encouraging and helping them to get involved with campus groups and events. Fostering an inclusive and diverse community both within college campuses and beyond has been shown to increase educational performance for all students.
Colleges are also taking advantage of the opportunity to offer students resources that can help them navigate this new experience. These include on-campus TRIO Support Services and First Year Development Programs (FYDP) alongside other mentorship initiatives in place for both current and prospective students at many campuses.
These initiatives not only help first generation students acclimate to the climate of college, but they also keep the dialogue open concerning the financial aid process and other financial advisement if or when a student is struggling to make ends meet.
Welcome the new face of higher education
First generation students currently comprise half of our current college population, and that number is expected to grow. If colleges and universities in the U.S. hope to improve the graduation statistics for this student population, they need to adapt to the changing face of today's college student by offering academic guidance, financial assistance and relief from the intimidation of college by fostering inclusive campus communities.
To learn more about what you can do to prepare for the first generation student's college experience, it can be helpful to review the community initiatives in place at today's colleges or contact college representatives to get your questions answered.
Receive Program Info and Financial Aid Options
Detailed program overview
Personalized financial aid
Individual admissions support