August 29, 2016
What does 'diversity in college' actually mean? And 3 other questions we should be asking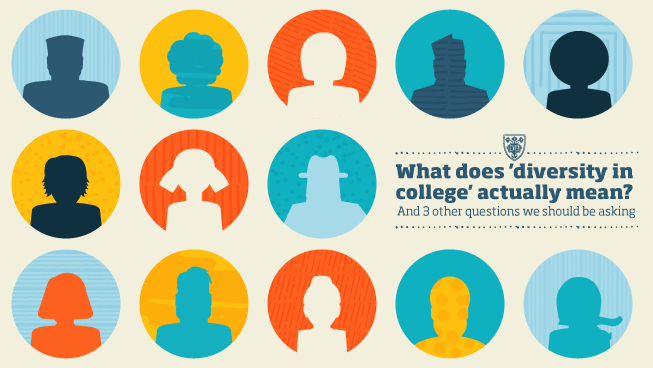 Diversity has become something of a buzzword amongst college administrations in recent years. Higher education institutions have long experienced a push to serve a more diverse student body, but many don't know where to start.
Public Supreme Court cases like Fisher vs. University of Texas have called into question the benefits of affirmative action — the policies institutions engage in effort to improve opportunities for historically excluded groups in American society through facets of their admissions processes, according to the National Conference on State Legislatures (NCSL).
The controversy surrounding this case has, in part, reinvigorated a nationwide conversation about diversity on college campuses. But before finding the answers we seek surrounding these ever-important issues, we must first determine the right questions to ask.
As America's generation of up-and-coming young adults, consider the following four questions answered by higher education experts and research studies surrounding the topic of college diversity.
What do we mean when we talk about diversity in college?
Diversity is a term that can be paired with as many definitions as there are individuals seeking to define it — but these definitions have several things in common. In a broad sense, diversity is the compilation of a comprehensive collection of cultures, ideas, people and traditions. In fact, the term itself is derived from its Latin root, "diversus," which translates, quite simply, to mean "various." Diversity as a buzzword often becomes interchangeable with the word multicultural, or the acceptance of diverse racial, cultural, social and economic groups.
So, with all of this in mind, what does 'diversity in college' mean? "The first step in addressing diversity in college is for institutions to offer a variety of curricular and co-curricular opportunities that include topics about people of different ethnicities, races, ages, abilities, sexual identities, religions and classes," explains Naeemah Clark, associate professor at Elon University, where she teaches courses on media representation of diversity. She's also served on the LGTBQIA task force, the Inclusive Community Council and co-chaired the campus Social Climate Task Force.
"Diversity in college also means that there are opportunities to learn about the intersection of all these different identities," she adds. "Colleges and universities must offer [resources] where students from all backgrounds can learn how to better talk about and think about diversity and inclusivity in ways that are helpful."
In addition to offering resources to help students craft their own definitions of diversity, it is equally important for colleges to agree on an operational definition of diversity that will lead to positive campus outcomes.
Why do college campuses need diversity?
The national conversation surrounding diversity on college campuses hinges on the question of its true benefit to young students. While some may argue otherwise, there are proven ways — supported by ample research — that a diverse college campus benefits its students.
America's population is now more diverse than ever — in fact, by 2050, it is predicted that our nation will have no clear racial or ethnic majority. People of color today make up about 36 percent of the American workforce, while the Census Bureau projects that one in two workers will be a person of color by 2050.
In the effort of preparing young people to successfully enter the workforce, it should be a core facet of colleges' and universities' missions to expose students to diverse communities that foster innovation, creativity, acceptance and adaptability.
A number of research studies have been conducted by the American Council on Education (ACE) and the American Association of University Professors (AAUP) to deduce the tangible benefits that support colleges and universities in recruiting and admitting a diverse student and faculty population. Some of the findings include the following:
Racial and ethnic diversity has both direct and indirect positive effects on the educational outcomes and experiences of college students.
Racial and ethnic diversity has a direct positive influence on students' beliefs about the quality of education they received.
Faculty members believe that diversity helps all students achieve the essential goals of a college education.
Where do institutions go wrong when it comes to diversity & inclusion?
It's one thing for higher education institutions to recognize the need for diversified campuses, but the task of implementing these beliefs can be easier said than done. For example, many colleges work hard to hire, recruit and admit faculty members and students from a diverse array of backgrounds. But that's just the start.
"Diversity has to be a part of the mission of what the university is doing across the board," Clark explains. "A university has to be clear in its goals that supporting diversity and inclusion makes the university and its students excellent, not just compliant."
Further than assembling a diverse student body, schools should also focus on what happens after admissions, fostering meaningful interactions between people from differing backgrounds. The focus can't solely be on structural diversity, but should also be on interactional diversity, otherwise students will fall into the all-too-comfortable habits of self-segregation.
College offers young adults a one-of-a-kind opportunity to live in close quarters with people from drastically different backgrounds, whether those differences hinge on race, cultural norms, economic status, sexual orientation or a host of other factors. If administrations are not doing their part in encouraging positive interaction, they will ultimately do a disservice to their students.
How can college students enter into & stay involved in this conversation?
Just as colleges and universities need to do their parts in promoting diversity and positive interactions, students should also be proactive in seeking out campus organizations and activities that can help them play an active role in their own experiences.
"Students interested in diversity-related issues should get involved in diversity-related organizations. If one doesn't exist, start one!" encourages Chester Goad, a university administrator and graduate instructor who is also a member of the Board of Directors for the Association on Higher Education and Disability (AHEAD). He also suggests getting involved in student government, and even conducting personal research by focusing class projects and papers on issues relating to diversity, equality and inclusion.
Clark suggests also searching for courses and degree tracks that include diverse topics, such as social justice, poverty and gender studies. Offerings like these can demonstrate a school's commitment to introducing its students to ways in which they can broaden their personal experiences and platforms of knowledge.
With that being said, taking advantage of the opportunities your school offers can be critical to your experience, since it's up to you to get involved. You can learn more about the resources available to you by contacting your school's Office of Equity, Diversity and Inclusion and paying attention to the ways your school has seen positive outcomes surrounding these topics in the past.
Above all else, don't hold yourself back. "Students can't be afraid to go to events," Clark iterates. "They come to college to improve themselves, and they can't do that by hanging in their dorm rooms watching Netflix."
Discover a college campus that supports your passions
As the research and words of higher education experts have demonstrated, the importance of diverse college climates cannot be understated. And while colleges and universities can do much to improve their processes, don't forget to play an active role in your own experience as a college student.
You can learn more about the various resources, events and leadership opportunities available to you along your higher education journey by visiting The College of St. Scholastica's Office of Equity, Diversity and Inclusion information page, where you can also learn more about why diversity matters to CSS.
Receive Program Info and Financial Aid Options
Detailed program overview
Personalized financial aid
Individual admissions support