June 29, 2018
Traditional business degrees fall short: 2 new majors to consider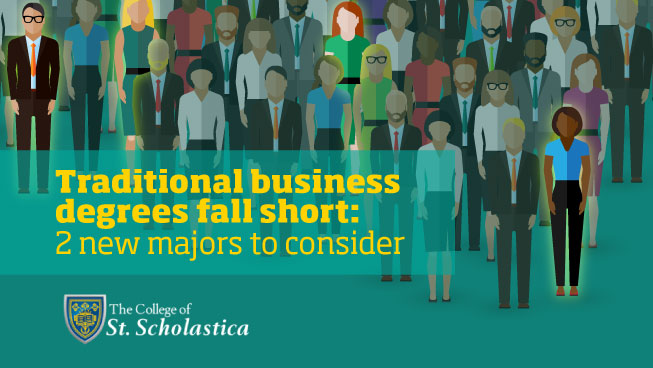 Business remains the most popular major on college campuses, accounting for one out of every five degrees awarded each year, according to The Washington Post. The report also reveals, however, that students who earn general business degrees may be less likely to find secure employment than those who pursue an education in specialized sectors of business — concentrations like finance and accounting.
But if you're not looking forward to a career centered on mathematics, you're not out of luck in pursuing business. There are some other specialized areas of business that are both gaining in popularity and are entirely in line with what hiring managers are looking for.
Two such areas are the focus of two new business programs at The College of St. Scholastica (CSS). Join us as we dig into the details of the new Bachelor of Arts in Organizational Leadership program and the enhanced Bachelor of Arts in Business Management program — two business tracks that are leading today's career hopefuls toward success.
Why pursue a business management degree?
The mission of the Bachelor of Arts (BA) in Business Management program at CSS is founded on the belief that successful managers in all industries share a certain suite of characteristics: strategic thinking, effective communication, enhanced people skills and the ability to apply creative solutions to complex business problems, to name a few.
In addition to helping students develop these traits, business management bachelor's programs like this one teach students specialized skills, such as human resources management, business strategy and effective decision making. Degree-holders are qualified for management positions in small businesses to large corporations and everything in between. They will have also obtained the skills needed to run their own business, or even go on to pursue graduate studies.
The BA in Business Management program at CSS also offers students a healthcare administration concentration, which is an ideal fit for adult practitioners who have not yet earned an undergraduate degree. Healthcare administrator jobs — also referred to as medical and health services managers or healthcare executives — are expected to grow at a rapid pace.
The Bureau of Labor Statistics (BLS) projects these positions will increase 20 percent by 2026, more than twice the national average.
It's also true that the need for qualified, ethical managers in all industries is expected to increase both at the corporate and nonprofit levels. For this reason, business management has landed itself among the top three majors in demand this year, according to the National Association of Colleges and Employers (NACE).
CSS prepares its business management students to ethically apply business management theories to solve real-world business problems. In fact, the application of ethics is infused throughout the entire curriculum. An important aspect of a specialized business program like this one is its emphasis on the human dimensions of business management.
If you're a working manager who is looking to advance to a more senior leadership role, someone who owns or is looking to start a small business, an entrepreneur or a professional who needs a bachelor's degree to move forward in your career, a business management program could be the right path for you.
Why pursue an organizational leadership degree?
The BA in Organizational Leadership program at CSS was designed with the fundamental belief that business is, at its core, about interpersonal relationships. Everything from negotiating a transaction to managing major organizational projects requires superb leadership and interpersonal skills.
Organizational leadership is an interdisciplinary field of business that studies the psychology of leadership and how it relates to and impacts organizations. Programs like this one prepare students who aim to more fully understand organizations and the behaviors of the people within them.
The level of expertise organizational leadership professionals maintain on topics like psychology, sociology, group dynamics, ethics and planned change allow them to help individuals develop their leadership capabilities. Exploring these human aspects of management, the BA in Organizational Leadership is ideal for students who are interested in working in human resources; managing professional training and development programs; or pursuing a career in coaching or mentoring. It can also provide a strong foundation for graduate school.
This degree path could be ideal for those who are currently working in supervisory or management roles and are hoping to advance their careers. It's also a great undergraduate degree option for those who hope to pursue graduate study in a field like human resource management.
With today's organizations growing increasingly complex and evolving at a more rapid pace than ever before, organizational leaderships skills are in-demand. Students in the Organizational Leadership program at CSS can expect to master the skills needed to succeed in this sector of business with courses on topics like management ethics, organization development, team development, social psychology and human resource management.
If you are drawn toward a career in human resources, business mentoring or professional development, an organizational management degree could be the perfect path to help make your vocational goals a reality.
Can you still find career success in business?
Don't let the headlines about general business degrees keep you from pursuing an education in the field. The key to finding success as a business major is to specialize. And if fields like accounting and finance aren't for you, you've now learned you can also consider pursuing programs in business management or organizational leadership.
If you can see potential for your professional future down one of these paths, it's time to learn more about your options. To read up on the details of becoming a leader in the world of management, head over to The College of St. Scholastica's BA in Business Management program page. If you're more drawn to exploring the psychosocial aspects of the organizations you hope to work for, check out the BA in Organizational Leadership program page for more information.
Receive Program Info and Financial Aid Options
Detailed program overview
Personalized financial aid
Individual admissions support