September 21, 2015
Tips for student-athletes: 4 surprising benefits to playing at Division III schools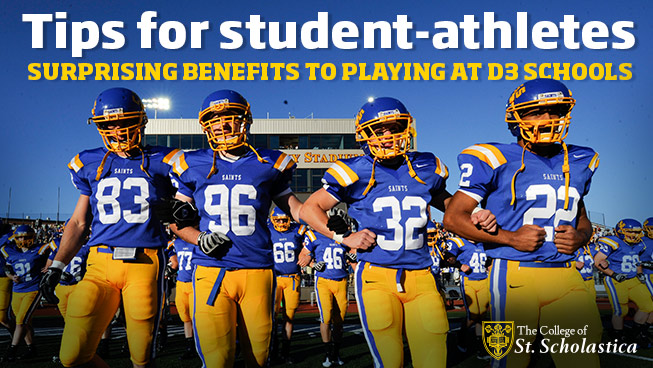 Many young adults who grew up playing sports hope to someday continue their athletic prowess in college. The top tier of student-athletes will be scouted and offered scholarships to play at Division I universities, but the competition to fill slots in those rosters is high. For every 28 students, only one gets a crack at playing Division I sports, and only about one percent make it to the professional level.
But what about the rest of you — the majority of you — who want to nurture your love of the game but aren't necessarily planning to go pro?
Division III is considered the "youngest child" in the NCAA family, rounding out the pack just below Division II and Division I. But that hasn't stopped it from becoming the largest division within college sports. It leads the NCAA in both number of student-athletes and number of institutions, with more than 180,000 student-athletes at 450 different colleges.
One of the major misconceptions is that Division III athletes are the players who couldn't make it past the junior varsity team in high school. But the truth is, there are a host of other things student-athletes take into account when considering a Division III school. Some crave the close-knit community, while others hope to nurture their academic capabilities and still play a sport they love.
Whatever your reason might be, Division III athletics might be the right fit for you. Take a look at four unexpected benefits to playing sports at a Division III school.
4 perks to playing Division III sports
1. You can actually have a life
"There's not a lot of pressure on winning," recalls Aaron Udler of his time playing Division III football during his freshman year. "It's all about having fun and continuing the dream."
Udler maintains that Division III athletes can be very competitive but they can choose to leave those pressures on the field once the final buzzer rings.
"It's incredibly competitive," agrees Kurt Ramler, head coach of the Division III conference champion football team at The College of St. Scholastica. "If you don't work at it year-round — at least in the game of football — you're not going to be very good. Just about every guy on our team was one of the best players at their high school."
But the flexibility of voluntary off-season workouts and regional — as opposed to nationwide — traveling leaves plenty of extra time for activities outside of your sport, such as on-campus clubs, student life activities or even playing a second sport.
2. You won't be competing for money
I know what you're thinking: How can the lack of scholarship dollars be a good thing?
It might seem counterintuitive, but there are detriments to receiving an athletic scholarship. "Money changes things," says Stephen Reh, former Division I decathlete at California State – Fullerton. He explains that the team dynamic can shift when players are competing against each other for scholarship money.
Ramler agrees: "I really believe that once there is scholarship money, things are fundamentally different. It becomes a business," he says. "Players don't want to feel like it's a job – some guys turn down scholarships for that reason." He asserts that Division III student-athletes want to go to a school where they can win championships, where the coach cares about them as people rather than commodities and where they can feel like true student-athletes.
"Our guys work just as hard as other athletes, but they're powered by intrinsic motivation as opposed to extrinsic," Ramler adds. "It's not because the coach is going to pull your scholarship if you don't do the work. Our guys work year-round to be the best they can be because they want to. Because they love football."
3. Your coaches care about your school work as much as your workouts
Student-athletes at Division III schools are more likely to strive for high academic standing to qualify for merit-based scholarships since athletic ones are not an option. These students usually recognize that the 'student' part of their title always comes first.
In fact, the NCAA itself cites academics as the primary focus of Division III athletes. Coaches often provide their players with academic support or study plans, checking in with professors regularly for attendance and progress reports. "We even make sure all of our guys meet with our academic advisement group during summer camps," Ramler says.
The graduation rates of Division III athletes support this stance, landing at around 68 percent – slightly higher than the 62 percent graduation rate of their non-athlete classmates.
4. You have a tight-knit team on and off the field
The student population at many Division III colleges is less than 5,000 students. Likewise, the athletic programs of these institutions are also much younger than their Division I or II counterparts. In fact, there is a rising trend of small colleges and universities starting new football programs. Many credit these athletic programs for saving or reviving liberal arts colleges.
"It is [much easier] to get face time with coaches and team captains," Udler says of playing Division III football. Athletic teams of all divisions experience a camaraderie between players and coaches, but smaller teams allow greater opportunity for personal and academic development.
"As a [Division III] coach, part of my job is to help the players with whatever passions they have," Ramler says. "I know they're here to get a good education and play football, but it doesn't end there."
If you are looking for a small, close-knit school, you will be more likely to find it in Division III, Reh adds. The smaller teams and more intimate campuses provide a less intimidating, more inviting student-to-teacher ratio, opening the door for further professional development.
Are you ready to add your name to the roster?
If you're hoping to continue playing sports in college, but you don't want your athletic career to dominate your life, a Division III school might be the best fit for you. Minimizing the athletic pressure, maximizing the academic focus and personalizing the relationships with coaches and professors can all contribute to a more positive and fruitful college experience.
Division III athletics are known for producing well-rounded student-athletes who exemplify a spirit of competition while also developing into community and professional leaders. Do you envision yourself on a Division III team?
As you're crafting a game-winning play for your athletic and career success, consider these six sports-related professions that can leverage everything you've learned on and off the field.
---
Do you want to learn more about St. Scholastica's four-time UMAC championship football team? Be sure to tune in as the Saints embark on their second season of "Inside the Huddle" on FOX Sports North. Click here for showtimes!
Receive Program Info and Financial Aid Options
Detailed program overview
Personalized financial aid
Individual admissions support