October 10, 2016
The savvy Saint's "Best Of" guide to Duluth campus living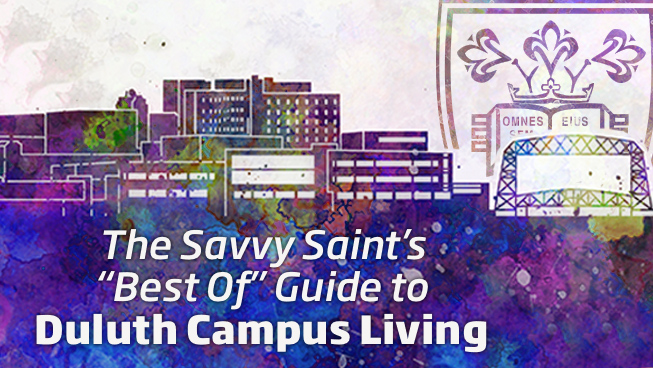 We choose the school we attend based on many factors — campus life, tuition, academics, values, location. The list goes on.
One reason you chose to attend The College of St. Scholastica (CSS) may have very well been the location. After all, Duluth is a beautiful and interesting place to live. In fact, it was even named one of America's top college towns!
You can live in Duluth for years without experiencing all it has to offer. Spend your precious time on the North Shore going off the beaten path and soaking up the best that the region has to offer. You don't need to be a lifelong Duluth resident to know all the hotspots in the city.
If you're still getting the hang of campus living at CSS, listen up as we reveal some of the top attractions, both on campus and around town. Emma Myles, a senior at CSS, helped us identify some of the best places you need to know about to get the most out of your time living in Duluth.
Best places to take awesome photos
Whether you're looking to take photos with friends or of the beautiful surroundings, Duluth has a lot to offer. Check out downtown Duluth by the old brick buildings. Some buildings even have murals and interesting graffiti. Being a historic town, the city also contains a lot of character you can capture behind the lens.
Another great option is the Duluth Lakewalk. Check it out if you want bridges, lakes and landscapes in your shots. And it gets even more picturesque at night!
Best places to go when you need a break from campus
Sometimes you just feel like getting off campus for the afternoon. If you want to grab a tasty beverage and do some studying, good choices nearby include Perk Place Coffee. If you want to get outside, try Chester Bowl, a 117 acre park in Duluth.
Or, if you feel like going for a scenic drive there's always Skyline Parkway. And in any season, Canal Park is a perfect escape from campus because of its restaurants, shopping center, climbing facility and movie theater.
Best places to dine on a budget
Feeling hungry? Check out 7 West Taphouse in downtown Duluth, which features a variety of burgers for just $4.99. If you're looking for affordable delivery options, Erbert and Gerbert's Sandwich Shop has reasonably priced sandwiches. Its biggest perk is that there is no minimum delivery amount. So you can order a $6 sandwich without having to add extras onto your order to get it delivered to campus.
Best places to go for a run
Runners in Duluth are spoiled with a handful of scenic routes to choose from. Get some fresh air and exercise by running through Chester Park, Hartley Nature Center, Lester Park or head down to Park Point for some panoramic views of Lake Superior. There's always the Lakewalk downtown and if you want to get competitive, sign up for Grandma's Marathon along Route 61 in the spring.
Best places for a winter date
Check out the Bentleyville "Tour of Lights." It's a free annual attraction where you can walk around and see beautiful Christmas lights while enjoying hot chocolate and cookies. There's also the JJ Astor Restaurant, which slowly rotates atop the Radisson hotel downtown. The food is phenomenal and you get a 360 degree view of Duluth, all within the warmth of the indoors.
Best places for a summer date
An affordable idea for a summer date is to go see a movie in the park. For more of a splurge, check out the Vista Fleet Dinner Cruises, which cruise around Lake Superior for a few hours while you enjoy a meal catered by one of Duluth's many amazing restaurants.
Best way to spend a fall day
On a beautiful fall day, take a drive over the Wisconsin border to the Bayfield Apple Festival, which was named one of the nation's top fall harvest festivals. Enjoy local produce, music, attractions and more to get your autumn apple fix.
Best way to make a friend
If you're an incoming freshman, be sure to attend August Adventures. These are programs that take place before classes start every year. It's a great way to meet other students and form friendships amongst the various tracks, including Student Outdoor Adventure Retreat, Multicultural Leadership Orientation or Community Service Orientation.
During your time at CSS, you can also meet people and make friends by joining one of the over 60 clubs and organizations on campus.
If you are of age, a fun way to meet others and make friends is through karaoke nights. And you have plenty of options in Duluth: The Reef Bar has Tuesday night karaoke and Sir Benedict's Tavern on the Lake offers Sunday night karaoke.
Best way to stay informed on what's happening at CSS
There are a few different ways students can stay informed on campus happenings at CSS. For keeping up with campus events, swing by the Student Activities Office or check out the TV monitors in Tower Hall. You can always check the student life calendar on Cor and follow campus clubs' Facebook and Twitter pages, too.
To stay in tune with some of the more serious happenings around campus, sign up for Saints Alert, the College's rapid notification system for prompt communications during campus emergencies.
Best places to study
Of course, it'd be tough to top the library — it was made for learning and studying! When the weather's nice, the courtyard is a great option to take your studies outdoors. Campus apartments also have fireplace areas that lend themselves nicely to a late night study session.
Now go explore your city!
Whether you've lived in Duluth for years or you're still getting a feel for campus living, use this guide to break the routine and discover new areas in your neck of the woods.
And when you're ready to get back to your studies, you might find that some of our other resources will come in handy! If you have yet to declare a major, check out our infographic, "How to choose a major: Using your superpowers for good." Worried about the rapport you have going with your roommate? We've got some tips for you in our article, "Happy housing: 8 essential college roommate rules for a harmonious habitat."
For more academic answers and tips concerning college life, check in regularly to see the new articles posted to The Sentinel Blog!
Receive Program Info and Financial Aid Options
Detailed program overview
Personalized financial aid
Individual admissions support