March 6, 2017
The productive parent: A hands-off approach to preparing your kid for college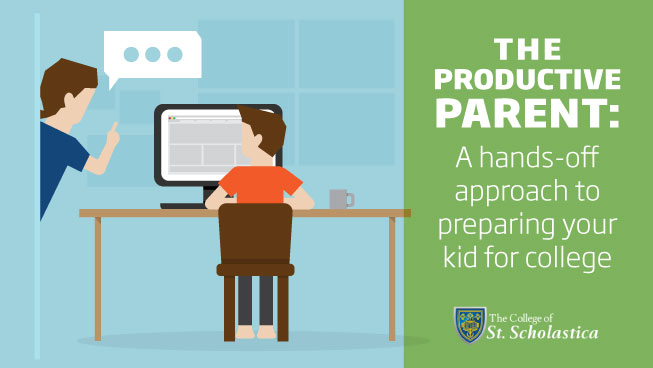 As a parent who believes in the power of education, college is important to you. You know your child has what it takes to succeed academically, and you want to do everything in your power to encourage and support their continuing education. But you also realize that your growing teenager is becoming an adult, and you don't want to undermine their autonomy.
"Parents have the best of intentions and really care about their teenager's college decision, but also want to have a good relationship with their son or daughter," says Erin Goodnow, founder and CEO of college admissions consulting group, Going Ivy. It's a balance that can be tricky to maintain.
"The best thing a parent can remember during the process is that this is the teen's journey," offers Lea Saccoman, admissions coach and owner of Mom Knows College. She says it's helpful for parents to remember to act as a coach, not a player.
At the end of the day, it all comes down to you and your child. But experts in college admissions and career counseling have seen hundreds of students take this journey, often with their parents near at hand. Read on to hear their advice on preparing your kid for college.
10 tips to prepare your child for college without being pushy
1. Don't feel like you can't assist
Terms like 'helicopter parenting' can make you feel like involving yourself in the college process at all is overstepping your boundaries. Some parents certainly attempt to take on too much, but there's equal risk in staying out of it completely.
"The reason I do what I do is because my own mother had no idea how to help me get into college," Saccoman admits. "It's not an intuitive process. High school kids still need some guidance and support from parents to know they're on the right track."
Though your child might make it alone, a little direction from you can make a huge difference in their experience. It might even be the difference between actually submitting that application or not.
2. Don't do it all for them
"One parent I worked with did everything for the student," recalls Dr. Aviva Hirschfeld Legatt, admissions coach and owner of VivED Consulting. She shares that this particular mother wrote her son's admissions essays and emailed admissions reps from his email account, which she managed. "This practice raises ethical questions about the authenticity of the student's application."
In the end, Legatt says the parent pushed certain schools for her son based on her own desires, not his, and when he went a different direction, her work was essentially wasted. This kind of parental handling can backfire. "Remember that this is ultimately your teenager's admissions process and school choice. Don't be too overbearing," Saccoman warns. "This needs to be the right fit for them."
3. Start with scholarships and grants, then federal loans
The financial aspect of college can easily feel like the most intimidating portion for parents and students alike. But the very first step for everyone to keep top of mind is completing the Free Application for Federal Student Aid (FAFSA). The sooner this item is crossed off your to-do list, the more opportunities your student will have to receive additional scholarships and grants.
As far as those are concerned, Kevin Glancy of Student Loan Resources advises breaking the rest of your financial aid journey down into a step-by-step process.
"Naturally the first place you're going to want to look into is scholarships and grants that you could [qualify for]," he says. "But if you have to get student loans, always go federal, because with private loans you won't be able to make use of forgiveness programs once you get out of school."
Additionally, "only go for early decision if you are willing to pay the list price," says Jeremy Hyman, co-author and project manager of The Professor's Guide. "Early action is fine, but locking into one school might close your options." Hyman found that some schools are willing to offer matching assistance to students entertaining multiple offers. "It never hurts to ask."
4. Don't handle the communications
"Don't be a communication director with high school counselors and college admissions officers," Legatt recommends. "Relationships are critical currency in helping students stand out in the college process."
She explains that parental communication is both less welcome and less impressive to guidance counselors and admissions reps. "If the parent is overly involved, the student won't have a chance to shine in these relationships and have strong and memorable interactions."
These interactions could end up being a vital way to demonstrate leadership and initiative. "Let them take the lead on writing and calling," she adds.
5. Help with organizing instead
"Many teenagers are notoriously poor organizers," Saccoman says. If you are looking for subtle ways to assist in the college process, make a calendar. "Help your student to keep track of the myriad of dates, schedules and deadlines associated with college planning."
Since college applications can feel like a monstrous task – especially if students are applying to multiple colleges — Hyman suggests dividing the work into weekly or monthly tasks. "Each week our son prepared one application," he explains. "It keeps the process measured and moving forward without becoming a source of anxiety."
6. Help them discover their 'differentiator'
Admissions boards read hundreds of college applications every year. Hyman advises students to find a differentiating factor that can set them apart.
"Remember that these applications tend to come from high schoolers reflecting on typical high school experiences," Hyman says. If the prompt is to relate a time when you faced adversity, "you can't imagine how many students say 'the year we lost the tournament,'" he explains.
Hyman says most students will write about common extracurricular activities for their essays, when they could easily focus on something more significant. Thinking outside of the normal high school experiences can lead to great differentiation. Assist your child in pinpointing relevant community or volunteering involvement, or any examples of completed work that solved a problem. It's even more valuable if that material can be accessed online, according to Hyman.
Do note, however, that not all college applications require an essay. The application for admission at The college of St. Scholastica, for example, focuses more on student information, academic history, extracurricular and general college readiness.
7. Help them look beyond college
Many students don't start thinking about life beyond college until they've almost crossed that threshold. While you don't want to count chickens before they hatch, it's important that students don't think of college as a destination.
"You need to encourage your children to see the benefits of getting into school," Glancy says. The statistics on job opportunity with or without a college degree can be helpful here. "Encourage them to think about what they want to do with their lives, and tell them that they need to work to get it," he adds.
If students see a prize beyond college — like financial independence or a career they are passionate about – they are more likely to stick with it when the work gets difficult.
8. Find out what is causing a lack of initiative
Maybe your student has been procrastinating and avoiding everything to do with college. "If the kid is still basically on board to go to college, but avoiding initiative, set a schedule," Hyman suggests. "This creates structure and diminishes the enormity of the task."
However, for some students, the problem runs deeper. Maybe they are nervous about the very thought of college. Maybe they don't want to go at all. In these cases, he suggests opening deeper conversations and trying to learn why.
"No student wants to feel forced," he says. "Consider alternatives to traditional college — a gap year, community college or any other choice that will keep them busy after graduation and not just hanging out at home."
9. Help them discover what they want
Sometimes it's hard to know where to start with the college process. That's why the best assistance might come before the process even starts. "Before students start looking at colleges, have them complete an interests assessment to learn about their interests, likes, dislikes, values, work and learning style," recommends Elizabeth Venturini of College Career Results.
Not only will this help nail down some of their preferences, it's also an exciting way to begin the college application process that feels more personalized.
For Goodnow, this process of allowing students to explore is the difference between pushing and pulling. "If you are pushed from behind into everything you do, it's not going to feel like your choice," Goodnow explains. "But, if you are taken by the hand and pulled a bit, you can see where you are going and what you are doing. Taking your child on a college visit and talking to them about a career subject that interests them are good examples of pulling."
10. Keep your own emotions in check
Maybe you cherish great memories from your alma mater or high hopes of your child attending an ivy-league school. Maybe you're convinced they need a certain college experience.   Whatever your feelings, try to set them aside when college planning with your teen. Legatt advises you to focus your desires more on logistical concerns (like finances and location) rather than urging them to apply to prestigious schools.
"I see a lot of parents who force students to apply to colleges that are out of reach for the student," Legatt says. "This exercise is more self-serving for the parent and can be hurtful to the student — with mental and emotional energy wasted by both parties."
A good way to avoid this is to practice active listening, according to Legatt. "Have a conversation with your child where your only job is to listen. Resist the temptation to jump in and provide feedback and guidance."
Nudge your child in the right direction
Preparing for college is going to be a different process for everyone. But as you can see, the whole journey begins with some reflection and self-discovery. Help your child ponder what they want in a college and a career. And if you stumble over some great resources to get their juices flowing, it doesn't hurt to pass them along to your student.
Choosing a major is a great place to start. Check out our infographic to see if it might be of interest to your future graduate: How to choose a major [Infographic].
Receive Program Info and Financial Aid Options
Detailed program overview
Personalized financial aid
Individual admissions support