September 28, 2015
The only guide you'll ever need to prepare for your nursing interview (Part 2)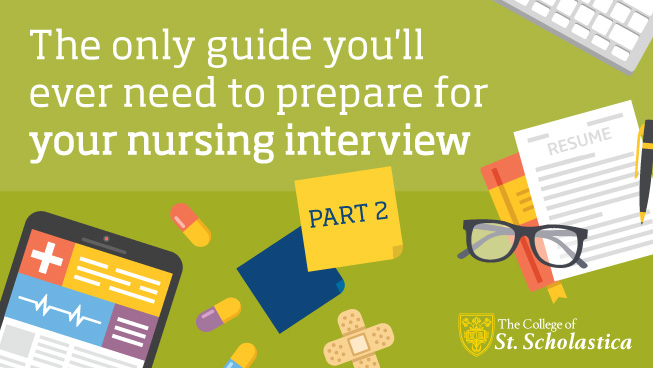 In part one of this article series, our nursing and recruitment experts walked us through five of the top qualities healthcare employers look for when interviewing nursing candidates. We took it a step further and asked the same pool of industry leaders to dish out their most effective and tactical tips to help students ace their nursing interviews.
Every interview is different. You could be sitting across from a seasoned expert who has conducted interviews with hundreds of potential nursing candidates, or yours could be among their first. Maybe the interviewer has had a particularly rough week or maybe he or she is experiencing an influx of good luck. No matter what the circumstances are, you can never predict what will be waiting for you on the other side of that office door.
From preliminary preparation to fielding questions in the heat of the moment, our healthcare and hiring experts are ready to reveal everything you need to know before shelling out that first firm handshake.
5 expert interview tips for nursing hopefuls
1. Do your homework
Regardless of the field a recent grad is pursuing, it is always a good idea to conduct some preliminary research before jumping head first into a job interview. "Find out where that company is going," encourages Veronica Carmack Gasper, adjunct faculty member at Glendale Community College and director of nursing at Banner University Medical Center. "What is their mission, vision and values? What is their financial status and patient satisfaction score?"
Walking into your interview knowing this information will demonstrate your desire to not only snag the job, but also to help propagate the core tenets of the organization.
Another benefit to showing up prepared? You'll want to be ready when the tables turn and the interviewer asks, "So, do you have any questions for me?"
"If you say you have no questions, you'll move to the bottom of the pile," Gasper urges. Preparing questions ahead of time shows that you're willing to put effort into finding the right fit, rather than acquiring just another job.
2. Remember the basics
Healthcare employers are looking for nursing candidates who demonstrate characteristics like compassion, acceptance and hard work. But they're also looking for people who are organized, who can represent them well and who can confidently complete the tasks at hand. What better way to demonstrate this in your interview than to be polished, professional and prepared?
"When I interview candidates, I'm looking for 'bright and shiny' people who are looking me in the eye and smiling, who demonstrate that they really want to work at the company and want to be a bedside nurse," Gasper says.
Details that you might consider insignificant could be the difference between you and another candidate. "These days  nine out of ten applicants do not include a cover letter, so include one," urges W. Mason Preddy, an independent healthcare consultant who has years of experience recruiting and retaining registered nurses in hospital settings. He says it will immediately set you apart from the pack. He also suggests writing a handwritten thank you note after the fact.
3. Lose the script
"There is no single magic answer to an interview question that will automatically make you a top performing nurse," urges Todd Spohn, director of healthcare at Talent Plus. The key in any interview is to be yourself and see how your natural talent aligns with a specific clinical role — remember, you're there to determine if you're the right fit for the organization, but you also want to be sure the organization is the right fit for you and your personal career passions.
You might be able to predict some of the basic questions, such as "Why do you want to be a nurse?" or "What are your strengths and weaknesses?"
"[But] the interviewee should not focus on memorizing these questions, as they change all the time," says Carmen Kosicek, award-winning author and MSN nursing career coach. Be sure to have a few stories from work or school experiences in mind to share, as well as practical applications that will resonate with your interviewer.
Kosicek encourages all interviewees to familiarize themselves with the STAR format:
Situation

: Describe the general circumstances

Task

: What needed to be accomplished?

Action

: What did you do to address those needs?

Result

: How'd it pan out?  
When an interviewer says, "Tell me about a time when…" this format prompts you to draw up stories from past employment experiences and easily demonstrate how they relate to the question posed.
4. Insert some creativity
Nurses are no strangers to fielding a few curveballs every once in a while, as no two days in this career will be exactly alike. Nurses need to be able to search for data, quickly locate patterns within the data and translate it to the patient so that they can better understand the decisions being made about their care, explains Paula Byrne, DNP, chair of the traditional nursing program at The College of St. Scholastica. "It is one of the hallmarks of a baccalaureate prepared nurse," she says.
You may be surprised to learn that you can demonstrate this agility to your interviewer within that first meeting! Walk in prepared to encounter a few wild card questions in your interview such as, "What is the last book you read outside of school?" or "What is something you learned in college that has nothing to do with nursing?"
You may even be asked how you would react in certain true-to-life patient situations that you haven't yet encountered. If you find yourself stumped, don't sweat it — just be honest. "Employers would like students to have more experience with 'skills' but are willing to teach these onsite," Byrne says. "They value a new nurse who knows when to ask questions if they are unsure. They value nurses who are able to communicate clearly and remain professional."
5. Make an impression
More than anything, you want to walk out of the interview confident that you'll stand out from the pack. Speak from your heart and don't hesitate to unveil your true passions for the field. "Answer questions with more than just one sentence. Express your personality and include stories that illustrate your work ethic and critical thinking," Gasper suggests.
Possessing the basic skill set of a nurse is important, but don't focus on the ordinary while interviewing. "It's not about having the skill to start an IV or to change a dressing," Kosicek asserts. "Those are the foundations of nursing and the interviewer understands that the new nurse will be able to learn those skills on the job if they're not already fluent in them. Focusing on teamwork, leadership, customer service, time management and work ethic is what the interviewer is seeking in today's job market."
Are you ready to ace that interview?
The best nurses are able to handle whatever comes their way, and they do so while maintaining an air of professionalism and compassion. Think of this interview as the test drive before making the leap into the never-ending excitement of your multifaceted nursing career.
So buckle up, brush up on the most sought-after nursing qualities our experts identified in the first part of this series and start practicing that firm handshake. We're confident that you'll knock this one out of the park!
And don't forget to take a look at nine of today's most in-demand nursing specialties as a result of the nation's nursing shortage — can you see your future in one of these positions?
Receive Program Info and Financial Aid Options
Detailed program overview
Personalized financial aid
Individual admissions support