April 9, 2018
The importance of internships: How students & employers both reap the benefits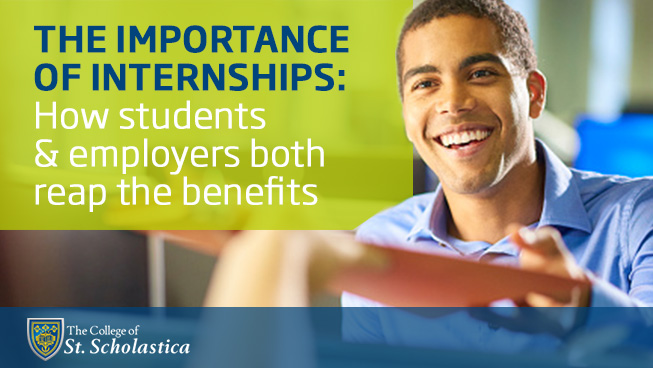 The overarching goal of higher education at large is to adequately prepare students to achieve success in their future careers. While facing a certain level of academic rigor and gaining important life skills can be considered crucial aspects of career preparedness that students receive while in college, more and more importance is being placed on the value of experiential learning.
This is where things like internships, job shadowing opportunities and even some full- or part-time jobs can play an important role. Many colleges and universities prioritize this type of learning, requiring all students to partake in some sort of internship experience. Others give students options to either pursue internship opportunities or garner an equal amount of credits some other way. It's also true that some internship opportunities offer monetary compensation while others don't.
With all of these variables present, how should today's college students approach the internship conversation? In hopes of providing a bit of clarity, we scoured a number of different research studies and spoke with a panel of experienced professionals to learn the true value of internships for college students and employers alike. Take a look at what we found.
4 ways college students benefit from internships
Learning doesn't just take place in the classroom — participating in internships can provide students with a wealth of other benefits. Consider the four below:
1. Students can apply their classroom learning in professional environments
Nursing students who are required to participate in clinicals will tell you how invaluable the hands-on experience is when given an opportunity to put theory to practice. This kind of experiential learning is what internships are all about.
"Students have the opportunity to develop and apply the skills, theories and concepts learned in the classroom," explain Mary Anderson and Carrie Taylor Kemp from The College of St. Scholastica's Career Services department. "The ability to develop and hone professional skills that promote growth and development while at the same time gaining industry-specific — and often technological — skills related to their field is valuable."
2. Students can gain exposure to their chosen field
As many as 80 percent of college students will change their major at one point during their undergraduate years. For many, the field that may initially appeal to them most as they begin their college experience may not pan out to be all they expected as they learn more about it.
Participating in internships can be a great way to get a taste of the actual professional experience in a particular field before you commit yourself to it fully. "Besides getting a foot in the door with a potential employer and looking good on a resume, internships have other advantages, such as the opportunity to 'test drive' a career," explains Alexander Lowry, professor of finance at Gordon College.
"Internships offer students a low-pressure entry into their field," offers Christopher K. Lee, career consultant and founder of PurposeRedeemed. "Through these experiences, they can decide whether to pursue it further."
3. Students can establish critical networking connections
Through experiential learning opportunities like internships, Anderson and Taylor Kemp highlight the invaluable chance students have to forge important professional connections before they even reach graduation.
"Students are afforded the opportunity to network and build contacts in their field," they say. "For many students, the internship is a stepping stone to additional opportunities within the same organization, including full-time employment."
4. Students can gain coveted work experience
One of the greatest frustrations college graduates who struggle to find employment report is the problems that arise when the only open positions require work experience they've not yet had a chance to acquire.
"Fresh out of college, you rarely have anything significant to say in a job interview. No one asks about your accounting class or what grade you got on a group project," explains Kaitlyn Trabucco, founder of Educents by CoLearn, a parenting marketplace for educational resources. "The best real work experience you can have is in your internship."
Our experts are united on this point. "An internship provides the work experience that helps students put their education into practice, develop their leadership skills and give them a competitive advantage as they pursue a permanent position," Lowry says.
4 ways employers benefit from offering internships for college students
It's also true that students aren't the only ones who benefit from the presence of internships. Employers will also encounter a number of unique advantages when they open their doors to soon-to-be graduates. "I have been an intern and I've employed interns," Trabucco says. "In fact, some of my best advice to new founders is to seek out interns."
Consider the following four employer benefits:
1. Employers can reap immediate rewards without a hiring commitment
Anderson and Taylor Kemp point out that the days of unpaid interns fetching coffee or spending hours making copies are long gone. "The expectation — for both the student and employer — is a professional, valuable, compensated experience that benefits both parties," they explain.
Lowry adds that when companies devote time and resources to finding, selecting and training interns, they're looking for a return on their investment. "The benefit might be in the present, using the services of talented individuals without having to make a hiring commitment. Or it might be in the future, with the added ability to choose a person who will work out well as an employee," he says.
2. Employers can evaluate up-and-coming talent
When it comes to hiring new employees, hiring managers are always taking on a certain element of risk in determining whether a candidate will be the best fit. "Most job applicants put their best foot forward on paper," Lowry explains. "An internship helps an employer evaluate how an individual would fare in the actual workplace."
By identifying young talent and offering internship opportunities, organizations have an opportunity akin to an extended interview that goes far beyond traditional interviewing processes. "Internships allow employers time to assess a student for competency, drive and cultural fit," Lee offers.
3. Employers can expose young professionals to their brand
In addition to viewing internships as an opportunity to get an in-depth evaluation of soon-to-be graduates, organizations can also use them as a chance to introduce the up-and-coming generation of industry professionals to the unique aspects, offerings and needs of their brand.
Since many internships are coordinated with school programs, Lee explains the benefits of exposing those entering the workforce to the company's brand. "Employers leverage these relationships to inform educators on current needs and in-demand skills in the workforce," he explains.
4. Employers can learn from students' fresh perspectives
"As an employer, I found some of the best, most innovative ideas were coming from the interns," Trabucco offers, stating that they often offer fresh eyes and unparalleled enthusiasm. "The interns were the ones who were willing to take on the dirty work and pick up the tasks others didn't necessarily want to do, but some of the best findings came out of those projects."
Just as students reap the benefits of an organization mentoring, teaching and guiding them in their learning processes, employers can learn just as much from their interns. "Employers report discovering new perspectives, energy and specialized skill sets through their interns," Anderson and Taylor Kemp explain.
Lasting, long-term benefits
Internships are not just resume boosters for students approaching graduation. Their benefits aren't limited to recent graduates either — they can be felt throughout a career.
John Pryor is a higher education researcher with more than 25 years of experience running some of the largest studies of higher education in the United States. Drawing from his time spent as the lead researcher of the Gallup-Purdue Index — a joint research effort with Purdue University and Lumina Foundation to study the relationship between the college experience and its outcomes in the lives of graduates — he has some pointed thoughts on the value of internships.
"One of the big findings," Pryor explains of the study, "was that college graduates who had internships in college, years later as alumni, were twice as likely than those who did not have internships to be engaged in their work and 1.5 times more likely to report high levels of wellbeing."
According to the results of this comprehensive, nationally representative study, if graduates had an internship or job in college where they were able to apply what they learned in the classroom, their odds of experiencing these positive outcomes saw a marked increase. The results suggest that it's less important that a graduate attended an Ivy League or other esteemed institution and more important that the student was involved in experiential learning opportunities that could adequately prepare them for their professional future.
The National Association of Colleges and Employers (NACE) also reports that students who graduate with internship experiences are generally more likely than students without those experiences to find employment after graduation. Not only do students who completed at least one internship in college see more success in securing full-time employment, but they also report higher levels of satisfaction with their overall career outcomes.
Your experiential learning opportunities await
It's clear that the true benefit of internships and other experiential learning opportunities is undisputed. The College of St. Scholastica (CSS) requires or encourages every student — regardless of major — to incorporate these experiences into their paths toward graduation.
From internships, student teaching and clinicals to summer research programs, job shadowing opportunities and even studying abroad, there are a number of valuable experiences that await you at an institution like CSS. For more information on the benefits you can reap by taking your college experience beyond the classroom, visit the Experiential Learning information page.
Receive Program Info and Financial Aid Options
Detailed program overview
Personalized financial aid
Individual admissions support