November 20, 2017
The 6 types of professionals who would benefit from an MBA in Leadership & Change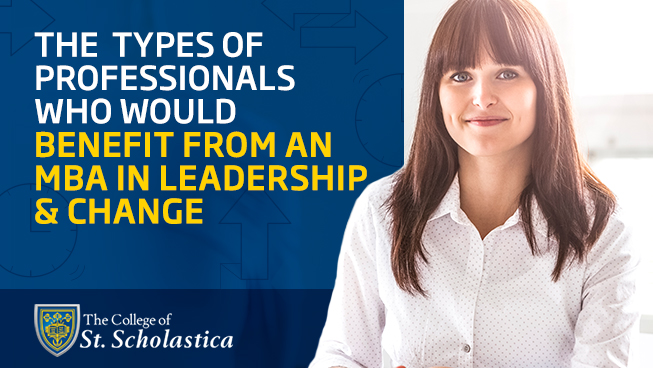 The decision to go back to school to earn a master's in business administration (MBA) is one that requires a healthy amount of research. After all, no one wants to sacrifice time and money on something that won't be worth it in the end.
As such, you may have learned by now that MBA-holders tend to see higher employment rates. In fact, 96 percent of respondents to a Graduate Management Admission Council survey agreed that hiring MBA graduates creates value for their companies. MBA graduates are valued for their ability to handle complex situations and be nimble in the face of ongoing change.
In your research, you've likely also learned about the promising earning potential for MBA degree-holders. According to one Forbes survey, MBA graduates reported that their salaries after completing their master's programs were 50 percent higher than their pre-MBA salaries. It should be noted that this increase is consistent with numbers reported in the late 90s, indicating this figure has been stable over time.
It was also reported that by the end of five years post-MBA, salaries of the same surveyed graduates increased an additional 80 percent on top of the 50 percent increase encountered upon graduation. Once again, these increases are consistent with numbers reported in the years prior.
Statistics like these are important, because the return on investment is likely a vital aspect in your decision to pursue an advanced education. But it's equally important to analyze whether an MBA can help you achieve the career goals you've set for yourself. Chances are, the answer will be, "Yes!" if you find the right program.
What sets an MBA in Leadership & Change apart?
The one-of-a-kind MBA in Leadership and Change at The College of St. Scholastica (CSS) is different than traditional MBA programs in a number of ways. The faculty at CSS understand the importance of business leaders and see a need for today's leaders to maintain a deepened understanding of organization development, a more comprehensive grasp on managing change  and a greater appreciation for the social impact of each decision made.
Despite a general decline in MBA enrollment in the U.S., the CSS program saw record enrollment in 2016, increasing by more than 28 percent. It's clear that more and more business professionals are recognizing the practical value of an innovative curriculum that ventures past the foundational knowledge most MBA programs provide in favor of a more comprehensive skillset focusing on leadership, organizational change and strategic management.
Read on to see if you're among the many types of professionals who could move your career forward with an MBA in Leadership and Change.
6 professionals who can benefit from an MBA in Leadership & Change
1. Career changers
It's no easy decision for a professional to examine his or her years in the workforce and determine they'd like to pursue a different path. But sometimes it takes time immersed in an industry to truly assess whether it's the right fit for your personal career goals.
Among the chief concerns of potential career changers are the following questions:
Can I afford to go back to school?
Do I have to stop working at my existing job to become a full-time student?
Can I make this work with my current schedule?
Will I just end up stuck in another industry I ultimately won't be happy with?
With the MBA in Leadership and Change, many of those concerns will become a thing of the past. The program is both affordable and it offers flexible full- or part-time learning opportunities, allowing some students to complete the program in as few as 12 months. It was designed with working professionals in mind, offering evening classes to ensure nine-to-five work commitments can still be upheld.
It's also worth noting that while this MBA program specializes in leadership and change, you certainly won't be pigeonholed into any one industry or sector of business. The skills taught are multifaceted and applicable to just about any industry, as effective leadership and successfully managing change are always important.
2. Small business owners
MBA programs come in many different varieties and concentrations to meet the diverse needs of students. While some of the more traditional MBA programs may focus on analytical skills in areas like finance, accounting, linear programming and marketing, the MBA in Leadership and Change hones in on leadership capabilities, aligning employees and leading organizational change, according to Bob Hartl, associate professor of management at CSS and director of the MBA in Leadership and Change. These elements can be especially important for small business owners.
An MBA can help those running small businesses to develop some of the critical business skills any growing organization needs. This includes things like mastering time management, achieving a holistic approach to business, building up an effective network, developing more efficient processes, making smarter business decisions, writing effectively and identifying and working on personal weaknesses as they relate to the business.
3. Aspiring leaders
The MBA in Leadership and Change at CSS is grounded in the principles of organization development, leadership and experiential learning. The truth is, just about anyone with the aptitude can gain the so-called "hard skills" of business. But these days, the job market is saturated with candidates who possess those skills.
Aspiring leaders have been active in the business world for some time and have learned that if one thing is certain, the hopeful leaders with the most potential are those who go the extra mile to not only set themselves apart, but to be what their industry needs. The most effective leaders are people who have what Hartl refers to as the "complex skills" needed for a successful business.
These are skills that require a deepened understanding of human behavior and how to align a range of people around some core strategic objectives. These skills equip future leaders to look beyond a single solution and instead determine interconnected networks of solutions that can make a lasting impact. The MBA in Leadership and Change specializes in educating professionals to be able to do just that.
4. Leading change professionals
Change leadership has become a sought-after skill set in today's business era of amplified global competition. Technology's rapid evolution means change is all but guaranteed across industries, and business leaders seek professionals who can manage change to help avoid significant organizational disruption.
In fact, "rapid organizational change" was listed among the top two most important leadership development challenges predicted through 2018, according to a leading insights study conducted by the Center for Creative Leadership.
A great way for business professionals to secure their place as sought-after candidates within their industries could be to fill a gap many executives are noticing within their organizations. The MBA in Leadership and Change is a unique graduate program that prepares students to drive strategic change in their organizations.
5. Global thinkers
An MBA in Leadership and Change helps students develop critical thinking skills, ethical decision-making abilities and their cultural competency. These are all crucial for leadership and management roles in a rapidly evolving global environment. The faculty is committed to preparing business leaders who are adept at leading change in a diverse global economy.
Research has shown that diversity in the workplace — particularly among leadership teams — drives innovation and propels market growth. With that in mind, the curriculum for the MBA in Leadership and Change includes an abundance of coursework and discussion relating to diversity, cultural competence and communication across cultural boundaries. Students also have the opportunity to study abroad with faculty in one of three distinct capstone options.
6. Up-and-coming professionals
While employers may not outright list an MBA as the minimum required education for job openings you're eyeing, you'll likely encounter listings that include statements like: "MBA desired" or "MBA preferred." This is because hiring managers see that MBA credential and feel confident in a couple of key things — that the candidate has received important education on leadership fundamentals and critical thinking, and that the individual is committed and responsible enough to complete a challenging graduate program.
It's also true that the already competitive job market has become more saturated with MBAs. With that in mind, is there any way for young professionals to truly set themselves apart in this early stage of their careers?
Whether you're running into dead ends as you embark upon your job search or you're working an entry-level position at your organization and you're eager to climb the ladder, a specialized MBA like St. Scholastica's MBA in Leadership and Change can give you a certain competitive edge. In addition to providing you with sought-after skills for leadership and managing change, it can also be a great way to help you establish connections early on in your career.
The evening classes allow you the flexibility to continue the existing commitments of your job as you work to advance your education. The close-knit learning communities in a program like this allow students to benefit from opportunities for networking, feedback and collaboration with peers and seasoned faculty — all experiences young professionals can find invaluable as they build a foundation for their careers.
Could an advanced degree drive your career forward?
As you can see, a program like the MBA in Leadership and Change at The College of St. Scholastica wasn't designed with just one type of student in mind. It is a unique, multifaceted MBA program that could benefit a wide range of professionals. If you can identify with one or more of the types of professionals listed above, it may be time to consider how an advanced degree can help you achieve your own career aspirations.
But there's still a lot to learn about the MBA in Leadership and Change at CSS. For example, did you know that in addition to offering a unique curriculum that can benefit the range of professionals listed above, it's also one of the largest MBA programs in Minnesotal? It's also true that students progress through the program in a tight-knit learning community of their peers, enabling lasting and valuable relationships to be built with students and faculty alike.
If you're ready to further your research, you can learn more by visiting our article, "5 things you need to know about St. Scholastica's MBA in Leadership & Change."
Receive Program Info and Financial Aid Options
Detailed program overview
Personalized financial aid
Individual admissions support