January 18, 2016
RN to BS online: Is it time to move forward in your nursing career?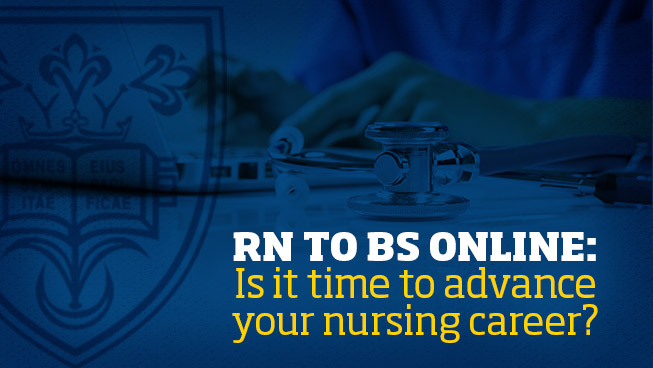 In popular media, the role of a nurse seems pretty simple, right? We've all seen enough episodes of Grey's Anatomy to know that the nurses are the ones who check patient vitals, ask a couple questions, check a few boxes on a form and continue with their rounds.
But as an RN, you know the reality of the job is much more complex. In fact, you may even be considering ways to climb the healthcare ladder to pursue a higher nursing credential. You may have heard it called a BSN, BS or bachelor's of nursing degree — the point is that it's the credential that will allow you to move up from your current RN job.
If you can identify with that goal, the next question on your mind is probably: "Is it worth it?"
Read on as we outline the various ways an online RN to BS program can enhance your healthcare skills and responsibilities and ultimately reach the career you want. It's time to get your questions answered!
First, the burning question: How is a BS different than a BSN?
We figured we'd clear this one up right off the bat, since it's an extremely common question asked of BS nursing programs. Many assume that a BS in nursing is somehow less accredited or less legitimate than a BSN, when in fact, the distinction between the two is quite small!
The difference is simply a matter of how the degrees are named. For example, some colleges will only administer a small selection of formal names for their degrees, such as bachelor of science (BS) and bachelor of arts (BA). At these schools, a nursing graduate will earn a BS with a major in nursing. Other colleges have a wide array of formal names for their degrees, such as bachelor of social work (BSW), bachelor of business administration (BBA) and — you guessed it — bachelor of nursing (BSN).
As long as the nursing program you choose to attend is accredited, it will not matter if your official degree is a BS or a BSN. There is no evidence to suggest employers prefer one baccalaureate nursing track over the other — they simply value the skills, experience and knowledge provided to nurses through bachelor's-level training.
How can a BS in nursing improve my career outlook?
Nurses with bachelor's degrees can experience a variety of career benefits that are not possible for those who finished school with an associate degree. The technical abilities learned as an RN are crucial to patient care, but a host of professional skills are enhanced by earning a bachelor's degree, says Kathy Krump, director of nursing at Ottawa University.
"Those skills are elevated to a different level — it makes you a better nurse," she says. "Practically speaking, the degree has opened up opportunities for me throughout my 28 years of nursing and certainly has been a factor, as well as a foundation, in career advancement and promotional success in my specialty areas."
In fact, of the 1.5 million job postings for nurses in the last year, candidates holding a bachelor's degree qualified for 62 percent of them, according to Burning-Glass.com.* In contrast, diploma and associate degree holders qualified for just 40 percent.
And the trend toward higher education for nurses is poised to continue well into the future thanks, in part, to the "80 by '20" initiative.
"80 by '20" is a call to action put in place by the Institute of Medicine in tandem with the Robert Wood Johnson Foundation to ensure 80 percent of nurses will be baccalaureate qualified by 2020. By 2012, around 50 percent of U.S. nurses held a bachelor's degree or higher.
But some still aren't satisfied. There is an ongoing debate about whether or not a BS should be required for entry-level nurses. So, earning a BS now could very well help you avoid professional pitfalls later in your career.
It is also true that nurses with bachelor's degrees enjoy a much higher earning potential. While the median annual salary for RNs is approximately $39,100, bachelor's degree holders record median salaries almost double that figure ($69,000).**
While the expanded job opportunities and increased compensation are undoubtedly attractive, we all know nurses aren't in it solely for the job security and salaries — many nurses join the field because they want to help save and improve lives. Studies have concluded that the increased proportion of baccalaureate nurses consistently results in decreased patient mortality rates.
How can I balance my crazy work schedule with nursing school?
While trying to decide if the bachelor's degree track is the next step for your nursing career, it's only natural to be nervous about balancing work against the added responsibilities of school.
"Online learning is by far more convenient and flexible to an individual's schedule," Krump explains. "Distance education certainly offers convenience in a life that now demands it."
But still you may be wondering if you can cut it as an online student, or even if the curriculum is as valuable as in-class learning. It's no secret that participating in online coursework takes a highly-motivated and disciplined person. "Its value can be no different than attending class face-to-face, as long as you put forth the same effort," Krump says. "The instructors expect students to take the lead and stay involved."
And even if you're not a tech whiz, don't let the online environment intimidate you. Most online learning management systems today are very intuitive and easy to navigate once you get used to them. "You will be an expert before you know it!" Krump says.
Open the doors to your professional nursing potential!
If you're hungry to learn more about your field and break through the ceiling that is constraining your career, a bachelor's degree in nursing can help you do it. You'll unlock troves of new job opportunities, enjoy a higher salary and experience the personal satisfaction — and professional recognition! — of improved patient outcomes.
If you're also hoping to continue working and balancing family obligations while pursuing your degree, perhaps an online RN to BS track is the perfect fit for you. Learn more about enhancing your skill set without pausing your life by heading over to The College of St. Scholastica's RN to BS information page. Now's the time to become the nurse you've always dreamed of being!
*Source: Burning-Glass.com (analysis of nurse job postings, Nov. 25, 2014 – Nov. 24, 2015)
**Salary data represents national, averaged earnings for the occupations listed and includes workers at all levels of experience. This data does not represent starting salaries and employment conditions in your area may vary.
Receive Program Info and Financial Aid Options
Detailed program overview
Personalized financial aid
Individual admissions support