June 8, 2015
RHIT vs. RHIA: Which credential is right for your health information career goals?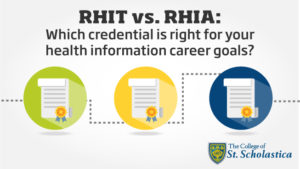 Health information management (HIM) is a career path that is constantly evolving. It's a field that is committed to staying on top of up-and-coming trends in technology, so it's no surprise that HIM jobs are among the most in-demand in the healthcare industry.
The near constant progression of modern-day technology has left the healthcare industry with a lack of qualified professionals to meet their evolving needs. In fact, the HIM workforce saw the need to create roughly 60,000 new jobs between 2008 and 2011, and those numbers continue to climb.
You may have already decided that HIM is the right path for you, but it can be tricky to navigate which is the right track to fulfill the career goals you've mapped out for yourself—and the alphabet soup of acronyms doesn't make it any easier!
One of the first questions many HIM hopefuls will ask themselves is whether they want to pursue certification as a registered health information technician (RHIT) or a registered health information administrator (RHIA). While the two titles sound similar, there are some identifiable differences that set them apart—including educational requirements, overall job responsibilities and opportunities for advancement.
We're here to help you distinguish the two positions from one another and ultimately decide which health information career path is the right one for you.
What is a registered health information technician?
RHIT is a credential offered by the American Health Information Management Association (AHIMA). RHITs work to ensure the quality of medical records through a series of tactics such as verifying their completeness, accuracy and proper entry into existing computer systems. These healthcare professionals use computer applications to assemble and analyze patient information with the goal of controlling costs and improving patient care.
RHITs often specialize in coding diagnoses and procedures in patient records for reimbursement and research purposes. A popular specialization for RHITs is that of a cancer registrar, a healthcare professional tasked with compiling and updating information and records for cancer patients.
Most RHITs work in a hospital setting, but there are also opportunities in office-based physician practices, home health agencies, mental health centers and elsewhere. The skill set and experience garnered in this position yield healthy opportunities for advancement to management positions.
RHIT applicants must successfully complete an associate degree at a health information technology (HIT) program accredited by the Commission of Accreditation for Health Informatics and Information Management Education (CAHIIM). Candidates are then deemed eligible to take the RHIT examination. Practicing RHITs rake in a median annual salary of $36,160 and are set to see a 22 percent rate of growth through 2022.*
What is a registered health information administrator?
Also credentialed by AHIMA, RHIA professionals provide a critical link between care providers and patients. They collect and analyze patient data; maintain functional knowledge of medical, ethical and legal requirements and standards; implement classification and organizational strategies; and interact with healthcare professionals whose departments span from clinical to financial to administrative.
RHITs often opt to pursue further education to assume the more managerial roles that RHIAs are qualified to assume. This role includes managing operational units, participating in administrative committees, managing projects, setting policy related to data and information and preparing budgets on behalf of their projects and departments. Job opportunities can vary widely in setting, from hospitals to private practices to ambulatory care.
Those who assume this title must first complete the bachelor's or master's level requirements of a CAHIIM accredited HIM program before qualifying to take the RHIA examination. They acquire a median annual salary of $88,580, and the position is projected grow at a rate of 23 percent through 2022.
Which HIM credential can make your career goals a reality?
Healthcare settings and organizations are working toward minimizing the shortage of HIM professionals by launching new HIM programs and improving existing ones at institutions across the country.
But more than anything, we need career hopefuls like you to join the force! Finding highly qualified HIM professionals has become a top priority for hospitals nationwide.
No matter which credential seems to be the right fit for your health information career goals, head over to The College of St. Scholastica's HIM program page to request more information-let our academic professionals help you map out your path to career success!
*Salary data represents national, averaged earnings for the occupations listed and includes workers at all levels of education and experience. This data does not represent starting salaries and employment conditions in your area may vary.