May 26, 2015
New report: The future looks bright for physical therapy majors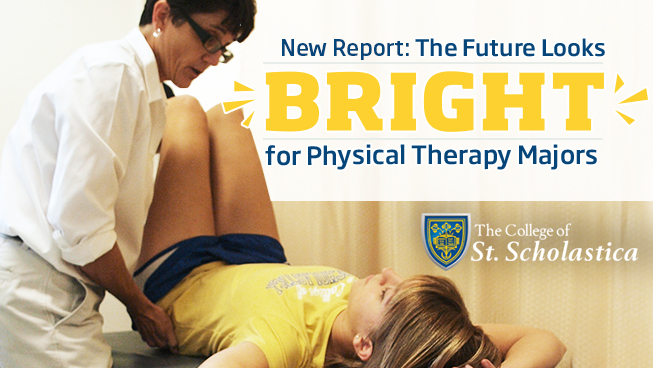 The United States Department of Labor recently released a report on the 20 fastest growing occupations projected through 2022. Three of the top 20 occupations belong to the field of physical therapy: physical therapist aides, physical therapist assistants and physical therapists.
If you've been looking for a way to use your penchant for healthcare and desire to promote community-wide physical wellness in a successful career, now is the time to consider physical therapy.
All three jobs are projected to grow faster than average through 2022. This spike has been attributed to an aging population, as older patients may require rehabilitation after heart attacks, strokes or other illnesses that are regularly associated with advanced age. But with more children and adolescents participating in highly competitive sports year-round, physical therapy needs are soaring across generations.
So what are the distinct elements that separate these jobs from each other? We gathered detailed occupation information from the Bureau of Labor Statistics and O*Net to break it down for you.*
3 Physical therapy jobs with bright futures
Projected growth (through 2022): 40 percent
Median salary: $23,880
Minimum required education: High school diploma or vocational training
Job duties: Physical therapist aides are entry-level professionals who work to make life easier for physical therapists. Their days are spent taking direction from supervising therapists and preparing areas for medical care.
Job duties for physical therapist aides are routine and consist of cleaning and organizing the work area; disinfecting equipment after treatment; keeping a running record of treatment administered and equipment used with each patient; transporting patients to and from treatment areas; and scheduling patient appointments.
If you're looking to get a taste of the physical therapy field before committing yourself to years of higher education, this entry-level position could be the perfect fit for you.
Projected growth (through 2022): 41 percent
Median salary: $52,160
Minimum required education: Associate degree
Job duties: Physical therapist assistants work under the direction and supervision of physical therapists to provide treatment and procedures for patients. They assist patients with administered exercises or functional activities; they observe patients during treatment to compile and evaluate data on their progress; and they administer a variety of therapeutic treatments.
Physical therapist assistants assess patients' progress to determine how effective treatment has been. They also communicate with family members or caregivers to instruct proper implementation of therapeutic activities or treatment plans.
Projected growth (through 2022): 36 percent
Median salary: $79,860
Minimum required education: Doctoral degree
Job duties: Physical therapists are highly-educated, licensed healthcare providers who work to help patients restore movement dysfunction due to a variety of causes including physical pain, weakness, and loss of mobility. Benefits of physical therapy include the ability to  avoid expensive surgeries or long-term use of prescribed medication, according to the American Physical Therapy Association.
The job duties for physical therapists are all centered around one principal responsibility: To plan, prepare, carry out and follow up on individual programs of physical treatment. In doing so, physical therapists maintain, improve or restore physical functioning, alleviate pain or prevent physical dysfunction in patients.
Specific responsibilities include performing initial patient exams to evaluate data and determine a diagnosis; closely evaluate effects of treatment at various stages and recommend adjustments as needed; test and measure patients' physical strength, motor development, sensory perception, functional capacity and respiratory or circulatory efficiency; and discharge patients when goals or projected outcomes have been met—this also includes providing follow-up care or referrals.
Is a physical therapy major the right fit for you?
The job market is in full force when it comes to physical therapy. With job openings for all ranges of formal education and training, now is the perfect time to pursue your own career success in the field of physical therapy.
As you continue your research to determine the perfect job position for you, you may also consider a career in occupational therapy. These two distinct vocations are often misunderstood as being one in the same. Take a minute to diagnose the differences between occupational therapy and physical therapy to see if you can find the perfect fit for you.
*Salary data represents national, averaged earnings for the occupations listed and includes workers at all levels of education and experience. This data does not represent starting salaries and employment conditions in your area may vary.
Receive Program Info and Financial Aid Options
Detailed program overview
Personalized financial aid
Individual admissions support