June 6, 2016
Learn why NOW is the perfect time to major in accounting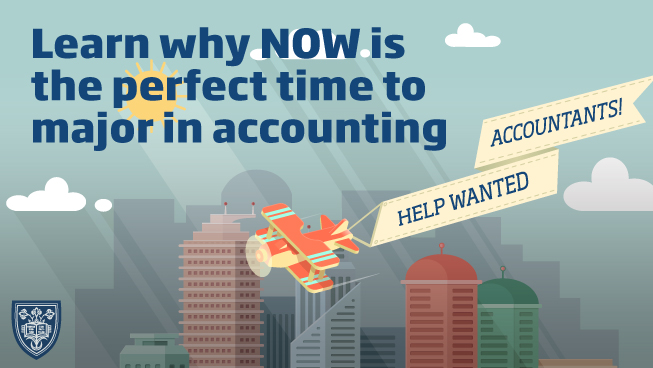 If you're naturally good with numbers and consider yourself to be pretty business-savvy, it's no wonder you're interested in pursuing a degree in accounting. Accountants are integral to the success of businesses of all kinds — if you're looking for a high-powered career field in which you'll be a sought-after candidate, this could be the path for you!
Whether you've toyed with the idea of majoring in accounting, or you're all but committed to the degree path, we're here to tell you why now is a great time to enter the field. From the high demand for accountants nationwide to the competitive salaries, see if you can find your future career success in this dynamic field.
4 reasons to consider majoring in accounting
1. Accounting jobs are on the rise
If someone in your life works in accounting, then you know there is no shortage of work for accountants once tax season rolls around. But busy season aside, there are some behind-the-scenes trends that you may not be as privy to.
Firms and companies are finding that accounting and finance professionals who possess the sought-after skills taught in most accounting programs are becoming harder and harder to find. While top candidates are often already employed, there is also the fear that comes with a high turnover rate in such a competitive market. As companies compete aggressively for top talent and offer enticing incentives, financial professionals are realizing they have a growing number of attractive job opportunities.
But it's not just the seasoned accountants businesses are after. Public accounting firms hired more than 42,200 new accounting graduates in 2014, according to the 2015 trends report published by the American Institute of Certified Public Accountants. And these numbers show no indication of plateauing any time soon. In fact, accountant positions are projected to grow 11 percent through 2024, according to the Bureau of Labor Statistics.
2. The salary potential is strong
Accountants are critical to the success of businesses, corporations, government agencies and nonprofit organizations across the world. For that reason, you can expect to be fairly compensated if you pursue a career in this field.
The median annual salary for accountants sits at about $67,740, with the highest 10 percent earning more than $118,930 per year. Also keep in mind, accountant salary ranges are expected to climb 5 percent through the end of 2016, according to the Robert Half Salary Guide.
It should also be noted that earning potential directly correlates with the credentials accounting candidates choose to pursue. For example, accountants who earn the certified management accountant (CMA) certification can earn up to $10,000 more per year than an accountant without this certification, according to a survey conducted by the Institute of Management Accountants (IMA).
3. There is a clear academic path to becoming an accountant
If you have your sights set on becoming an accountant, another perk to this job is that the academic route to get you there is very clear. Accounting positions require at least a bachelor's degree in the field, while some employers prefer to hire applicants with master's degrees.
All accountants filing reports with the Securities and Exchange Commission (SEC) are required by law to be certified public accountants (CPA). Other accountants opt to pursue the CPA certification in an effort to enhance their job prospects. This requires passing a national exam from the American Institute of Certified Public Accountants.
After working in the field for at least two years, accounting professionals qualify to take the CMA exam offered by the IMA, thereby becoming eligible for the salary increase mentioned above.
4. An accounting degree can open the door to multiple career paths
The field of accounting includes multiple branches of work, including financial accounting, management accounting, working as an auditor and working as a tax accountant. Because of the variety in the field, earning a degree in accounting doesn't necessarily tie you down to one particular job title or location.
The diversity of an accounting education lends itself to many different environments of work, from working at accounting or finance firms, government institutions, non-profit organizations or even within one's own independent outfit.
It is also true that the high demand of accountants within businesses of all kinds means accounting professionals should have no trouble landing a job anywhere throughout the country.
Now is the time to commit to an accounting major
If you're drawn to the field of accounting, you're in luck. Majoring in accounting can put you on the track to a steady, well-paying career with a multitude of job opportunities.
The first step in the journey to this career success is to pursue your undergraduate degree in the field. The College of St. Scholastica's accounting program boasts a long track record of CPA exam pass rates that are much higher than the national average. Visit the accounting information page to learn more about what this exceptional program has to offer.
Receive Program Info and Financial Aid Options
Detailed program overview
Personalized financial aid
Individual admissions support