October 25, 2016
Is college worth it? Learn the immeasurable outcomes of a degree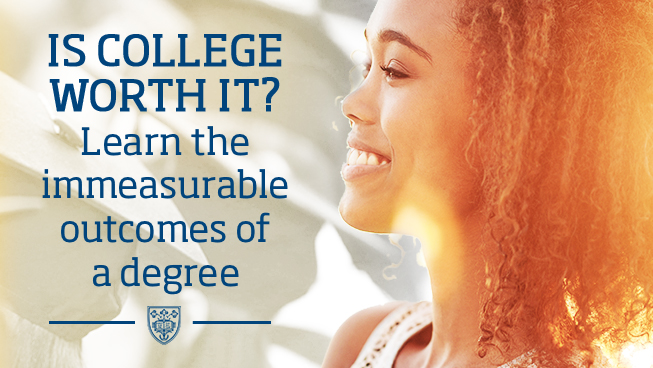 "I was one of those individuals who thought, for the longest time, that a degree wasn't necessary," says Laurie Boettcher, digital marketing instructor at Chippewa Valley Technical College.
Earning a degree, she later realized, is about so much more than a title or piece of paper — it's about the journey. Crediting her path toward a degree with teaching her about critical thinking, the value of diversity and the importance of opening your eyes to new points of view, Boettcher confidently states, "Earning my degree was a life-changing experience that I am thankful for every day."
If you're entertaining the idea of pursuing a degree, you likely don't need us to tell you about the huge increase of job opportunities, generous hike in salary potential and decreased chance of unemployment that degree could afford you.
Choosing to earn a degree is choosing to invest in your future. College graduates across the board will tell you that their college journeys impacted them in some pretty astounding ways — many of which can't be summarized in percentages and statistics. We asked them about the immeasurable outcomes they experienced in their pursuit of a degree. Here's what they had to say.
7 immeasurable benefits of a college degree
1. You have an opportunity to form your own opinions & beliefs
"In a collegiate atmosphere, I learned to form my own moral frameworks outside of my family's household," says Laken Brooks, first-generation college student in his senior year at Emory & Henry College in Virginia. "This sense of creating my own values, of charting out what is truly important in my life, instilled within me a sense of self-awareness and self-confidence."
As you learn more about the world in your college courses and through living on your own, you're given an opportunity to examine everything you encounter and use it to build your own framework of beliefs.
2. You are exposed to diversity at a number of different levels
"College can help make you a better person," asserts Katie Fang, founder and CEO of SchooLinks, an online platform that simplifies college planning. "No, seriously! You'll meet people from every walk of life. You'll be exposed to a thousand viewpoints and a thousand personalities. There are few environments in our society with such a range of people to learn from."
It's true that, for many, college is one of the foremost opportunities to experience profound diversity. The fellow students you share your space with likely come from a wide variety of economic, cultural, spiritual, racial and philosophical backgrounds. For that reason, it is a profound environment in which to learn.
3. You learn how to engage with a new community
Hand-in-hand with being exposed to new levels of diversity, college students are then faced with the opportunity to interact with a completely new community of people without fear. Not many college students move onto campus and are instantly surrounded by familiar people. In college, you learn to put yourself out there in order to branch out and meet new people.
"I became engaged with the difficult skills of integrating myself into a new community," Brooks recalls. "This process engendered within me a sense of connectedness that has equipped me to better adapt to new situations, whether those be living abroad or fitting in at a new job."
4. It provides a space for you to figure out who you are
"There is no other time in your life when you'll be able to try so many things in so short a time," Fang explains. "College is a safe place for students to experiment. You can try changing every aspect of your life, from your friend group to your personal style to your personal beliefs. College facilitates and accepts you as you work through the process of figuring out who you are."
College grads agree heartily on this one. Irnande Altema, Chief of Staff to Maryland State Senator Kathy Klausmeier and founder of First Gen Rise credits college with indirectly encouraging identity exploration. "College campuses attract students from different parts of the country, as well as different ends of the world," she says. She adds that the college environment allows you to connect with any group you identify closest with, even if it's different than the group in which society has categorized you.
5. It supports your curiosity to learn
Learning is an obvious priority at any college. But more than simply providing the classrooms in which to learn about the history of Western civilization or the prominent themes in the works of Shakespeare, college can act as a haven of new and exciting knowledge for students eager to learn more about the world.
"College campuses offer a vast number of resources to meet the hunger for knowledge of any student," Altema explains. "There are so many clubs, organizations, programs, courses and activities that deepen a college student's interest in any topic."
6. You discover your work style
"College helps you learn how you work best," Fang says. "With all the studying and need for time management, college is a crash course in establishing a work style that you can take into the rest of your life."
Are you more productive when you plan your study sessions in advance? Or maybe you thrive under the pressure of procrastination. Do you work better individually or in a group? Do you like your desk organized or a bit cluttered? How much time should you set aside for 50 pages of reading or 10 pages of writing?
These are things you'll learn about yourself as you work through your studies in college that will come in handy when you're in the workplace later on. "The discipline and work ethic you'll hone is something you'll never lose," Fang adds.
7. It teaches an important lesson in responsibility
Altema suggests that one of the more important, albeit immeasurable, outcomes of pursuing a college degree is the lesson that a person is primarily responsible for their own outcomes.
"College professors and administrators are present to instruct and facilitate instruction, but they will not call you to make sure you get to class on time, invite you back to the office to discuss why your grade is low or give you a detailed map that tells you what you should be doing to ensure you have a job when you graduate," she says. "It mimics the workforce in that manner and reminds you that your own ambition has to be the driving force to secure your future."
A life-changing college experience awaits
We've all seen the statistics and percentages boasting the tangible benefits of earning a college degree — and they are many! But as these college grads have displayed, there are just as many immeasurable benefits to consider when deciding whether or not you should pursue a degree.
"I think the immeasurable benefits to college outweigh the measurable in almost every circumstance," urges Brandon Schlecht, senior internet marketing specialist at IDWholesaler.com. "Sure, people with college degrees make more money, but it isn't the degree itself that gets you that. The college education is really about the life skills one learns."
Are you ready to start experiencing the fruits of these lifelong benefits? Learn more about how your college degree can help you transform your corner of the world in our article, "Your education makes a difference: 4 community benefits of a college degree."
Receive Program Info and Financial Aid Options
Detailed program overview
Personalized financial aid
Individual admissions support