December 21, 2018
I want to be a teacher, but I don't have an education degree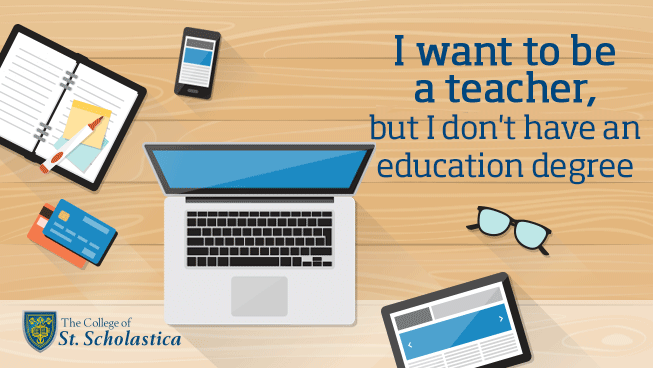 So, what's holding you back? You're certainly not the first person to ponder the possibility of changing your career path after already having earned your degree. Whether your background is in business or biology, communications or computer science, it's not too late to realize your dream and to be at the head of the classroom, inspiring and engaging young learners.
There are opportunities to enter the education field that don't include another four years spent earning a second bachelor's degree. And if one thing is certain, it's that the education field needs smart, inspired individuals to make a difference for future generations of students.
Fulfill your dream — two ways to break into the education field
If you want to be a teacher and you already have a bachelor's degree in anything other than education, you have a couple of options to pursue a teaching career. Consider the following two.
1. Teacher preparation programs
Alternative certification or teacher preparation programs are designed to train teaching hopefuls, just like you, who have already earned a bachelor's degree in a different field.
Consider, for example, the story of Wade Petrich. After 20 years in journalism and publishing, he then transitioned into a new role in car sales. He realized the hours weren't easy on his family, and he wasn't using the skills he had spent decades developing. Despite being intimidated to go back to college, Petrich forged ahead into the Graduate Teaching Licensure (GTL) program at The College of St. Scholastica. After graduation, he became an eighth-grade English teacher at Ordean East Middle School in Duluth.
Returned to the classroom to inspire others
Wade Petrich '18 knew it was time for a change. After investing in his GTL, he discovered a bright new career in the classroom … Read More
It's important to note that teaching requirements vary by state, so it's critical to do your research and review all your options before mapping out your plan to break into teaching. For example, there are multiple options for those wanting to become a teacher in Minnesota.
If you have a bachelor's degree, Minnesota offers four different tiers of licensure to enter the field, as of June 1, 2018:
Tier one requires certification and administrative approval, if there is a special need within the school.
Tier two and three require the individual with a bachelor's degree to either enroll in or complete a teacher preparation program and pass licensure exams.
Tier four is the highest tier — the one you'd ideally want to be in — requires individuals with bachelor's degrees to complete a teacher preparation program, receive passing scores on content and pedagogy exams and have garnered three years of in-classroom experience.
At The College of St. Scholastica alternative certification or teacher preparation programs build upon a student's previous bachelor's degree. These programs educate future teachers on the essentials of the field — such as assessment and curriculum development — and provide field experience and student teaching opportunities, explains Annette Miller, associate professor of education at The College of St. Scholastica. Some teacher preparation programs are traditional, on-campus programs. Others are online, while some are hybrids of both modalities.
2. A master's degree in education
Another choice for those interested in a teaching career is to obtain a master's degree in education. Some states allow this as a viable option to launch a career in teaching. You don't need to have an undergraduate degree in the field to enroll, making it a good option for those looking to enter the field after already having earned a degree in a different subject.
When it comes to earning an education degree at the postgraduate level, you have two choices: a Master of Arts in Teaching (M.A.T.) or a Master of Education (M.Ed.) degree. An M.Ed. tends to be more broad, while a M.A.T. focuses more on developing your expertise in a specific subject, as well as pedagogical theory and implementation. Most master's programs take about two years or more to complete.
There are definite benefits to earning a master's degree, as it can set you apart from the crowd of applicants when you begin your job search. It can also potentially pave your way toward earning more throughout your career. For example, Minnesota teachers with master's degrees and experience can make $90,000 or more annually. That's significantly higher than the national median annual salaries of high school teachers ($59,170), middle school teachers ($57,720) and elementary school teachers ($56,900). Do note that geographic location and level of education both influence a candidate's salary potential.
A master's in education has also been proven to help teachers increase student achievement and be more impactful in their classrooms, as it allows educators to develop a deeper understanding of teaching methodology and educational philosophy.
Your path toward a fulfilling teaching career
Your educational background doesn't have to be a hindrance when it comes to your dream of becoming a teacher. In fact, it can actually be considered an advantage. "Students who have worked in different fields all bring a different perspective to teaching, using their experience, skills and talents in the classroom," Miller says.
Your bachelor's degree provided you with intensive knowledge in a discipline that interests you. As you move forward, that expertise, combined with your experience in the working world, will bring a fresh perspective to your classroom. This can benefit both your approach to teaching and your future students for years to come. See this as a chance to be proud of your unique route to the head of the classroom, no matter which path you ultimately take.
Whether you decide on a teacher preparation program or opt to pursue a master's degree in education, use this opportunity to transition your thinking from, "I want to be a teacher" to, "I will be a teacher." You can learn more about obtaining your teaching licensure or the details of pursuing a master's in education by checking out the The College of St. Scholastica's Graduate Teaching Licensure program.
Receive Program Info and Financial Aid Options
Detailed program overview
Personalized financial aid
Individual admissions support