September 26, 2016
How to prepare for the GRE: 9 tips you can't afford to miss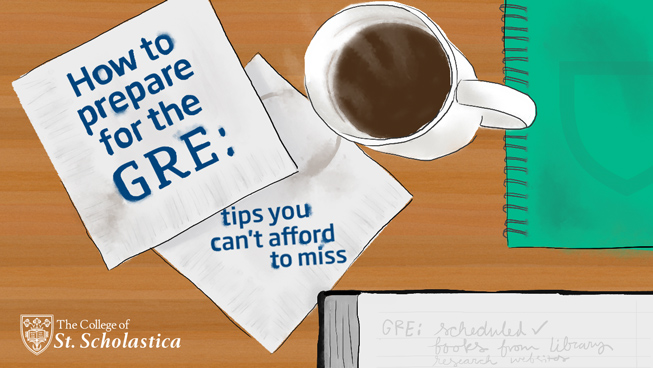 Whether you're looking to advance your career or you're just taking the next logical step in your education, pursuing a graduate degree can bring a few unique challenges. Front and center for some graduate programs is the Graduate Record Exam (GRE).
Similar to the ACT and SAT for undergrads, the GRE is a test that plays an important role in the graduate school admissions process. The test covers a lot of ground with three main sections — verbal reasoning, quantitative reasoning and analytical writing.
But before we get any further, it's important to note the following: Not all graduate programs require you to take the GRE. Before you get too far into the woods of GRE prep work, do yourself a favor and double-check the requirements of the programs you're considering.
If the GRE is, in fact, in your future and you're looking for advice on how to prepare, you've come to the right place! We asked GRE test prep experts to share their best strategies for test day success. Take a look at what they had to say.
9 ways to prepare for the GRE
1. Diversify your vocabulary building methods
"For vocabulary, you want to do more than just devour flashcards," says Chris Lele of test prep company Magoosh. "You want to get a sense of the way words function in context."
While flashcards are certainly helpful for introducing new words and growing your vocabulary to some extent, simple memorization will only take you so far. Lele says one long-term strategy for improving your verbal reasoning score is to start reading publications that are a bit more intellectually challenging — think The New Yorker or The Chronicle of Higher Education. According to him, this immersion into complex writing styles will be beneficial for students trying to manage GRE reading passages and complex triple-blank text completion questions.
2. Go back to the basics
Humanities majors: Can you explain what SOHCAHTOA is and apply it? How about the order of operations for a problem like 2(-2 + 7) / 5+5(2 / 20)? These hopefully ring a bell, but if you've spent your time in college studying a subject that isn't very math-intensive, you've probably grown a little rusty. Unfortunately, the quantitative reasoning section of the GRE is not very forgiving in this sense.
You'll definitely want to brush up on the fundamentals of math subjects like geometry and algebra. The good news is that the internet is here to help! There are countless free resources you can find online that will help you get up to speed. If YouTube tutorials and written explanations aren't doing the trick, most colleges have some form of math tutoring or help available.
3. Take your time when preparing
"Preparing for the GRE should be a marathon, not a sprint," says Brian Stewart, of BWS Education Consulting. The GRE is a broad test. Odds are you're going to overload yourself if you try to cram your studying time into too short of a timeframe.
If you're a notorious procrastinator, try your best to block off an hour or two each day for studying and set a reminder on your phone so you get into the routine of regular studying.
4. Learn to diagnose a question
"It really is a different language and if one doesn't take time to learn how math questions are phrased, the terminology employed, etc. then a relatively straightforward problem can seem downright inscrutable," Lele explains.
While studying for the GRE, you'll quickly learn that math problems require more than just the simple calculation. Many are set up in a format that requires you to untangle the wording in order to figure out what calculation is truly required. While there's no simple way to combat this, reviewing practice questions can help you get the hang of determining what is being asked and how to structure your calculations.
5. Get your sleep schedule on track in advance
In the days leading up to the test it can be tempting to try and squeeze in as much preparation time as possible with late night study sessions, but this is likely to backfire.
Instead of burning the midnight oil, Lele advises test-takers to focus on keeping a regular schedule and gradually adjusting to a sleep pattern that will accommodate the test time. This should help you avoid the restless tossing and turning that can happen the night before if you try to abruptly change your sleep schedule.
6. Seek out test prep materials
As you might imagine, there are a lot of resources out there to help you prepare for the GRE. Review books and practice tests can be incredibly helpful for getting a feel for the format of the test and identifying the areas on which you'll need to focus the most.
But which of these test prep materials is best? Lele, while obviously a supporter of his employer's test prep services, also recommends The Official Guide to the GRE by ETS.
"ETS writes the test and therefore no questions are more indicative of what a student will see test day than these," Lele says. "Students will be able to pick up on all the nuances and complex thinking the test requires by using the questions and practice tests in these books."
And not all of these options require you to spend hundreds of dollars on prep materials — many libraries carry GRE test prep books and there are several free resources to be found online.
7. Get your study space in order
In order to maximize the impact of your study time, you'll want to find an environment that keeps you on task, says Dr. Lisa Long, a clinical psychologist who specializes in helping clients with test anxiety. Long recommends an environment that mimics a real testing space.
"Get a room at the library and barricade yourself in there," Long suggests. "Remove all that distracts and you will find that this simulation of an actual testing environment will also help you with recall during the test."
8. Don't underestimate the psychology behind it
"I truly am amazed when I see how reducing a person's test anxiety can significantly improve their scores on standardized measures," Long says.
If you're prone to test anxiety, you'll want to be proactive in getting into the right mindset. Long says it can help to set aside time each day to do things like yoga, meditation or other mindfulness activities. Do what you can to clear your mind and manage the stress you may be feeling.
Another strategy for getting your mind right is to take a GRE practice exam in the exact type of setting you would take the real exam. Mary Anderson, director of career services at CSS, says putting yourself through the rigors of the GRE exam in an environment that mimics the real thing — complete with silence and uncomfortable chairs — can help with your comfort level on the actual test day.
"Think about it like you're running a race — you want to test the course and train your body before you jump into a marathon," Anderson says.
9. Do a "dry-run" of your test day
It can be easy to get so caught up in preparing for the actual content of the test that you forget to cover the basics: How do I get to the testing area? When does it start? Where do I park? Do I have the materials I need?
Lele recommends taking some time shortly before the test to run through the questions above as realistically as possible. It might feel a little silly, but feeling comfortable and confident with the little things like driving directions can go a long way. The stress of performing well on the test is enough — there's no need to let something like not knowing where to park add to it.
10. Don't overlook the writing section
There's a lot of ground to cover in the quantitative and verbal reasoning sections, but don't let the writing portion become an afterthought. Anderson suggests using ScoreItNow, a program created by the authors of the GRE that will give you writing prompts similar to what you'll find on the test. This program will score your writing and offer instant feedback for improvement.
Tackle the GRE with confidence
Now that you have a better handle on how to prepare for the GRE, you're probably ready to roll up your sleeves and start your test preparation!   But before you get too far along, it's important to know more about the graduate degree program you'd like to pursue and any requirements it may have. Remember, not every graduate program requires a GRE test score — so be sure to do your homework before diving in.
You can take the next step toward your advanced education by reviewing the graduate programs offered at The College of St. Scholastica and their admissions requirements. Visit the graduate degree information page to learn more.
Receive Program Info and Financial Aid Options
Detailed program overview
Personalized financial aid
Individual admissions support