February 15, 2016
Funding your future: One first generation student's dreams realized at CSS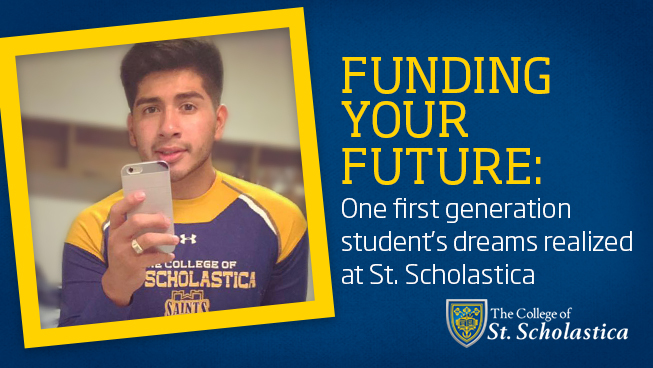 One of the biggest enrollment trends in higher education today is the influx of first generation college students. These are students who are among the first in their families to earn a college degree, and the size of this student population is surging. In fact, a recent study estimates that half of today's college students in the U.S. consists of first gen students.
This is a trend that is evident at colleges and universities across the country, regardless of whether they're public, private or community institutions, Division I, II or III schools, and everything in between. In fact, approximately 42 percent of the 2014-15 undergraduate students at The College of St. Scholastica (CSS) identified as first generation students — a percentage that has climbed steadily every year.
According to statistics, first generation students most often come from low-income, minority or immigrant families. Like most college students, affordability ranks among the chief concerns for first gen students.
Bryan Chavez-Cruz can identify with this concern.
A freshman first generation student in 2015, Chavez-Cruz had to overcome a number of hurdles while searching for the right college for him. Here is his story.
The first generation college experience
"Being a first generation student can be a huge disadvantage," Chavez-Cruz says. "Students may not know what courses to take, what major to consider, how to apply to classes, how to double major or simply how to approach a professor."
In his time at CSS, he has noticed that first generation students are often less likely to ask questions in class or seek extra help from instructors when they first get to campus. Students who come from a long line of college graduates may not realize the advantage they possess in having a family support system filled with people who have experienced the ins and outs of college before them.
From small things like speaking up in class to much larger ones like traversing the financial aid process, first generation students don't always have the option of asking Mom and Dad to clarify the sticking points. This was one of Chavez-Cruz's biggest concerns.
"Navigating my financial aid package was kind of confusing," he says. "I did not understand it, but my brother gave me much support."
Chavez-Cruz is in a unique situation in that his brother and two of his cousins are also attending CSS. He considers it a "lucky experience" to be embarking on the college journey together — something not many first gen students get to do.
But despite the initial disadvantage, Chavez-Cruz also sees very real advantages to the first generation student experience. "First generation students can be motivated to be the first person in their family to graduate," he says. "They want to make their families proud, no matter what [they end up studying]."
The quest for diversity, social justice & affordability
While searching for colleges, Chavez-Cruz knew two things: He wanted to stay somewhat close to his native St. Paul (Minn.) and he wanted to attend a school that promotes diversity and social justice.
On the very last day before he had to declare which college he'd attend, he was torn between CSS and a small college in Dubuque, Iowa. "Both had very similar financial aid packages," he says, "but one focused more on diversity and justice than the other."
That's how Chavez-Cruz ended up at CSS.
"The Benedictine values at CSS made me feel that [the College] supports inclusivity," he says. His brother, now a sophomore, also told him about a number of unique opportunities students are offered.
CSS boasts several resources students can use to immerse themselves in multiculturalism, inclusion and social justice. For example, the college offers a cultural competency certificate program and an academic major in peace and justice. The College also hosts an orientation on multicultural leadership for student clubs and has an entire administrative office dedicated to diversity and inclusion.
CSS even offers a number of scholarships specifically to students committed to doing meaningful work in the areas of multiculturalism and social justice. For example, the CSS Multicultural, Inclusion and Diversity Scholarship was created to provide financial support to qualified students interested in advancing racial and social justice issues.
There is also the Sister Timothy Kirby Social Justice Scholarship, which was created to support students who demonstrate commitment to pluralism and the advancement of racial and social justice.
These are two among many scholarship opportunities at CSS.
Chavez-Cruz was one of 10 students awarded the Sister Timothy Kirby Social Justice scholarship, which is renewable for up to three additional years. He is also a recipient of a Benedictine Scholarship, which is available to all new CSS first-year applicants. The Benedictine Scholarship is based on academic merit, and is also renewable for up to three years.
A future at The College of St. Scholastica
For Chavez-Cruz, the quest for diversity and social justice is more than just an affinity. While his options at CSS are still wide open, he intends to pursue a degree in social work. A firsthand experience with discrimination when he was 15 years old inspired his decision.
"I faced discrimination by law enforcement for the first time," he says. Chavez-Cruz says he was mistreated and ultimately handcuffed for simply missing city curfew by a few minutes. "This was the first time I faced discrimination, and it opened my eyes to a different, inequitable world."
Misconduct among law enforcement officers will not be his specialization once he's in the field, but Chavez-Cruz is eager to promote social justice anywhere he can.
He also intends to be a continual advocate for first generation students as they navigate the complexities of the college experience. With the resources at hand, he is confident CSS is the right college to help him achieve his goals.
---
Bryan Chavez-Cruz hoped to find a college that was not only affordable, but would also support him as a first generation student and in his dreams to promote diversity and social justice throughout his community. He was surprised to learn that The College of St. Scholastica both supports those dreams and is also working toward making a private college education affordable for people from all financial backgrounds.  
Are you curious to learn more about what CSS could do for you? Take a look at this informative infographic to learn more!
Receive Program Info and Financial Aid Options
Detailed program overview
Personalized financial aid
Individual admissions support