January 11, 2016
Funding your future: How one student navigated financial aid to attend private college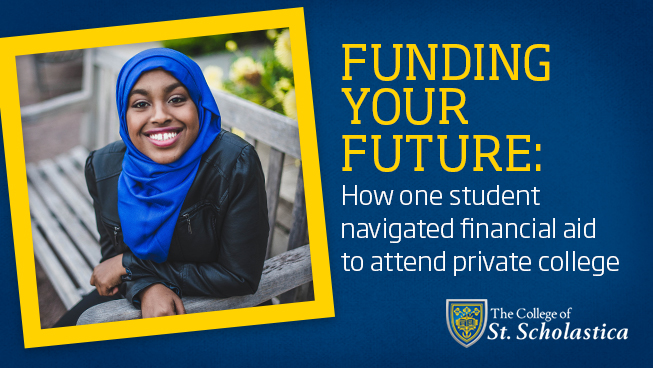 The postsecondary credentials earned by graduating from college have never been as important as they are in today's job market, according to the U.S. Department of Education. Higher education was once considered a luxury for the financially privileged, while it is now looked at as an individual economic necessity.
In fact, bachelor's degree holders typically earn 66 percent more than those with only a high school diploma. Over the course of a lifetime, this equates to earning approximately $1 million more than someone without a postsecondary education.
Today's young people are aware of the statistics and, in many cases, attend college right after graduating from high school. Of the nearly 3 million high school graduates in the U.S. in 2014, 68 percent were enrolled in college by the following October, according to the Bureau of Labor Statistics. This is a slight jump from 2013's 66 percent.
Nafisa Ibrahim is one of those students.
College was always a part of Ibrahim's plan, but she knew, like many others, that earning a degree has never been more expensive than it is today. Still, she was determined to make it work.
Here is Nafisa's story.
Determining the best path to higher education success
Ibrahim had long maintained a solid image of the type of college she hoped to attend. "I was looking for a college where I could receive all the attention I needed," she says, adding that she learns better in small classroom environments in which she can ask as many questions as it takes to fully understand what she's learning.
Ibrahim had dreams of someday attending medical school, and for that reason she was initially drawn to a large public university in Minnesota and another small private college in the area.
During the winter of her junior year of high school, however, Ibrahim met a woman whose daughter had attended The College of St. Scholastica (CSS) before graduating from medical school. She quickly added CSS to her list, and after looking into scholarship opportunities, small class sizes and the tight-knit community of Duluth, CSS became her top choice.
"Affordability was a major concern for me since my mother wouldn't have been able to help me pay for college, and I didn't want to end up with a huge amount of debt [before] applying to medical school," Ibrahim explains.
She looked into both merit- and need-based scholarships at CSS and quickly realized that if she stayed on top of application deadlines, she could get a decent amount of money to put toward her postsecondary education.
Breaking down the scholarship process
"I didn't find the process confusing at all," Ibrahim says. "I looked at the scholarships CSS had listed on the website, and the descriptions were clear on what the requirements were and what I needed to do in order to be considered …. Even though the tuition sticker price is high, the scholarships balanced that out and actually made it more affordable than a public university!"
In addition to a Federal Pell Grant and a Minnesota State Grant, Ibrahim qualified for CSS' Benedictine scholarship and the CSSyes scholarship.
The Benedictine scholarship is available to all incoming freshman applicants with offerings ranging from $14,000 to $20,000 per year.* This is a merit-based scholarship, specifically focusing on the combination of cumulative high school GPA and composite ACT or SAT scores. As long as satisfactory academic progress is maintained, the Benedictine scholarship is renewable for up to three additional years, or until receiving a bachelor's degree.
The CSSyes scholarship is designed for stand-out students who have greater financial need. Also available to incoming first-year students, this financial package covers the remainder of a student's tuition after factoring in the Benedictine scholarship, other CSS scholarships and grants, and state and federal funding.** This scholarship is also renewable for up to three additional years or until receiving a bachelor's degree.
Ibrahim also committed to covering her remaining costs through maintaining on-campus student employment.
Looking toward an evolving future in STEM
Ibrahim's career path is no longer as clear-cut as it seemed in her pre-college plan, but she knows better than anyone that unexpected paths can lead to some of the most fulfilling life goals.
"I actually hated the first chemistry course I took in high school," the current biochemistry major says. "For the first time in my life, things weren't making a lot of sense. However, the AP chemistry teacher encouraged me to take her class since I loved math." After taking that AP course, Ibrahim discovered a deep love for the discipline.
"I know that I no longer want to go to medical school," Ibrahim says. "But I still want to do something with the sciences and engineering."
Ibrahim is enjoying her first year at CSS, jumping in with both feet. She's joined several on-campus clubs, such as the International Club, the Black Student Union, the Muslim Student Association, United for Africa and Volunteers Involved through Action (VITA). "I'm looking forward to meeting new people while working toward accomplishing each of these clubs' missions," she says.
---
Nafisa Ibrahim was pleasantly surprised by the aid package offered to her at The College of St. Scholastica, and she stands behind the College's goal to make a high quality private education affordable for people from all financial backgrounds. Are you curious to learn more about what CSS could do for you? Take a look at this informative infographic to learn more!
*These numbers reflect scholarship information for the fall 2016 term **This does not include the cost of housing, dining or books
Receive Program Info and Financial Aid Options
Detailed program overview
Personalized financial aid
Individual admissions support